Shortly before a recent Massachusetts state committee hearing to discuss a proposed "Anti-Discrimination Bill," the Boston Globe ran an opinion piece criticizing the bill. The Op-Ed, by Columbia University professor Katherine Franke, argued that measures to discourage anti-Israel boycotts "betray" the legacy of civil rights icon Rosa Parks. In fact, Parks was an outspoken and very public opponent of discriminatory anti-Israel boycotts.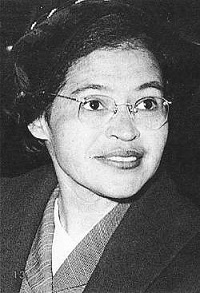 The proposed legislation would require those signing lucrative contracts with a state agency to certify that they are in full compliance with existing state laws barring discrimination based on "race, color, creed, religion, sex, national origin, gender identity or sexual orientation," and to certify that they do not, and will not in the duration of the contract, refuse to do with other people based on those characteristics.
The Globe Op-Ed focused largely on defending the anti-Israel BDS movement, which calls for boycott, divestment, and sanctions against Israel, Israelis, and sometimes even non-Israeli Jews. In other words, though she makes sure not to say it explicitly, Franke is opposed to measures protecting people based on their national origin, largely, it seems, because "Israeli" is one such national origin.
Franke, of course, is entitled to her opinion. But it is regrettable that the newspaper would publish an Op-Ed, whatever opinion it expresses, that so egregiously misleads readers.
Rosa Parks
Franke evoked Rosa Parks at the start of her piece, when she describes meeting with the civil rights icon's lawyer to discuss the Montgomery bus boycott, and again at its close, when she tells readers that passage of the Massachusetts anti-discrimination bill "would betray the legacy of Rosa Parks."
In fact, it is Franke who betrays that legacy, both by advocating for measures opposed by Parks and for effectively misrepresenting the famed activist's actual position on anti-Israel boycotts.
Rosa Parks was firmly opposed to boycotts of the Jewish state. Along with Coretta Scott King, Bayard Rustin and other civil rights luminaries, Parks was a co-signer of a 1975 letter that described as "repugnant" the Arab world's boycott targeting Israel, a precursor to today's BDS movement. The letter, drafted by a group called the Black Americans to Support Israel Committee, stated,
We have fought too long and too hard to root out discrimination from our land to sit idly while foreign interests import bigotry into America. Having suffered so greatly from such prejudice, we consider most repugnant efforts by Arab states to use the economic power of their newly acquired oil wealth to boycott business firms that deal with Israel or that have Jewish owners, directors or executives and to impose anti-Jewish preconditions for investments in this country.
It also praised Israel's "political freedoms and civil liberties," and pushed back against attempts to equate Zionism with racism. "Zionism is not racism," the letter notes, "but the legitimate expression of the Jewish people's self determination." This support for Zionism by black leaders isn't surprising. Shortly before his death, Martin Luther King, Jr. praised Israel and said that "Israel must exist and has a right to exist" — as clear a proclamation of Zionism as it gets.
The Proposed Bill
Franke's piece is also likely to mislead readers about the proposed bill itself. As examples of why the bill is problematic, she cites, for example, the Montgomery bus boycott prompted by Rosa Parks and a recent example of Boston politicians threatening to "boycott" a St. Patrick's Day parade after parade organizers said they would exclude a group of gay veterans from marching. But her arguments are specious. The proposed bill has nothing at all to do with this type of boycott, and so would not have affected the activism in Montgomery or South Boston. It only deals with those participating in discriminatory blacklists of other individuals when the "action is based upon such other person's race, color, creed, religion, sex, national origin, gender identity or sexual orientation."
BDS's Goals
The Boston Globe piece didn't only mischaracterize Rosa Parks and the Massachusetts bill, but also downplayed the extreme goals of the BDS movement, saying of the proposed bill:
What's really behind this measure is a desire to punish people or groups that have endorsed a boycott of Israel or of companies that profit from Israel's denial of Palestinians' human rights. Israel's most ardent defenders argue that any criticism of Israel — and particularly the use of a political boycott — is motivated by hatred toward Jews and/or Israelis. Yet this is a gross mischaracterization of the role of boycotts in social movements generally, and in human rights activism in the Middle East specifically. In 2005, Palestinians called for boycotts, sanctions, and divestment as a peaceful measure to pressure the state of Israel to abide by international law and grant Palestinians their fundamental rights.
What BDS actually advocates for is the end to Israel. Omar Barghouti, generally described as a founder of the movement, has explained that the ultimate goal is a state where "by definition, Jews will be a minority." Other BDS activists have expressed similar sentiments. (For example, this admission by BDS activist As'ad AbuKhalil: "Finkelstein rightly asks whether the real aim of BDS is to bring down the state of Israel. Here, I agree with him that it is. That should be stated as an unambiguous goal. There should not be any equivocation on the subject. Justice and freedom for the Palestinians are incompatible with the existence of the state of Israel.")
The movement and its supporters have bullied artists and targeted Jews of all nationalities, including the non-Israeli reggae performer Matisyahu and the entire Jewish population of a South African university.
The Letter
Many artists, including most recently Radiohead's
Thom Yorke
, have pushed back against BDS movement and its pressure campaigns. In doing so, they put themselves among esteemed company.
Rosa Parks was joined by a large number other prominent black leaders who signing the 1975 anti-boycott letter. (You can read the entire letter
here
.)
Bayard Rustin
organized the 1963 March on Washington along with fellow co-signer
A. Philip Randolph
. Also on board was Tom Bradley, the first black mayor of Los Angeles, and Theodore M. Berry, the first black mayor of Cincinnati. Renowned civil rights and women's rights activist
Dorothy Height
, who Barak Obama dubbed the "godmother of civil rights," signed on. So did
Roy Wilkins
, the NAACP executive director at the time, and
Gloster Current
, another senior NAACP leader. There was civil rights and labor leader Norman Hill; W.E.B. DuBois Award recipient Vivian Henderson; National Urban League Guild leader Mollie Moon; J. Saunders Redding, the first black Ivy League faculty member;
Lorenzo Greene
; Arthur Ashe; Mrs. Louis Armstrong; senior officials of the AFL-CIO; and many civil rights trailblazers.