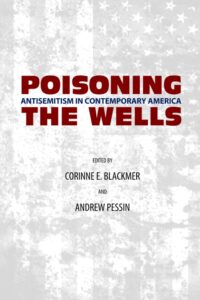 The work of CAMERA's Shillman Research Fellow Dexter Van Zile was featured in a book recently published by The Institute for the Study of Global Antisemitism and Policy headed by Charles Asher Small. The book, titled Poisoning the Wells: Antisemitism in Contemporary America and edited by Corinne E. Blackmer and Andrew Pessin, is available on Amazon here.
In the introduction, Blackmer and Pessin write that the title "refers to the medieval European anti-Semitic canard that Jews caused the plague by 'poisoning the wells' of their Christian neighbors."
They continue:
At first glance this might seem to have nothing to do with Jewish life—or the relationships between Jews and non-Jews—in contemporary America. However, this invidious fabrication metaphorically indicates the manner in which Jews continue to be perceived as agents or embodiments of the poisonous, through their putatively threatening, conspiratorial, disruptive, unaccountable, criminal, subhuman, treacherous, or polluted characters or actions. Within the world views that increasingly dominate certain sectors of American Society, Jews are seen as toxic problems, resisting accommodation within the simple categories of, race, religion, ethnicity, politics, or nation.
In a chapter titled: "Israel as the Repugnant Other: Anti-Zionism in Liberal Protestant Denominations," Van Zile writes that "A [mainline] peacemaking journey that began, in part, with an innocent ideological impulse to stand with the weak and powerless—and a not so innocent desire to use Israel as a proxy for the Christian right—brought mainline churches to a place where Israel, and Jews, could be vilified in good conscience, in the pursuit of peace and justice in the name of God."
This book includes essays by a number of prominent scholars including Miriam Elman, Cary Nelson, Charles Asher Small, and many others.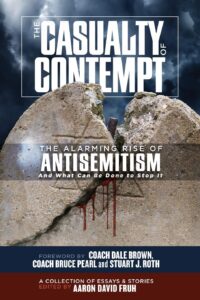 Casualty of Contempt
The publication of Poisoning the Wells comes on the heels of the publication of another book with a chapter authored by Van Zile. This text, The Casualty of Contempt: The Alarming Rise of Antisemitism and What Can Be Done to Stop It, edited by Aaron David Fruh, was published in February 2021.
Van Zile's chapter is titled, "A Call for Young Men to Stand With the Jewish People."
In this chapter, Van Zile writes that "we are now confronted with a subculture of Jew-haters who can recruit supporters into their ranks via the internet, which is used to normalize Jew-hatred and the violence it inspires. They use the internet the same way Hitler used the microphone and radio broadcasts to connect to a mass audience."
This book, which includes essays by Dale Brown, Bruce Pearl, Gerald McDermott, Jay Sekulow, Joshua David Washington, Olga Meshoe Washington, Amy Zewe, and several others can be purchased on Amazon here.