The New York Times' "Best Corrections of 2019" is a lighthearted review of mishaps at The Paper of Record, highlighting corrections that left editors "red-faced" and "readers chuckling."
"When The Times makes a mistake, we publish a correction," assures senior staff editor Alexandria Symonds in the Dec. 30 year-end review. "It's more than a procedural obligation: According to our style guide, it's 'an ethical responsibility.'"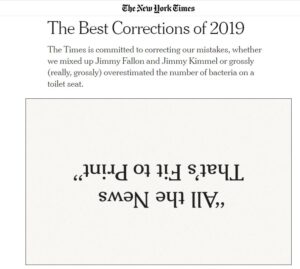 But make no mistake: a roundup about misreporting on the number of bacteria inhabiting a toilet seat, the confusion of Ivanka Trump (the daughter) with Ivana Trump (the ex), the erroneous reference to poppy seeds as opposed to sesame seeds on Whopper buns, or the mistaken assertion that Rep. Rashida Tlaib's was sworn into office on a Quran that once belonged to Thomas Jefferson, is in no way an exculpatory mea culpa. It's a cover up.
By highlighting the amusing and the inconsequential, Symonds obscures the paper's devastating ethical failures: whitewashing, mainstreaming and peddling of the world's oldest hatred: antisemitism. The most notable instance was the publication last April of an antisemitic cartoon indistinguishable from the most vile Nazi propaganda: Israeli Prime Minister Benjamin Netanyahu as a guide dog wearing a Jewish star collar leading a blind, kippah-clad President Donald Trump.
To read the rest of this column, please visit The Times of Israel.