As a result of outreach from CAMERA, Insider corrected a piece that had described the Gaza Strip as being occupied by Israel.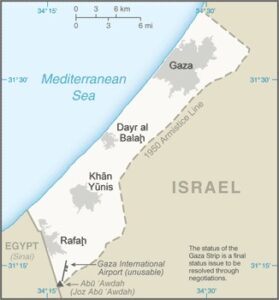 The story initially asserted, "Nearly three million Palestinians reside in the Israeli-occupied West Bank and another two million live in Israeli-occupied Gaza."
In its correspondence with editors, CAMERA explained that Israel fully withdrew its troops from the Gaza Strip, and that international legal scholars debate how to characterize the post-disengagement territory, with many — including professors Yuval Shany, Ruth Lapidoth, Eyal Benvenisti, Marko Milanovic, Eugene Kontorovich, Hanne Cuyckens, Hanne Cuyckens, and Avi Bell — asserting that Gaza is not occupied.
As a result, Insider updated its piece to remove the matter-of-fact reference to "Israeli-occupied Gaza." It instead mentions "Gaza, a self-governing Palestinian territory that the United Nations and international rights groups still consider to be occupied, despite Israeli disengagement in 2005."
While this is certainly an improvement, the piece continues to leave readers misinformed by failing to share that other legal scholars don't consider Gaza to be occupied. As Michael Karayanni, an Arab-Israeli law professor and critic of Israeli policies, has correctly noted, "The Gaza Strip's current status is broadly debated, and opinions differ regarding whether it remains an occupied territory or, rather, is subject to international humanitarian law." Insider should do the same.
Other versions of the Insider piece remain uncorrected.