CAMERA's Israel office has prompted a correction on an article in the Sept. 23 English print edition of Ha'aretz which had wrongly reported that Israel allowed concrete and steel to enter the Gaza Strip legally for the first time in six years.
Gili Cohen's inaccurate article, with the erroneous headline stating that "Cement enters Gaza Strip legally for first time in six years," appears below: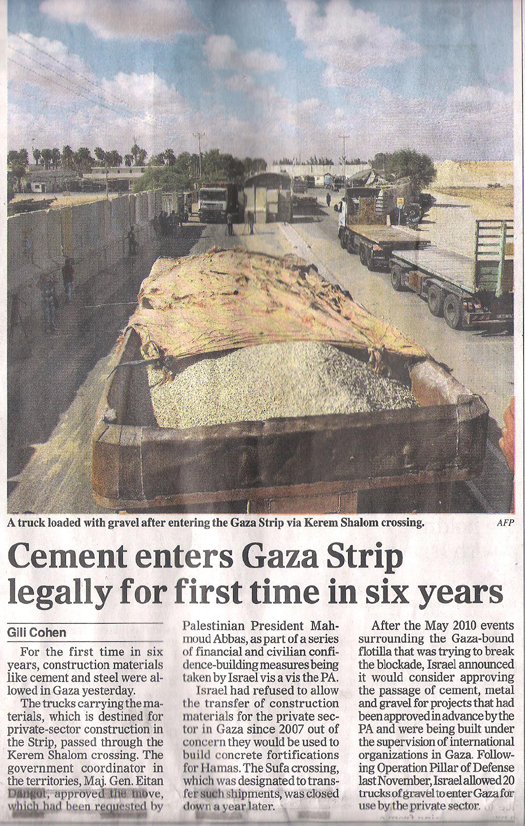 In our
original post
on the inaccurate article and headline we noted:
With respect specifically to cement, there is ample evidence documenting its legal entry into the Gaza Strip from Israel. For instance, according to COGAT's 2012 summary report, 1,629 trucks of concrete passed into Gaza for international organizations in 2011. In 2012, that figure was 1,887. COGAT's Feb. 5-111, 2012 "Crossing Status Weekly Report," notes that 38 truckloads of cement entered the Gaza Strip during that one-week reporting period. According to the United Nations' Office for the Coordination of Humanitarian Affairs, 1,600 tons of cement legally entered Gaza through the crossings from Oct. 2010 through Feb. 2011, and another 500 tons of steel entered during the same period.

In short, contrary to the headline and first paragraph of Gili Cohen's story, both cement and steel were previously allowed to enter the Gaza Strip in the last six years.This month's news was that cement and steel were permitted for the first time for the private sector, whereas previously cement and steel were permitted only for projects undertaken by international aid organizations.
CAMERA contacted Ha'aretz editors who initially refused to publish a correction. Following CAMERA's complaint to the Israel Press Council, editors published the following page-two correction on Friday (Oct. 18):

To see the Hebrew version of this post, please visit Presspectiva.