In the past, CAMERA has taken New York Times blogger Robert Mackey to task for "seeking out harsh criticism [of Israel] and passing it off as if that's where the conversation begins and ends." On Israel's controversial introduction earlier this week of buses for Palestinian laborers working in Israel, Mackey does it yet again. This time, interestingly, it's Palestinian voices he silences. In particular, he ignores Palestinian passengers who are are in favor of the new service.
As became clear from several media accounts this week, there are three main views regarding the new Israeli bus service for Palestinian workers traveling to their jobs in Israel. As the Associated Press reported,
Israel's decision to launch a pair of "Palestinian-only" bus lines in the West Bank on Monday, presented by the government as a goodwill gesture and assailed by critics as racism but was welcomed by Palestinian riders – is shining a light on the messy situation created by 45 years of military occupation and Jewish settlements in the area. (Emphasis added.)
In his March 4 blog entry about the new bus service ("Israelis Divided Over Separate Bus Lines for Arabs and Jews in Occupied West Bank"), Mackey completely ignores the Palestinians workers who are quite content to pay the nominal fee and to travel without Israelis. Per AP:
Haroun Hamdan, a 44-year-old blacksmith from the Palestinian village of Salem, said riding buses with Jewish settlers has become so unpleasant that the Palestinians prefer to have their own buses.

He said settlers often complain when Palestinians enter their buses. Palestinians can be blocked from boarding, or kicked off or subject to verbal abuse once on board, he said. "Riding with settlers is humiliating, and involves a lot of suffering," Hamdan said.

In one instance, Hamdan said a female Jewish settler tried to order him off a bus that had come from the large Israeli settlement of Ariel, but the bus driver refused to stop. He said his friends have had to walk 10 kilometers, or six miles, after being kicked off Israeli buses.

"The new bus line is better, because we won't have to go through all of this," he said, adding that the buses were a cheaper alternative to the private minivans that shuttle Palestinians to work inside Israel. A bus ticket costs anywhere from $1 to $3, compared to $6 demanded by the private drivers.
While Mackey does not include the satisfied Palestinian customers, he grants extensive space to critics, Israeli and otherwise. "Creating separate bus lines for Israeli Jews and Palestinians is a revolting plan," Mackey quotes Jessica Montell of B'Tselem. "This is simply racism." Mackey also reports:
Under the headline "Separate but Equal Bus Lines?," the Tel Aviv daily Yedioth Ahronoth noted that Israeli activists from the group Peace Now heard echoes of the segregated public services for African-Americans in the 1950s in the plan. "The decision to separate bus lines in the territories is shocking and turns racism into the norm," the activists said. "A Palestinian Rosa Parks is needed to insist upon sitting on Jewish bus lines."
After also citing the outraged tweets of Yousef Munayyer, the director of the Palestine Center in Washington, Mackey closes with the view of Jeffrey Goldberg, now at the Atlantic:
Several critics of the new bus lines in Israel said they evoked not just the segregation of the American South but also the apartheid regime of South Africa. Mr. Goldberg, who has long argued that the unchecked growth of Israeli settlements is undermining the possibility of a two-state solution, reminded readers in a 2008 Op-Ed article that no less an Israeli patriot than former Prime Minister Ehud Barak once warned: "Every attempt to keep hold of this area as one political entity leads, necessarily, to either a nondemocratic state or a non-Jewish state. Because if the Palestinians vote, then it is a binational state, and if they don't vote it is an apartheid state."
In the comments section, "DanielZ" of Ann Arbor aptly notes:
The headline is "Israelis divided", but you quote only left-wing critics (beyond government spokesmen), as well as Palestinian critics. You also don't quote any Palestinian supporters, found easily in the Israeli media. Here is some context you don't mention: (a) Palestinians who have passed "rigorous security checks" have killed Israelis in the past and (b) the bus lines serving the Palestinians offer them more convenient routes to work than the bus lines serving the Jewish towns; (c) given that Israelis can ride the Palestinians buses, and vice versa, they are not in fact legally separate, which inherently renders analogies to apartheid, Jim Crow, etc. suspect. And did you ever hear of Jim Crow towns offer blacks special routes to better serve them?


None of that excuses unjustified harassment by "settlers", nor does it offer a justification for Israeli settlement policies. But if you are going to purport to report on such issues, citing everyone from "liberal American critics to leftist Israeli critics to Palestinian activist groups in the U.S." is hardly providing the full story. Indeed, it's hard to avoid noticing that you don't quote a single person, Israeli or Palestinian, who actually lives in the West Bank.
In response, Mackey defends his decision to exclude Palestinians in favor of the new bus service as follows:
This is an overview of how the story has been reported in the Israeli press not a report from the region, so it cannot be comprehensive, but there are quotes from Israeli settlers and Palestinian workers who live in the W
est Bank in the primary articles readers can access by clicking on the links provided in the post.
This is "an overview of how the story has been reported in the Israeli press"? Really? Then why does he include the views of Yousef Munayyer and Jeffrey Goldberg, both of Washington, and neither of the Israeli press?
And, in response to another talkbacker who criticizes Mackey for ignoring the Palestinian supporters of the buses, the blogger reiterates on March 5:
There was no omission of pertinent facts. You appear determined to accuse me of bias, as if that is the only way that the information contained in this post can be understood, but the fact is that there were no testimonies from Palestinians praising the new bus lines in the reports in the Israeli press I read yesterday, which is when this post was written. There were, however, reports of great dissatisfaction with overcrowding on the buses from Palestinians that I did not include, not out of bias in favor of Israel's transportation ministry, but simply for reasons of length and because readers of a blog who want to know more are encouraged to click the links and read the articles summarized. (Emphasis added.)

Mackey claims to have seen no reports in the (English-language) Israeli media March 4 mentioning pleased Palestinian travelers. It stretches the imagination to believe that Mackey, who, in his 7:17 p.m. EST post on the new buses, cited a Ha'aretz article dating back to November, and yet he could not find the following 11:40 a.m. Israel time Ha'aretz article: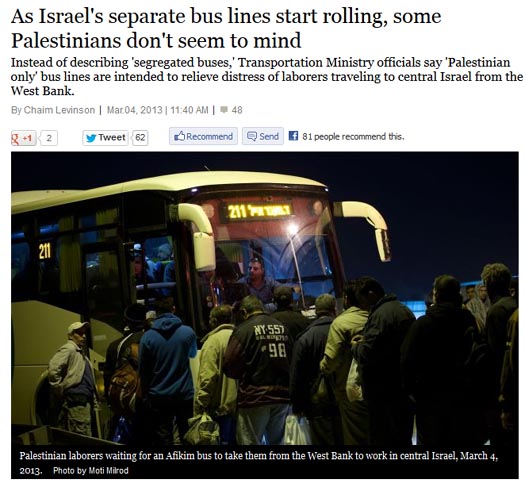 This article appeared on Ha'aretz's home page more than 12 hours before Mackey posted on the same topic, and he says he didn't see it? And yet he managed to find a three-month-old Ha'aretz article? The March 4 Ha'aretz story that Mackey purportedly missed, headlined "As Israel's separate bus lines start rolling, some Palestinians don't seem to mind," reports:
On Sunday, Khalil heard on the news that there would be a new bus transporting Palestinian laborers to and from the crossing point – and he was pleased.

The bus will cost him NIS 8.80. "That's nothing," he says. It's a savings of NIS 12 in each direction, NIS 250 per month. Since he earns NIS 200 per day, that's a significant amount, he says. At 4:20 Monday morning, he is already waiting for the special bus that will take him to work. . . .

It took the workers a few minutes to understand where they needed to go and which buses were headed where, but they quickly asked to get on one of the two lines. The first is to Ra'anana and Kfar Sava, and the second is to Petah Tikva, Ramat Gan and Tel Aviv. Thousands pushed onto the Tel Aviv line. There weren't enough buses to meet the demand. After a few minutes came the complaints and suggestions for improvement.

One man working on the Meier-on-Rothschild luxury tower asked why the Tel Aviv bus stopped at the northern train station and did not continue on to the Central Bus Station. A group of workers looking to get to Herzliya asked why the Ra'anana–Kfar Sava line wasn't extended to Herzliya. Many wondered about the buses' return times. Several workers asked for buses to run on Fridays as well, since they pay "pirate" drivers even on Fridays. Representatives of the Afikim bus company and Lt. Col. Adel Masalha, the district coordination liaison, noted all the comments and promised changes in the near future.
In addition to this
Ha'aretz
report citing Palestinians pleased with the service, the Times of Israel
published
the aforementioned Associated Press piece at 12 a.m., March 5, Israel time, two hours before Mackey posted on the topic.
If Mackey really missed these stories, then what does that say about his journalistic skills? Alternatively, if he didn't miss them, and just said that he did, then he's just plain lying. Either way, New York Times readers deserve better.