On Sunday, CNN aired a one-hour special by anchor Dana Bash entitled "Rising Hate: Antisemitism In America." The program brought a much-needed focus on a serious topic.
However, if this topic is truly important to Bash and the network, then their first act now that the special has aired should be to look inward and address what CNN has thus far refused to do: retract the antisemitism the network itself aired last year.
This shouldn't be much of an ask given that Bash's own comments suggest CNN now does care about the topic. As Bash told the Jewish Telegraphic Agency yesterday, she "work[s] in a place that wants to shine a spotlight on [antisemitism], and allow[s] for an investigation into what is happening, why it's happening and what are the solutions."
That's good to hear, because last year CAMERA sent CNN multiple corrections requests, which have yet to be addressed, following the airing of its error-laden six-part special, "Jerusalem: City of Faith and Fury." Beyond the constant historical revisionism and falsehoods, the series also veered into open antisemitism.
After repeated instances of the series downplaying and erasing Jewish history in the Land of Israel, and specifically in the city of Jerusalem, one of the final moments saw a guest, Huda Imam, state the following:
"The whole of Palestine continues to be eaten up like a cancerous disease. Deleting, erasing, arresting, demolishing, and the world is silent again."
You don't have to ask the genocidal Ayatollah Khamenei to know what the implied solution is (eradication) when the Jewish state is called a "cancer."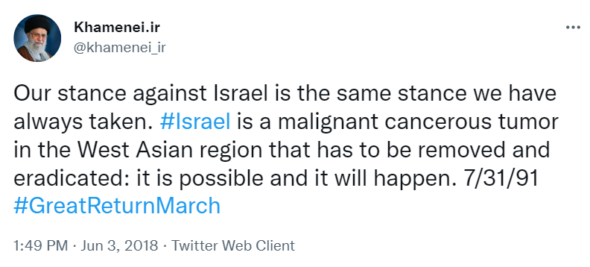 Bash's special addressed the perniciousness of this type of libel, specifically that Jews have been the subject of all manner of conspiracy theories surrounding the coronavirus. So, too, have Jews been compared to other diseases. As documented by the U.S. Holocaust Memorial Museum, the Nazi regime often compared Jews to all manner of diseases like typhus, syphilis, and, just like Imam and Khamenei, cancer. Similarly, as the Anti-Defamation League has documented, Jews today are depicted as the coronavirus.
As even the leftist Rabbi Jill Jacobs admitted during the special, "criticism" of Israel crosses "the line into antisemitism" when you "use classic antisemitic tropes." There are few antisemitic tropes as classic as the one CNN aired.
Yet, at no point during the series was Imam's crude bigotry challenged. Instead, CNN saw fit to amplify such antisemitic invective to its audience.
Despite repeated communications with CAMERA, CNN has refused to address that hateful rhetoric.
Bash's special closes with a number of thoughtful responses to the host's question: "How do we stop this rise in antisemitism?"
U.S. Special Envoy to Monitor and Combat Antisemitism Deborah Lipstadt responded: "Words are easy, but it's to act on it, to educate."
Jeff Cohen, who survived the Colleyville synagogue attack, pleaded that when confronted with instances of antisemitism, one cannot simply roll their eyes and let it go. "Letting things go is a problem," he insisted.
Words, indeed, are easy. It is actions that matter. Airing a special on the topic of antisemitism is praiseworthy. But if Bash and CNN don't start at home and address the network's own failures, then its "Rising Hate" special will come across simply as moral lecturing in the quest for ratings.