For at least the second time, CAMERA has prompted corrections at Haaretz of an inflated figure for Palestinian fatalities Aug. 1, 2014, during so-called "Black Friday," during an Israeli operation to rescue captured soldiers Lt. Hadar Goldin.
Most recently, Haaretz's Gideon Levy had reported earlier this week ("Israel's Gold Star Family," June 25, 2017) reported:
Between 130 and 150 people – most of them civilians, including women and children – paid with their lives for his killing and the abduction of his body during the 2014 Gaza war.
Editors apparently forgot that they previously corrected this very same figure in 2015. The Jan. 13, 2015 correction, prompted by CAMERA, had stated:
The exact number of Palestinians killed in Rafah on August 1, 2014, following the abduction of Second Lieutenant Hadar Goldin, is not known. However, it seems that the number is lower than the initial Palestinian estimate (between 130-150 fatalities), which was quoted in a Haaretz editorial ("Don't interfere with the probes," on January 4, 2015). According to an investigation by the Israel Defense Forces, 41 Palestinians were killed, while the Palestinian Center for Human Rights put the figure at 123.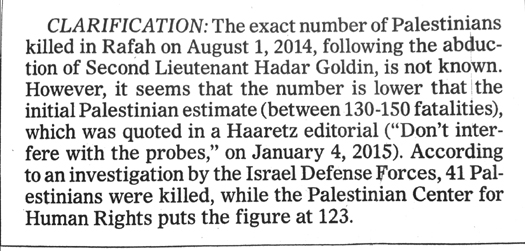 CAMERA's Israel office reminded editors about the 2015 correction and requested that they again corrected the inflated figure. As a result, in the online article, in both
English
and
Hebrew
, editors changed the figure of "130 to 150" to the accurate figure: "dozens." Contrary to common journalistic practice, editors did not append a clarification alerting readers to the change.
For the Hebrew version of this post by Presspectiva's Hanan Amiur, please see here. For additional
Haaretz
corrections prompted by CAMERA and Presspectiva, CAMERA's Hebrew site, please see here.