Following communication from CAMERA's Israel office, Haaretz has corrected two headlines about unruly Israeli passengers who disrupted an Israir flight to Bulgaria. The page-three headline in yesterday's print edition misidentified the passengers as Bulgarian, stating: "Israir to bar unruly Bulgarians, may call police."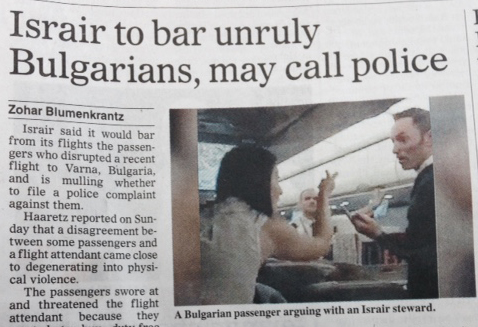 Given that the incident dominated Israeli news during an election period, one wonders whether Haaretz's headline writer had glanced at a newspaper or turned on the radio in recent days. Or whether the headline writer had even read the accompanying article, which referred to the disruptive passengers "who returned to Israel early yesterday morning."
"When the [return] flight landed at Ben-Gurion International Airport, the problematic passengers covered their faces and tried to avoid the media scrum that awaited them," the article reported.
The straightforward following correction appears on page 2 of today's print edition:

In addition, the headline accompanying
Haaretz
's
online article
yesterday about the unruly Israir passengers was also inaccurate. It read: "Israir mulls police complaint against violent Bulgaria-flight passengers."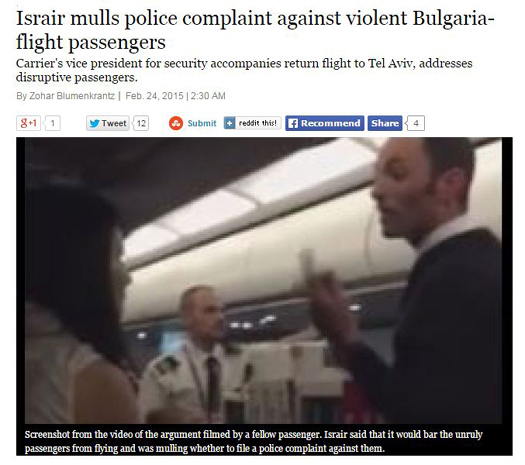 The accompanying article does not support the claim that the passengers were "violent." The article reports:
Haaretz reported on Sunday that a disagreement between a passenger and a flight attendant came close to degenerating into physical violence.

The passengers swore at and threatened the flight attendant because they wanted to buy duty-free chocolate without waiting their turn.
In response to an email from CAMERA, editors quickly amended the headline, which now accurately refers to the passengers as "abusive."

CAMERA commends Haaretz for setting the record straight.
For additional
Haaretz
corrections prompted by CAMERA and our Hebrew site, Presspectiva, please see here.