CAMERA's Israel office today prompts correction of an article published in
Haaretz
's English edition, both online and in print, which incorrectly stated that an Eritrean asylum seeker was by "beaten to death" during a terror attack in Be'er Sheva. The Dec. 24 page-one article, also
online
, erred:
Eritrean asylum seeker Haftom Zarhum died from gunshot wounds and not as a result of the mob beating that followed, says the autopsy report issued Wednesday by the Abu Kabir Institute of Forensic Medicine. Zarhum was attacked and beaten as he lay in a pool of blood on the floor of the Be'er Sheva central bus station after being shot by a security officer who suspected he had carried out the terror attack that just took place. The autopsy report has been given to the police.

The autopsy found that Zarhum had eight gunshot wounds, two of which were fatal.
Reporter Amos Harel's original report in Hebrew does not contain the erroneous claim that Zarhum was beaten to death. The Hebrew edition more accurately reports (CAMERA's translation): "In November, an IDF soldier was murdered (and an Eritrean civilian was inadvertently killed) in a shooting attack in the central bus station in Be'er Sheva, in an attack carried out by a Bedouin citizen."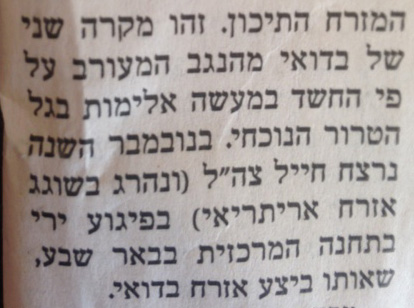 Following communication from CAMERA, Haaretz editors promptly amended the text. It now states:
In addition, editors commendably appended a clarification to the bottom of the article alerting readers to the change:
The erroneous report about Zarhum is the latest instance of "Haaretz, Lost in Translation," in which misinformation which had not appeared in the original Hebrew report makes its way into the English edition, widely read internationally by an audience which is likely to be less informed than the Israeli readership. It is the third mistranslation to have appeared in the English edition this month.
For more Haaretz corrections prompted by CAMERA and its Hebrew site, Presspectiva, see here.