Presspectiva, CAMERA's Hebrew division, has prompted clarification today of an editorial which cited inflated figures for the number of Palestinians killed in Rafah, in the southern Gaza Strip, Aug. 1, during a heavy bombardment aimed at rescuing Israeli soldier Hadar Goldin, believed to have been captured. (In fact, he had been killed.)
The page 7 correction today states (CAMERA's translation):
The number of Palestinians killed in Rafah August 1, 2014 after an attempt to kidnap Lt. Hadar Goldin is not known for sure, but it is apparently lower than the initial Palestinian estimates (130 to 150) which were quoted in the editorial ("Don't Interfere with MAG") (Haaretz, Jan. 4); According to an IDF investigation, 41 Palestinians were killed and the Palestinian Center for Human Rights reports 123 killed.
The English edition has yet to correct its numerous citations of the inflated figures. They include
yesterday's editorial ("
Ya'alon must not interfere in the probe
") refers to "the events of 'Black Friday' in Rafah during last summer's Operation Protective Edge, in which three soldiers and at least 130 Palestinians, most of them civilians, were killed in the IDF's efforts to thwart the abduction of an officer."
In addition, a Jan. 8
subheadline
(below) featured the unfounded figure.
The accompanying article, by Gili Cohen, refers to "the Gaza war's 'Black Friday' incident, in which the IDF reportedly killed 130 to 150 Palestinians and wounded hundreds more, most civilians, following the August 1 kidnapping of Lt. Hadar Goldin. . . ."
The same goes for what has been termed "Black Friday" in Rafah, where between 130 and 150 Palestinians were killed in response to the attempted abduction of 2nd Lt. Hadar Goldin.
Following publication of the Hebrew clarification today, CAMERA's Israel office contacted editors at the English edition. Stay tuned for an update about further clarifications.
Jan. 13 Update: Haaretz Runs English Clarification
Today the following correction appears on page 2 of the Haaretz English print edition: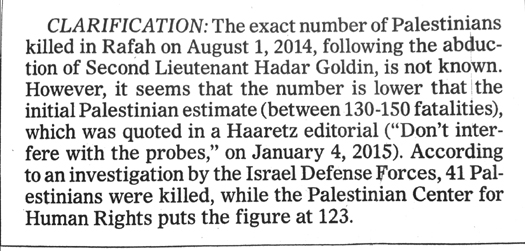 In addition, a similar clarification is appended to the bottom of the Jan. 4
editorial online
.
However, the text within the editorial itself remains unchanged, stating that between "130 and 150 Palestinians were killed in response to the attempted abduction of 2nd Lt. Hadar Goldin."