Nov. 14 update: After CAMERA staff and members contacted The New York Times, the newspaper updated its story and appended an Editors' Note acknowledging that the story had "lacked context about the Palestinian activist Rasmeah Odeh." The story now explains: "In 1970, Ms. Odeh was convicted by Israeli courts for her role in the murder of two students. In 2014, she was convicted of immigration fraud in U.S. federal court and deported to Jordan in 2017."
Nov. 17 update: The New York Times is refusing to publish its Editors' Note and corrective language in the print edition, where the article also appeared.
Days after a
New York Times
arts piece about the Louvre Abu Dhabi
covered up
an official Emirati ban on Israeli symbols at the international Grand Slam judo tournament last month, the paper of record this week published a travel article which whitewashes convicted bomber Rasmeah Odeh as a "controversial Palestinian activist."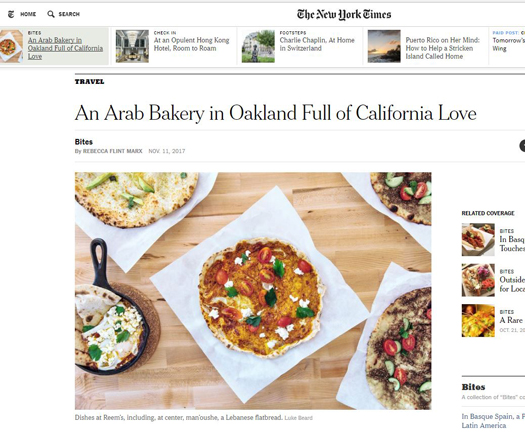 The Nov. 11 "Bites"
New York Times
restaurant review is all about the love, community organizing and social justice purportedly exemplified by Reen Assil, owner of Reem's California ("
An Arab Bakery in Oakland Full of California Love
"). Rebecca Flint Marx writes:
Reem's is one of a handful of Arab bakeries in the Bay Area — but it is likely the only one where you'll find the children's book "A Is for Activist" on the shelves and an enormous mural of the controversial Palestinian activist Rasmeah Odeh on the wall.
But there is not a word about the source of Odeh's "controversy," as The Times delicately puts it. As The New York Times itself reported May 27, 2017, Odeh "was convicted in Israel of playing a role in the bombing of a supermarket that killed two civilians in 1969."
Odeh was convicted of perpetrating the bombing in which Hebrew University students Leon "Arie" Kanner, 21, and Edward Joffe, 22, were murdered. That makes her a convicted terrorist, not an "activist."
The Associated Press reported that this past September, Odeh
was deported from the United States for concealing a decades-old bombing conviction arrived in Jordan on Wednesday. . . .

Odeh didn't disclose her criminal record when applying for a U.S. visa and later for U.S. citizenship.
The depiction of a convicted bomber responsible for the killing of two civilians who was deported from the U.S. after she concealed her criminal records from authorities as a "controversial Palestinian activist" is a complete whitewash of her crime.
At the end of the article, Flint Marx dances around Odeh's conviction, still withholding the key information from readers:
While Ms. Assil's food has drawn plenty of praise, the bakery's mural has invited criticism: in late June, an online op-ed charged that Mrs. Odeh's portrayal glorified terrorism, and the bakery's Yelp page was besieged by a slew of one-star reviews. "It was really scary," Ms. Assil said of the experience, but added that it won her new allies.
By concealing Odeh's crimes and her victims, readers would have no way of knowing the reason why some might accuse restaurant owner Reem Assil of glorifying terrorism. Uninformed readers might conclude that Assil's accusers were motivated by nothing more than bigotry at worst or differing politics at best. Ignoring the real victims in this story – Kanner and Joffe – Flint Marx casts the purportedly social minded, loving Assil as the victim who was really scared.
In September
National Geographic
removed
a similarly misleading mischaracterization, identifying notorious hijacker Leila Khaled as a "Palestinian activist." Khaled, like Odeh, was affiliated with the Popular Front for the Liberation of Palestine – a group designated as a terror organization by the
European Union
and the
United States
, as well as Israel and Canada.
CAMERA has contacted The Times to ask for a clarification noting that Odeh was convicted in Israel of two bombings, including one that took the life of two university students, and that she was deported from the United States for concealing her criminal record.