In the wake of horrific mass terror attacks against southern Israeli communities, in which up to 1400 Israelis were murdered by terrorists from Hamas-ruled Gaza, Israel's Defense Minister Yoav Gallant announced a "complete siege" of the territory:
I have ordered a complete siege on the Gaza Strip. There will be no electricity, no food, no fuel, everything is closed.
Because some have mistakenly interpreted this to mean that Israel supplied — and is now cutting off — all of Gaza's water, electricity, and food, the facts are outlined below.
Before the facts though, some context:
1. For years Israel sent water and electricity into Gaza, and in return Gaza sent rockets, mortars, incendiary balloons and terrorists into Israel, all intended to kill Israeli civilians. That is, Israel sending supplies to Gaza is a humane gesture towards an entity run by popularly elected inhumane jihadists, determined to murder Jews and Israelis wherever the opportunity arises.
And yet, on many college campuses and elsewhere, Israel is accused of engaging in "apartheid" and "genocide."
2. There is no doubt that since Hamas started the war, Gaza residents have faced serious shortages of power, water, medical care, food, etc. But as we shall see below, with the partial exception of electricity this is not because Israel stopped supplying Gaza.
Water
Gaza is an oasis with its own water supply, which is why it has been inhabited for thousands of years – indeed, it was the setting for the Biblical story of Samson and Delilah. Gaza sits on top of the southern part of the Coastal Aquifer, with a local capacity of almost 100 million cubic meters (MCM) annually; without that water Gaza would just be another part of the desert.
However, because the water table is very high, many Gaza residents, especially farmers, have drilled wells wherever they want, leading to vast overuse and saltwater infiltration from the nearby Mediterranean, severely damaging the aquifer's water quality. When Israel ruled Gaza it tried to preserve the aquifer by preventing such drilling, but Hamas made no effort to stop illegal drilling until 2021, after much damage had already been done to the aquifer's water quality.
Israel has also long supplemented Gaza's water supply, initially by pumping about 4 MCM annually through the Kissufim pipeline to the local water grid, providing water to the communities of El-Bureij, Moazi, Abasan, Bani Suheila and Khan Yunis.
(It should be noted that the small community of Kissufim was not spared by Hamas during its recent murderous attacks – at least 8 residents were murdered.)
In recent years Israel has built new pipelines greatly increasing its supply of water to Gaza. According to the Palestinian Central Bureau of Statistics in 2021 Israel supplied 14.4 MCM of water to Gaza, while 192.5 MCM was drawn from the aquifer under Gaza. As already noted, Hamas's policy to allow such overuse of the aquifer is a self-inflicted disaster, since it is about three times the annual recharge rate, guaranteeing infiltration of seawater from the Mediterranean.
In summary, when Gallant said Israel is cutting off water to Gaza, he was referring only to the approximately 14 MCM, and in the end this cut off didn't last very long – on Oct. 29th Israel announced that two of the three pipelines into Gaza had been reopened, suppling water at a rate equivalent to 10.4 MCM/year.
Electricity
Gaza gets its electricity from three main sources. The largest amount comes from the Israel Electric Company which provides power through 10 transmission lines (see image) that connect to the Gaza electrical grid (subsidized by Israeli taxpayers since the PA rarely remits the required payments):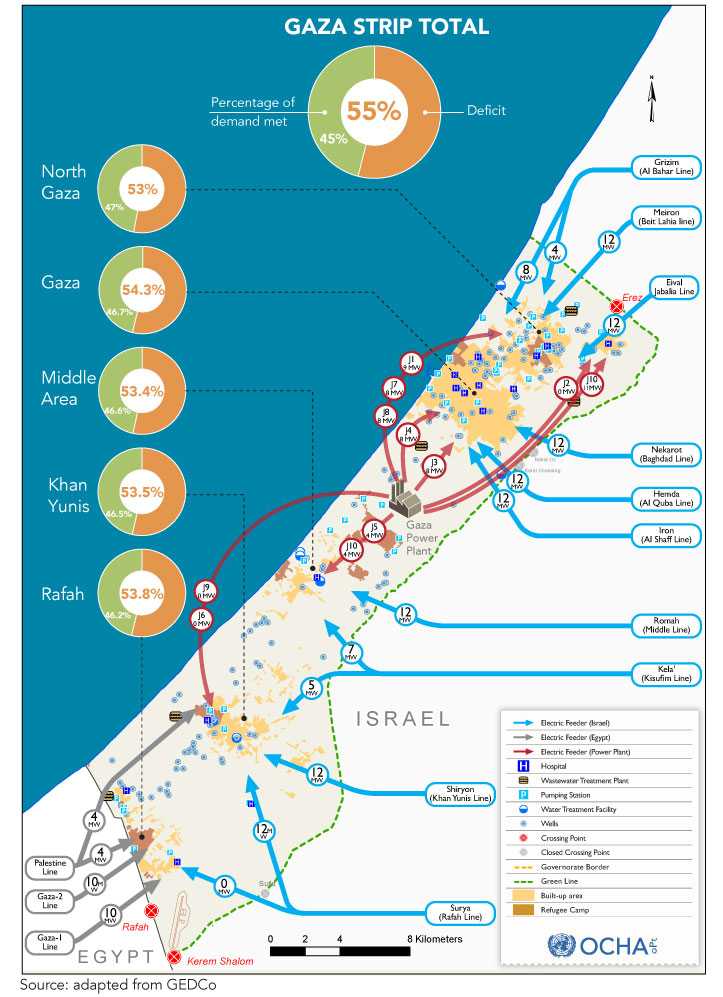 However, during the Oct. 7 attacks 9 out of 10 of those lines were cut. So the bizarre argument some make is that even though Hamas attacks cut the power lines, Israel is obligated to repair the lines at its own expense, and then to supply power to Hamas-run Gaza at its own expense.
There is also a powerplant run by Gaza Power Generating Company, which burns diesel fuel that usually comes from Israel (Egypt used to provide some fuel through their Rafah crossing point), plus private generators and a significant amount from solar power.
Indeed, according to one study Gaza has become a world leader in solar power (PV) generation, with estimates that this yields at least 25% of its power. Including this PV power, the electrical power supply for Gaza in 2021 in MW (megawatts) is estimated to be:
| | | | |
| --- | --- | --- | --- |
| Power from Israel | Gaza Power Company* | Private and Govt. PV | Total Power |
| 118 | 82.68 | 67 | 268 |
(* excluding Gaza govt. PV)
Since the Oct. 7 terrorist attacks Israel has stopped diesel fuel deliveries to Gaza, however there is evidence that Hamas has stored over half-a-million liters of diesel fuel near Rafah. In addition, Hamas is estimated to have stored enough fuel and supplies in their subterranean bases and tunnels for several months of fighting, as reported by the New York Times:
As supplies of virtually every basic human necessity dwindle in Gaza, one group in the besieged enclave remains well-stocked: Hamas. Arab and Western officials say there is substance to Israeli claims of Hamas stockpiling supplies, including desperately needed food and fuel… Hamas has hundreds of thousands of gallons of fuel for vehicles and rockets; caches of ammunition, explosives and materials to make more; and stockpiles of food, water and medicine, the officials said.
Hamas could easily share this fuel with the Gaza powerplant and local civilians, but it seems to have decided not to. So there is no shortage of fuel in Gaza, just a refusal by Hamas to share it with the people it supposedly protects.
Finally, it should be noted that even if the Gaza power plant is down, hospitals will not be without electricity, thanks to a UN/WHO program that helped to provide Gaza's hospitals and many of its clinics with rooftop solar panels that supply a significant portion of their electrical needs. For example, in Khan Younis the European Hospital gets 70% of its power from roof-top solar panels:
In Palestine's Gaza Strip, around 70% of the European Gaza Hospital's electricity is now generated directly on its roof. Palestinian Ministry of Health, Dr Yusef Abu Al-Rish mentioned that the solar power generated will supply the intensive care unit and the surgical areas which continuously ensures that the health care of the citizens is guaranteed.
The Nasser Hospital in Khan Younis also has a large solar panel installation that provides about 40% of its electrical needs: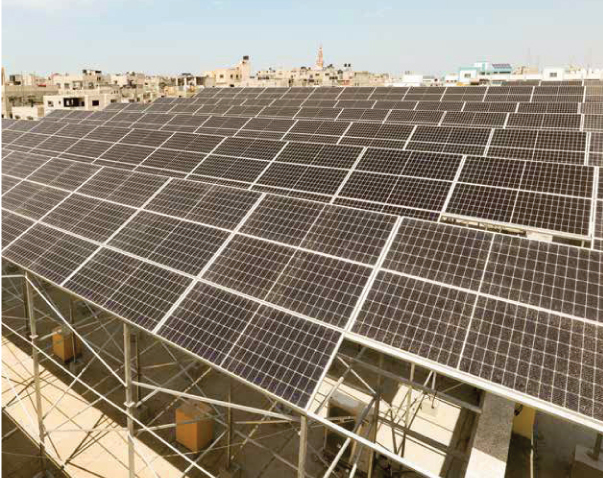 [For more regarding Gaza electricity see also Cutting the Electricity Supply to Gaza – Consequences and Implications.]
Food
While Gaza did import food stuffs and industrial supplies from Israel through the Kerem Shalom crossing point, it should be noted that this is one of the many places attacked by Hamas on Oct. 7, meaning even if Israel wanted to allow transport of goods into Gaza, this would have to wait until the crossing is repaired, and until Palestinian trucks could get to the crossing to pick up the goods. But thanks to Hamas, the area around Kerem Shalom is a war zone, meaning there won't be any Palestinian trucks driving there for the foreseeable future.
In addition, Gaza produces so much food the local market can't absorb it, and much is exported, including fresh fruits, fish and vegetables that were sold to Israel and the West Bank. In March 2023 there was a year-over-year increase of 140% of such agricultural exports, as outlined in Leap in Gazan exports of agricultural produce:
Over the past months … [there has been] a leap of more than 140% in the marketing of agricultural produce from the Gaza Strip in Israeli territory, as compared with the same months last year. The increase coincides with extensive exports into the Judea and Samaria area. A total of more than 17 thousand tons of agricultural produce has been shipped from the Gaza Strip to the Judea and Samaria area and Israel. In addition, the fishing sector too has seen a surge upward in marketing — an increase of roughly 100% in exports from the Gaza Strip this February as against the previous February…

Those steps have brought employment to many residents of the Gaza Strip, significantly boosted its economy, and improved the welfare of the civilian population. The continuation and expansion of such policies depends on the continued maintenance of stability and of a quiet security situation in the area.
Indeed, more than seven years ago Gaza was already self-sufficient in food, according to senior Hamas official Ziad al-Zaza:
In addition, under Hamas, the people of Gaza searched for and developed their lost capabilities, achieving self-sufficiency in the cultivation of vegetables, fruits and other foodstuffs.
So the food problems Gaza civilians are experiencing now are not because Israel chose to impose a siege on Gaza, it's because Hamas chose to impose an all-out war on Israel.