The "Five W"'s of journalism refer to the fundamental questions that a journalistic item is meant to answer: who, what, where, when and why.
Haaretz's English edition struck out on two of these w's in the March 9 edition, introducing erroneous information about "who" and "where" in two separate items which were correctly reported in the paper's parallel Hebrew edition.
Thus, a page-two headline in the English print edition misidentified the "who," stating: "Police post photos of Palestinian suspects in humiliating poses." Likewise, the accompanying article errs: "Two Palestinian men suspected of stealing a gun from a soldier were photographed by police in a humiliating pose, blindfolded and kneeling on the ground, and the photos were posted on social media by police officers." (That wording was also in the digital edition.)
Yet, according to the article itself: "Both suspects are from a village called Ibtin." Ibtin is in northern Israel, not the West Bank. In other words, the suspects are Israeli, not Palestinian. Indeed, the Hebrew story, also in print on March 9, accurately reported in the first sentence (CAMERA's translation): "Two residents of the Bedouin community of Ibtin in northern Israel were arrested yesterday under suspicion that last week they stole a gun from a soldier from the Egoz unit and attacked him." Also, the Hebrew headline did not misidentify the suspects as Palestinians. Instead, it read: "Police photographed blindfolded suspects in theft of soldier's gun."
Moving on to the "where" error, a front-page photo caption that day stated in English: "A soldier walking past Palestinians waiting at a COVID vaccination facility in Jerusalem."
But, as the front-page caption on the same day's Hebrew edition makes clear, the facility is at the Rachel's Tomb crossing between Jerusalem and Bethlehem. It is not in Jerusalem. The accurate Hebrew caption states (CAMERA's translation): "Palestinian workers wait to receive the vaccine at Rachel's crossing next to Bethlehem, yesterday. Israel aspires to vaccinate 120,000 laborers."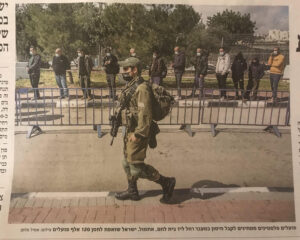 CAMERA notified
Haaretz
of the errors, and corrections were promised. As of this writing, the digital article referring to "Two Palestinian men suspected of stealing a gun from a soldier" was revised to refer to "Two Israeli men." Contrary to common journalistic practice, no note was appended to the article notifying readers of the change.
For more examples of misreporting in Haaretz's English edition, while the parallel Hebrew item was accurate, see "Haaretz, Lost in Translation."