Months after
Haaretz
initially reported
that an Israeli investigation concluded that the Nov. 11, 2014 fire in the mosque of the West Bank village of al-Mughayyir was the result of an electrical malfunction, and not an arson attack and had been
widely reported
, the Israeli daily again reported that the mosque had been torched.
The English edition of
Haaretz
erroneously
reported
Friday ("Cars torched and racist graffiti scrawled in Palestinian village," Jack Khoury):
Last year, al-Mughayyir's mosque was torched and spray-painted with racist slogans. Villagers said the arson caused major damage to the first floor and minor damage to the second floor.
In addition, the caption of the photograph accompanying the online article incorrectly states:
The scorched interior of a mosque that was set on fire in November in the Palestinian village of al-Mughayyir, where another suspected hate crime was committed early Thursday morning.
Furthermore, Friday's article falsely reported that racist slogans were spray-painted at the al-Mughayyir mosque last year. In fact, as Haaretz's Chaim Levinson reported on Dec. 11 about the incident in question: ". . . nor was any racist graffiti found at the scene."
Other media outlets which have corrected, making clear that an Israeli investigation found that the fire was caused by an electrical problem, and not arson, include The New York Times (below)and the Associated Press.
In response to communication from CAMERA's Israel office, Haaretz editors deleted the paragraph from Friday's online article which had claimed that the mosque was torched and spray-painted with racist slogans last year.
They also replaced the photograph with a different image and corrected the caption, which now refers to a "fire-damaged mosque" instead of "a mosque that was set on fire" and "another suspected hate crime."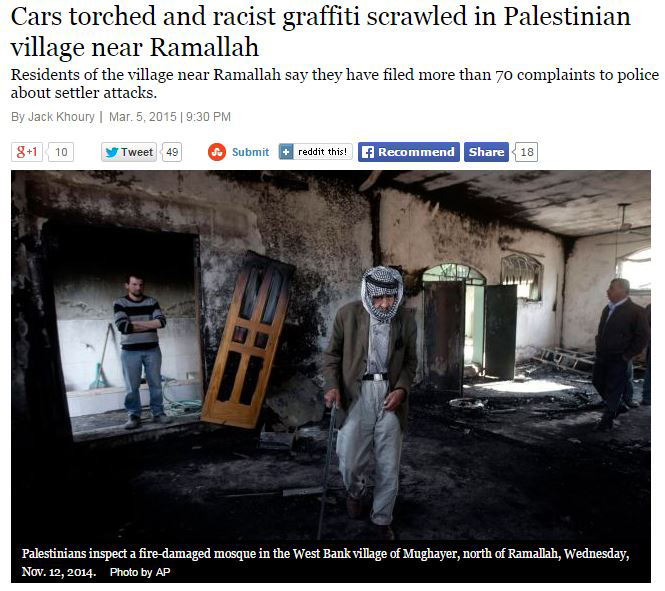 Haaretz editors, however, did not act transparently in that they failed to note that the article and caption had been corrected. CAMERA continues to urge Haaretz append a correction online and to run a correction in tomorrow's print edition.