Unfortunately, media outlets don't always learn from past mistakes. The [New York Times] has on numerous occasions falsely reported – and corrected – the claim that the Western Wall is Judaism's holiest site; the Temple Mount, the location of the holy of holies, enjoys that status.
As if on cue,
The Times
yesterday published an online story which, once again, contained this very same error ("
Trump Comes to Israel Citing a Palestinian Deal as Crucial
"). The article originally stated: "American flags flew in Jerusalem, and the city's holiest Jewish and Christian sites prepared to host Mr. Trump, his wife, his daughter and his son-in-law."
The city's holiest Jewish site is the Temple Mount, the location of the First and Second Jewish Temples, and the Trumps did not visit there. The Trump family stopped at the Western Wall, holiest site where Jewish prayer is permitted.
CAMERA's Israel office contacted The Times, and editors promptly agreed to correct.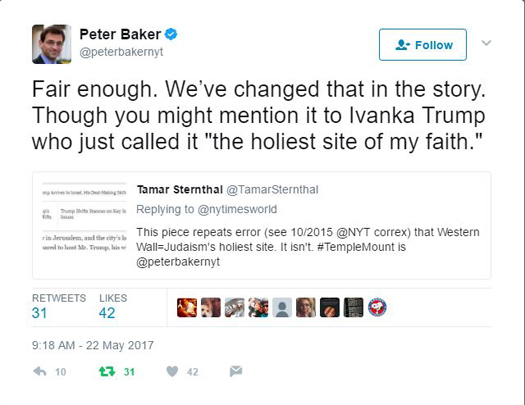 The amended text now states that President Trump "then became the first sitting president to visit the Western Wall, the holiest site for Jewish prayer …"
For additional
New York Times
corrections prompted by CAMERA, please see here.