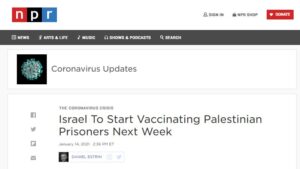 A Jan. 14
article
by National Public Radio's Daniel Estrin grossly misleads, falsely suggesting that Israel withheld the coronavirus vaccine from Palestinian prisoners even as other prisoners received the jab. In fact, Amir Ohana, Israel's Minister of Public Security had previously
called
for a ban on vaccines for
all
prisoners, and on Thursday Health Minister Yuli Edelstein overruled him, making clear that all prisoners in Israeli jails — Palestinian and Israeli alike — will start to receive the vaccines. Thus, all along, Palestinian prisoners have been in the exact same position as other prisoners with respect to access to the vaccine.
The headline deceives, singling out Palestinian prisoners: "Israel to start vaccinating Palestinian prisoners next week." The correct headline would be: "Israel to start vaccinating prisoners next week," or "Israel to start vaccinating Israeli and Palestinian prisoners next week."
As Daniel Estrin himself
confirmed
on Twitter
,
". . .
Israel Prison Services says no prisoner, Israeli or Palestinian, has yet been vaccinated. They say they're starting with prison staff and awaiting instructions from public security minister
@AmirOhana." Why then does the headline refer to the start of vaccinations only for Palestinian prisoners?
Similarly, the article's first sentence egregiously misleads that that Health Minister Edelstein made an announcement Thursday promising vaccines for Palestinian prisoners starting Sunday, when in fact he was referring to all prisoner. Estrin wrote:
Israel's health minister announced Thursday the country would vaccinate Palestinian prisoners against COVID-19, after Israel's president said withholding vaccines was against Israel's Jewish and democratic values.
Overriding objections from the minister in charge of prisons, Health Minister Yuli Edelstein said Thursday that Israel will start vaccinating all prisoners next week, including Palestinian security prisoners being held in Israeli correctional facilities.

"We adhere to all of the priority committee's guidelines," Edelstein said while visiting a vaccination center in the central city of Ramle, referring to the Health Ministry panel tasked with setting national policy vaccination priorities. . . .

Public Security Minister Amir Ohana, however, has thus far instructed prison officials to refrain from vaccinating inmates against COVID-19 until further notice, after a Palestinian official said that security prisoners were expected to soon begin getting shots. Ohana's ban included not only security prisoners, but all inmates.

Ohana has called for vaccinations to be given only to prison guards, not inmates, until a larger number of non-incarcerated Israelis are inoculated.
Indeed, buried in the eighth paragraph of Estrin's article is the fact that Ohana called for a ban on vaccines for all prisoners:
He instructed only prison staff to be vaccinated for the time being, excluding all Israeli and Palestinian prisoners, Herbst [a spokesperson for the Israel Prison Services] says.
Ohana's Dec. 28 statement reads (CAMERA's translation):
The Minister of Public Security Amir Ohana directed the Israel Prison Services on Dec. 24, 2020 that only staff will receive the coronavirus vaccine; vaccination of prisoners will not take place without permission and only in accordance with guidelines for advancing vaccination which apply to the general population.
Why then does NPR falsely frame the story as one that applies singularly to Palestinian prisoners, as if they have been denied the vaccine which others have received?
In a separate report, on "
Consider This
" Jan. 14, Audie Cornish asked about vaccine accessibility for Palestinians in the West Bank and Gaza Strip:
So why is it not the case for Palestinians – right? – in areas under Israeli control? What's going on there?
The vast majority of Palestinians living in the West Bank live in Area A, that is under the total (civil and security) control of the Palestinian Authority. They do not live "under Israeli control." Likewise, Gaza Strip Palestinians do not live "under Israeli control." They live under the control of Hamas.
In his online report, Estrin more accurately referred to the "Israeli-occupied West Bank and the Hamas-ruled Gaza Strip, which is blockaded by Israel and Egypt."

This distinction matters because, under the Oslo Accords, it is the Palestinian government which is responsible for vaccinating its population (including those in Area C, which is under Israeli civilian control). Article 17 of Annex III of the 1995 Interim Accords state:
1. Powers and responsibilities in the sphere of Health in the West Bank and the Gaza Strip will be transferred to the Palestinian side, including the health insurance system.

2. The Palestinian side shall continue to apply the present standards of vaccination of Palestinians and shall improve them according to internationally accepted standards in the field, taking into account WHO recommendations. In this regard, the Palestinian side shall continue the vaccination of the population with the vaccines listed in Schedule 3.
Unfortunately, however, "Consider This" ignored the Palestinian obligation under the bilateral Oslo Accords to vaccinate their population, with Estrin stating only:
Well, there's a dispute about that. U.N. experts, international rights groups, Palestinian officials – they all say Israel has an obligation as the occupying power in the West Bank to ensure that Palestinians get access to vaccines.
It is the Oslo Accords which govern Palestinian-Israeli relations and spells out responsibility for the vaccines. Nevertheless, Estrin treats the issue as a he said/she said in which he has clearly chosen sides, ignoring the actual contractual document which definitively puts the issue to rest.