The New York Times yesterday corrected an article by its journalist Robert Mackey, who had approvingly relayed a misquotation by anti-Israel extremist Ali Abunimah.
Shortly after three Israeli teens were kidnapped in the West Bank, Mackey shared on his
New York Times
blog
Abunimah's allegation that a popular Israeli Facebook page called for the arbitrary murder of Palestinians. "Kill a Palestinian 'every hour,' says new Israeli Facebook page liked by 18,000," Abunimah claimed on Twitter.
Here is how it looked on Mackey's blog: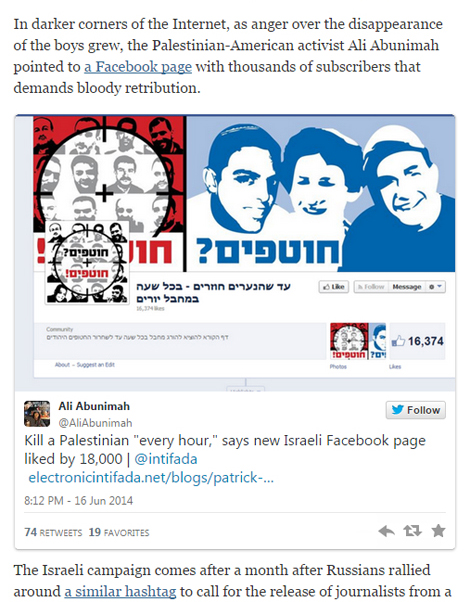 The Facebook page's tagline actually states, in Hebrew rhyme, "Until the boys return — every hour we shoot a terrorist." According to The Times of Israel, "the cover photograph shows a picture of the three teens in blue, next to photographs of Palestinians convicted of murdering Israelis in a crosshairs."
After CAMERA informed New York Times editors of the mistranslation, the newspaper published the following correction:
Correction: October 28, 2014
An earlier version of this post referred imprecisely to an Israeli Facebook page demanding retribution for the abduction of the Israeli teenagers that was cited by Ali Abuminah, a Palestinian-American activist, in a Twitter post. The Facebook page urged Israelis to kill a Palestinian prisoner held on terrorism charges every hour; in his tweet, Mr. Abuminah referred to the proposed victims as simply "Palestinian."
CAMERA had first drawn attention to the misquote and other serious concerns about Mackey in a column published in the Times of Israel that pointed out,
among other things
, Mackey's tendency to repeatedly turn to the most hateful extreme anti-Israel voices, including not only Ali Abunimah, one of Mackey's go-to pundits, but also an Israeli who has celebrated the death of fellow Israelis and an activist who has called for the harassment of Zionists "in their homes, in their workplaces, in the streets."
Tablet Magazine's Liel Leibovitz summarized the problem
The New York Times
has on its hands
as follows
:
the Mackey Method, on display for years now as a blogger for the Times, involves cherry-picking facts, hand-selecting quotes, and weaving them all together into a tapestry pitting imperious and violent Israelis versus Palestinians, the latter being blameless even when dabbling in a bit of terrorism here or there as the Israeli occupation washes away all of its subjects' sins.
So while credit is due to the newspaper for correcting the misquote, we can only expect further distortion and errors so long as Mackey is given free rein to twist the news to fit his anti-Israel crusade.