It was a dramatic story feeding a narrative about alleged growing religious extremism that found a ready audience among an Israeli media in full pre-election mode. On Aug. 28, Omri Maniv of Channel 13, the second most popular Israeli network, aired some ugly statements purportedly made by Rabbi Asaf Naumberg of Otzem, a religious pre-military academy, founded by Rafi Peretz, now education minister and formerly chief rabbi of the Israeli military.
In highly edited and selective film clips, Maniv depicted Rabbi Naumberg as a religious extremist advocating total separation from the secular public, including avoidance of military service. Maniv quoted attorney Yair Nehorai, who had delivered videos of the entire series of lectures upon which the report was based to the Channel 13 reporter, stating that the Otzem Academy is "messianic, dangerous, and it [ought to be] forbidden to fund it." Member of Knesset Meir Cohen of Blue and White is quoted denouncing the hateful rhetoric, and Nitzan Horowitz, the head of the Democratic Party, the condemned the "inciting academy which must be closed."
From Channel 13, the story took flight in the Israeli media. Ben Caspit of Maariv, for example, in his column last week, wrote that Rabbi Naumberg is "insane," "evokes horror," and peddles a cart "laden with poison," and more.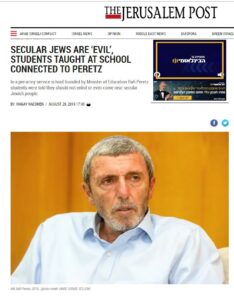 In English, The Jerusalem Post bought the story hook, line and sinker, with the headline: "Secular Jews are 'evil', students taught at school connected to Peretz." Hagay HaCohen reported Aug. 29:
Students in a pre-army school with ties to Education Minister Rabbi Rafi Peretz were taught that non-religious Jewish people are "evil" and they should not come near them or even enlist in the IDF, Channel 13 reported on Wednesday.

In the class, which was filmed, Rabbi Asaf Naumberg explains that non-religious people are prone to heavy drinking and that men and women socially interact. "Where have you heard that it's possible to bring [such] evil people closer [to religion]?" he asked his students.

Naumberg even goes on to say that it's wrong to enlist in the IDF if service brings you in touch with such people.

When challenged by a student, Naumberg confronted him and said that religious people should not "become a rag" and "nothing" just so "we could have an army."

Yisrael Beytenu leader Avigdor Liberman responded to the recording saying, "We're no longer surprised. Time after time we are exposed to the true intentions of Education Minister Peretz and his buddies, trying to turn the State of Israel into a theocracy."
On Channel 11 last night (clip in Hebrew below), Hanan Amiur, editor-in-chief of CAMERA's Presspectiva, demonstrated that the story was a total falsehood which subjected a public figure to an unjustified pillorying. Rabbi Naumberg had indeed uttered the difficult statements attributed to him, but Maniv certainly knew that the teacher was not presenting them to his students as his own views, but rather role-playing to depict the view of Haredim versus those of his own camp, the religious Zionists.
Naumberg makes clear to his students in the very beginning of the same class from which Maniv ripped selected statements completely out of context that he is presenting a lesson on the views of Haredim:
I thought I would make clear the guiding principles for questions at the heart of the Haredi public. The central claims don't start in my view with the question of Zionism, which is really a derivative question, or the question of army service, because that's a practical issue which came about only after '48. Our disagreement with what is called the Haredi public long predates the establishment of the state, and is rooted in the foundations (which we won't go into this lesson), rooted in much earlier principles than the divergent ways of life. It seems to be that that is where we have to look and I intentionally begin with what appears to be a foundation point.
And thus his students understood that the position that he expressed was not his own, but rather that of the Haredim, contrary to the worldview of their academy. In the event that perhaps the students forget that the claims that Naumberg presents are those of Haredim, he reminds them a few minutes later:
As a Haredi man I want to make the claim, ok? Now I am role-playing with this hat, that the root of the issue comes from very deep view that you destroyed the division between bad and good. Between the evil-doers and the righteous. Everyone is ok, everyone is legitimate, everything is ok, a state of Israel is arising here without a drop of Judaism.
On a third occasion, a few more minutes into the lesson, the camera is blurred but the words are clear:
I am claiming, as a Haredi person for a minute, at this point, to say that you have a problem with your DNA. When you allowed yourselves to love the evil-doers, do not be surprised that, later, your students and your children also love the evil and become secular.
In the next lesson, approximately a week later, Naumberg returns to the class and begins the lesson with another clarification, the fourth, stating:
There are things that I say and that I mean and things that I say for argumentative purposes. . . . I will give two examples from the last two lessons so you will understand what I am saying. One: Do I think that the state of religious Zionism is not in great shape to the point of being awful? The answer is yes. I think that. Am I Haredi? The answer is no. Two: Do I think that we don't have to enlist in the army with secular people? The answer is no.
Not only does Naumberg not express the hate-filled claims as his own opinion, but he also repeatedly made the distinction clear to his students, distinctions that Maniv apparently saw and yet ignored.
Naumberg's actual views, which he also expressed in the videos that Nehorai gave to Maniv, are diametrically opposed to the Haredi views which the Channel 13 reporter falsely attributed to him. His own statements express love and unity, sentiments as far as can be from those falsely identified with him. About hate, he states: "One must be very, very, very wary of hate" directed against leftists. He adds that "also hatred of Arabs is a horrible thing. It's a terrible thing. It's racism. It is despicable! What is this? We don't hate people!" He argues that one must look at leftists in the country in the best light, recognizing that they are motivated out of love of land and their belief in the correct path. "Meretz also lives the state of Israel, even though we have a disagreement with them," he tells his students, referring to a far-left party. "My basic viewpoint is that we (and the leftists) are in the same boat. This is my boat. I don't have another boat." He goes on: "I have great affection for the Labor party. Their social vision is much close to the Torah than the piggish capitalist reality in which we live."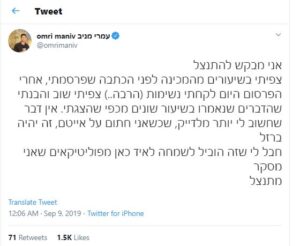 When confronted with the facts by Presspectiva, Channel 13's initial response was to stand fully behind its story. Following last night's Channel 11 broadcast in which Presspectiva's Hanan Amiur exposed the false story in all its ugliness, Maniv apologized. He tweeted his apology (screen capture on the left):
I would like to apologize. I watched the classes from the academy before the broadcast that I aired, after the broadcast today I took deep breaths (many. . . ) I watched again and understood that the things that were said were different than how I presented them. There is nothing more important than being precise, and when my name appears on a report, it should be ironclad. It's a shame that this has led to gloating among politicians I cover. I apologize
Channel 13 itself has acknowledged the falsehood and the media outlet will reportedly broadcast an apology to Rabbi Naumberg tonight. Moreover, Ynet's Ran Boker tweeted that Maniv has been put on leave until Channel 13 completes its investigation. In addition, Channel 13 has removed the broadcast from its site. Visitors now receive an error message when they try to reach the original story. Maariv columnist Ben Caspit has likewise taken similar measures. He apologized on Twitter and his column has also been pulled from the site, with visitors at first receiving an error message, and then being redirected to the home page. In his apology, Caspit promises that he will further address the false report in his upcoming column Friday.
Maariv also published a news story about the falsehood that Presspectiva exposed, as did Haaretz and Israel Hayom. Army Radio's morning program with Yishai Shnerb also covered the story.

Countless leading Israeli journalists addressed the falsehood in their Twitter feeds, including Haaretz's Chaim Levinson, Channel 11's Amit Segal of Kan Reshet B and Yediot Achronot, Attila Somfalvi of Ynet and the Knesset Channel, and Barak Ravid of Channel 13.
The Jerusalem Post, unlike the Hebrew-language reports which had published the false claim, has, as of this writing, failed to publish an apology. Instead, editors replaced its old story, maintaining the original url referring to "Secular Jews are evil students taught at school connected to Peretz." At no point in the new story, which covers Maniv's apology, or anywhere else that CAMERA can find, has the Post apologized, nor acknowledged that they too published the false story ("Secular Jews are 'evil' video false; Shaked: Channel 13 needs to apologize").
For the original Hebrew post at Presspectiva, along with clips of the aforementioned Naumberg quotes, see here.