A Reuters caption this week accompanying a photograph of a Palestinian shoemaker displaying shoes embellished with the words "Trump" and "Balfour" misrepresented his anger over Israel's existence as anti-Trump sentiment. The Oct. 25 caption states:
But the word "Balfour" has nothing to do with Trump's recent policies, such as the relocation of the American Embassy to Jerusalem in 2018, the cutting of U.S. funds to Palestinians in 2019, or the 2019 recognition of the Golan Heights as Israeli, for example.
"Balfour" refers to the
Balfour Declaration
of 1917, nearly a full century before Trump assumed office, issued by then-British Foreign Secretary Arthur James Balfour, which endorses British support for a national home for the Jewish people in the British Mandate of Palestine.
Thus, Haj-Muhammad's "Balfour" shoe inscription does not signify anger at this or that Trump policy, but at the very notion of a national home for the Jewish people in what was British Mandate Palestine.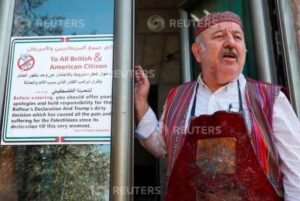 Other Reuters pictures that day of Haj-Muhammad's store (at left, for example) shows a sign posted on the door in which he calls upon British citizens to apologize for Balfour, in other words, to apologize for the founding of the Jewish national homeland. Addressed to "All British & American Citizens," the sign prevails upon them: "Before entering, you should offer your apologies and hold responsibility for the Balfour's Declaration And Trump's dirty decision which has caused all the pain and suffering for the Palestinians since its declaration to this very moment." Inexplicably, however, the caption again refers to anger only at the more temporary and less essential phenomenon of President Trump, stating:
Palestinian shoemaker Imad Haj-Muhammad, who embellishes shoes with U.S. President Donald Trump's name to channel his anger against Trump's policies towards the Palestinians, stands next to his sign at this workshop in the Israeli-occupied West Bank. . .
CAMERA has contacted Reuters to point out that the word "Balfour" indicates the shoemaker's anger over Israel's very existence, not Trump's pro-Israel policies. Stay tuned for any developments.