Following communication from CAMERA's Israel office, Reuters corrects the July 10 "Gaza blockade" graphic which had noted only Israel's blockade and ignored Egypt's exceedingly more restrictive blockade. The graphic had misrepresented the Rafah crossing as under Israeli authority.
The original graphic, which appears below, had stated:
Israel has blockaded Gaza, placing restrictions on people and goods leaving the enclave and goods entering it, since the Islamist group Hamas won power in Gaza in election in 2006. The blockade has isolated Gaza from the rest of the world.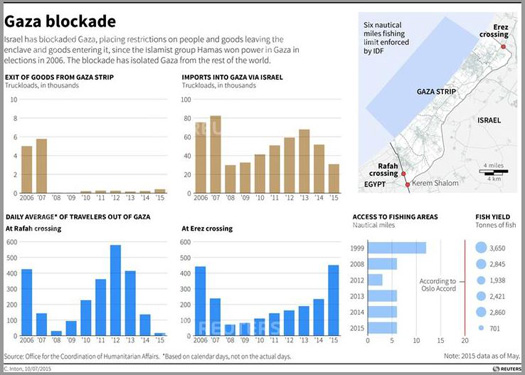 As CAMERA
noted
earlier this week:
Then, inexplicably, the graphic includes a chart showing activity at Rafah crossing, despite the fact that the crossing is controlled by Egypt. By including Rafah under a text that notes only the Israeli blockade, Reuters gives news consumers the false impression that Israel controls Rafah as well.

But the figures for passage through Rafah are so low because Egypt has maintained a strict blockade of its own, one that has been exceedingly more restrictive than Israel's and which has prohibited virtually all passage of people and goods for most of the last several months. Yet the Reuters graphic about "Gaza's blockade" completely ignores the Egyptian blockade.

Indeed, while the graphic focuses singularly on the "Israeli blockade," the data shows that over 400 people cross through Erez to Israel every day, while an average of approximately just 10 people cross on a daily basis through Rafah to Egypt. (Most days this year, not a single person crossed through Rafah into Egypt.) But readers cannot draw the proper conclusions given that the item since the graphic never mentions Egypt. Why the unjustified, inappropriate singular focus on the Israeli blockade?
Reuters editors agreed that the graphic requires a clarification, and yesterday the news agency commendably published the following corrected graphic: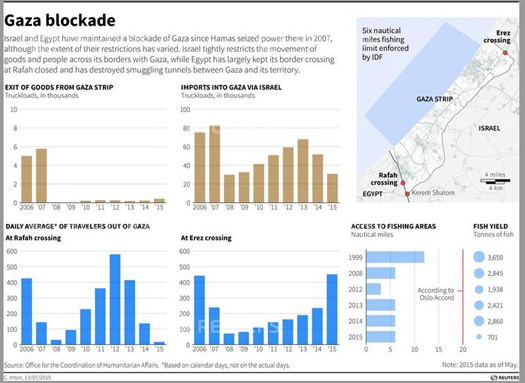 The next text addresses Egypt's blockade at length, stating:
Israel and Egypt have maintained a blockade of Gaza since Hamas seized power there in 2007, although the extent of their restrictions have varied. Israel tightly restricts the movement of goods and people across it borders with Gaza, while Egypt has largely kept its border crossing at Rafah closed and has destroyed smuggling tunnels between Gaza and its territory.
In addition, the edited graphic is accompanied by the following clarification:

CAMERA commends Reuters for setting the record straight.
For additional Reuters corrections prompted by CAMERA, please see here.