Haaretz
's free-wheeling translators are at it again, inserting misinformation into the English edition which had not appeared in the original Hebrew. In today's case of "
Haaretz
,
Lost in Translation
," an Op-Ed in the Hebrew edition correctly notes "scores" of Palestinians killed Aug. 1 in Rafah, the English edition greatly inflates that figure, writing "of more than 150."
. . . I saw that Professor Asa Kasher, author of the Israel Defense Forces code of ethics, was not complaining about the deaths of more than 150 Palestinians on August 1 that resulted from the operational interpretation of the army's so-called "Hannibal directive" . . . (Emphasis added.)
The original Hebrew article, on the other hand, accurately states (CAMERA's translation):
. . . It has become clear that Professor Asa Kasher, author of the IDF's code of ethics, was not complaining about the military interpretation of the Hannibal Directive that he formulated because of the massive use of force which led to the killing of scores [CAMERA's note: or dozens, literally "tens"] of Palestinians as well as the killing of the captured soldier.
The English edition's figure of 150 Palestinian casualties on Aug. 1 is grossly overstated. The United Nations' Gaza report stated: "According to the UN Protection Cluster, 100 fatalities were recorded in Rafah on 1 August 2014, including 75 civilians (24 children and 18 women.)"
Hamas' Gaza Health Ministry identified 98 killed in the "Rafah massacre" Aug. 1.
As for the Israeli estimate, the army reports that some 41 Palestinians were killed that day in Rafah, of which 12 were operatives of Hamas or other terror organizations. Haaretz reported:
According to Palestinian sources, the tremendous use of fire led to the deaths of 130 to 150 Palestinians, most of them civilians (the IDF, for its part, estimates that the real number of fatalities is lower, at least by half.
Indeed, Haaretz has in the past corrected inflated figures for the Aug. 1 Rafah casualties. Haaretz's Jan. 13 clarification stated: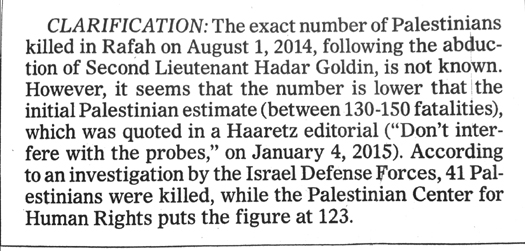 CAMERA's Israel office has contacted editors to request a correction. Stay tuned for an update.