CAMERA's Israel office yesterday prompted multiple corrections of Reuters' Israel coverage.
First, an article about developments in Syria ("Syrian army says it captures strategic hill overlooking Israeli border," July 16) had erroneously cited Tel Aviv as shorthand for Israel's government or capital. Suleiman Al-Khalidi wrote: "Syria accused Tel Aviv on Sunday of attacking the Nairab air base in Aleppo …." Referring to a capital city is a common journalistic practice for referring to a country or its government, but in this case the reference is incorrect: Jerusalem, not Tel Aviv, is Israel's capital.
Reuters has previously corrected the very same issue last April in response to CAMERA's communication. Editors agreed that a correction on yesterday's story was required, and commendably replaced "Syria accused Tel Aviv" with "Syria accused Israel." Moreover, they appended a note to the bottom of the article alerting readers to the change. It states: "(This story has been corrected to change Syria accused Israel instead of accused Tel Aviv in the last paragraph.)"
A separate, Reuters unrelated article yesterday was accompanied by an inaccurate headline concerning a new Israeli law, dubbed by some the "Breaking the Silence" law. The original headline was: "Israeli lawmakers vote to ban some left-wing groups from schools."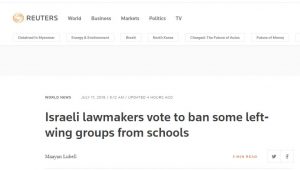 Lawmakers did not "vote to ban some left-wing groups from schools." Specifically, the law calls for "an end of activity in educational system on the part of external organizations acting against the educational mission and against the Israel Defense Forces." The educational mission covers a wide variety of principles, including (clause 2:11): "To become familiar with the language, culture, history, heritage and unique tradition of the Arabic population and other population groups in the state of Israel, and to learn about equal rights for all Israeli citizens." In other words, the law also bans groups which oppose equal rights for Arabs and other minorities from activities in the school system.
The new law adds the following principle to the educational mission: "to educate towards meaningful service in the Israel Defense Forces or in national service" (clause 2:13a). The law also states: "The minister will establish rules in order to prevent activity in an educational institution on the part of an individual or organization who is not part of the educational system [ie, an outside party] whose activity grossly contradicts the mission of the state educational system outlined in sub-clause a [TS adds: see above], or of an outside party which initiates legal processes outside Israel against IDF soldiers for activity that they undertook as part of their service."
To that end, MK Shuli Mualem Refaeli (who is in favor of the law) confirmed yesterday morning on Army Radio that the law can equally apply to right-wing groups, which, for instance, oppose the army's evacuation of settlement.
After CAMERA relayed this information to Reuters, the wire agency commendably amended the headline and added additional information to the article. The updated headline is: "Israel passes law to ban groups critical of state, military from schools."
In addition, editors added the following information to the story:
Shuli Mualem Refaeli, a legislator from Bennett's Jewish Home party, said on Army Radio "it is a law about Breaking the Silence and other organizations whose aim is to libel Israeli soldiers and the State of Israel".

But she said the law could also be applied to right-wing groups, such as those that advocate violence against Israeli soldiers over any evacuation of Jewish settlements in territory Israel captured in the 1967 Middle East war.

"I think the whole attempt to point (at the law) as action aimed solely against left-wing groups and incitement by left-wing organizations is simply untrue," Refaeli said.