Various VIPs issue statements about how terrible is this deed, how unspeakable.

And yet at that very moment, the next round of murders, the next slanderous and inciting antisemitic lies are being perpetrated by respectable people and institutions. There is no real soul-searching, no true effort to do better, no serious examination about how the anti-Israel and anti-Jewish hysteria is paving the way for murder and fueling dreams of genocide.

The street thugs, fanatics drunk on the interpretations of Islam they are being fed, and the mentally twisted may be pulling the trigger but the distinguished, the powerful, and the honored are providing the ammunition.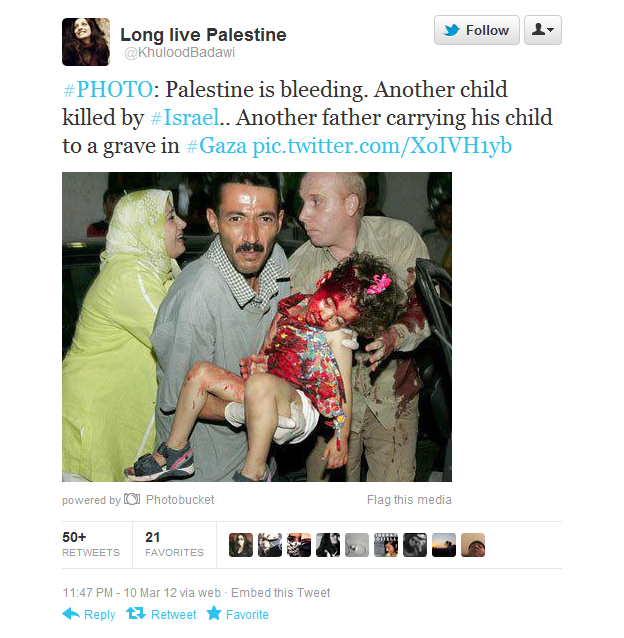 No Palestinian children have ever been targeted by Israel for murder. Quite the reverse: Israel regularly puts its own soldiers in harm's way in order to any minimise civilian casualties in military operations against Palestinian terrorists and their infrastructure which it undertakes solely to protect its own people from further murderous Palestinian attacks. Any Palestinian child casualties in such operations occur solely as a tragic and inadvertent by-product of war — and as often as not because the Palestinians have put their own children in harm's way.
According to an AFP correspondent at the scene, there were no signs of any impact on the ground which could have been caused by a missile, with the most likely cause of his death being some kind of explosive device he was carrying.
In the latest cross-border violence between Israel and militant groups in Gaza, 26 Palestinians were killed over four days, according to the Israeli military. Most were militants, but four were civilians. A 12-year-old boy was among those killed in Israeli airstrikes; another boy, 14, was killed by explosives in disputed circumstances. In the same period, Palestinians fired over 150 rockets into southern Israel, none of which claimed a life.
So here you have Kershner's upside-down view of who is more blameworthy. Evidently, it's Israel because the recent outbreak of hostilities across the Gaza border claimed the lives of one or two Palestinian kids, while the terrorist groups get ethically sanitized because none of their rockets "claimed a life."

Never mind that the four-day cross-border violence was started by Gaza terrorists and Israel was responding under its internationally recognized right of self-defense — a point neatly hidden from Kershner's copy. If Islamic Jihad and the Popular Resistance Committee had desisted from launching volleys of rockets, there would have been no violence, and Gaza kids would have been spared.

Never mind also that the 14-year-old Gaza boy wasn't killed "in disputed circumstances," as Kershner puts it. A reporter of the French news service, Agence France Presse, investigated the scene of the boy's death and reported there was no evidence whatsoever that he was killed by an airstrike. Everything instead pointed to youngsters playing with live ammunition. Kershner, however, obfuscates the circumstances so as not to exonerate the Israeli military.
This deranged belief that the Israelis deliberately kill Palestinian children is not only pumped out daily by the Arab and Muslim world inciting their people to hate Jews and to murder them as a holy act; not only do western progressives ignore this incitement and pretend instead that Islamic terrorism arises from legitimate 'grievances'; these same western progressives themselves pump out precisely the same lies and incitement — and then suggest that the deliberate murder of Jewish innocents is the moral equivalent of attempts by Israel to prevent the slaughter of yet more innocents.
Mainstream media outlets across the continent have added a further layer of legitimacy to this lethal ideology with papers and magazines such as the Guardian and the New Statesman engaged in what is little better than a hate campaign against the Jewish state.

… No-one will ever know whether the tragedy in Toulouse would not have taken place if the atmosphere were different. But we can say that history teaches that mass demonisation can all too easily lead to the dehumanisation of the group or people or nation that is being demonised. From there it is only one single step to the belief that murder itself can be justified.