Some lies are clever. Then there are The Guardian's lies.
Take a May 12, 2023 article by Patrick Wintour titled "Israel treats Palestinian territories like colonies, says UN rapporteur." That rapporteur, Francesca Albanese, has a lengthy rap sheet of extreme bias and overt antisemitism that should raise alarm bells for any credible journalist. But rather than contextualize and challenge this UN rapporteur's remarks, Wintour's 600-word article simply quotes her at length, including demonstrable, but unchallenged, falsehoods. What is particularly disturbing is that these lies and misleading characterizations, some of which are Wintour's own, are so easily disproven with minimal investigation.
Wintour begins by downplaying the controversy Albanese's rank antisemitism and bias have caused, depicting it as just "Israeli government ministers" and "Zionist groups" who hold such beliefs. Notably, the author didn't think to provide any examples of Albanese's remarks that have prompted charges of antisemitism. For example, when she claimed the "Jewish lobby" has "subjugated" the United States, while a "sense of guilt" has "subjugated" Europe to the same "Jewish lobby."
Who else has charged Albanese with antisemitism and bias? The U.S. Ambassador to the Human Rights Council, the U.S. Special Envoy on Antisemitism, members of the U.S. House of Representatives and European Parliament, and a U.S. Public Delegate to the General Assembly, to name a few. The U.S. Ambassador to the UN, Linda Thomas-Greenfield, called Albanese's "public stances completely unacceptable." More recently, Italian Senator Giulio Terzi, a former Italian Foreign Minister and Ambassador to the UN, called on the Italian government (Albanese is Italian herself) to take action over Albanese's antisemitism and bias.
Wintour leaves unchallenged Albanese's denial that she has equated the "Nakba" with the Holocaust. Here she is on video doing exactly that, even beginning by acknowledging the problematic nature of what she goes on to say anyway. A glance at her Facebook profile (before she hid her account after a Times of Israel report exposed her antisemitic remarks) revealed she has a fondness for comparing Jews to Nazis.
The Guardian even credulously included Albanese's denial that she has ever said Israel has no right to self-defense. Here she is on video saying exactly that at the United Nations on October 27, 2022.
Still think the @UN is credible?@FranceskAlbs, the UN's resident "expert" on "human rights" in the Israeli-Palestinian conflict, is a shameless antisemite who believes Israel has no right to defend itself. pic.twitter.com/spGGyvGgDq

— CAMERAorg (@CAMERAorg) April 11, 2023
Given Albanese's obsession with describing Jews as "colonizers" in their own indigenous homeland, she was obviously not referencing the Palestinians when she said, "An occupier, a colonizer doesn't have the right of self-defense."
That's not to say Albanese doesn't have opinions on self-defense and the Palestinians. After seven Israelis were slaughtered at a synagogue in Jerusalem, Albanese "liked" a Twitter reply to a thread on the attack that proclaimed a "right to resist colonialism," and that "self-defense, specifically to resist colonialism, is a right enshrined in international law."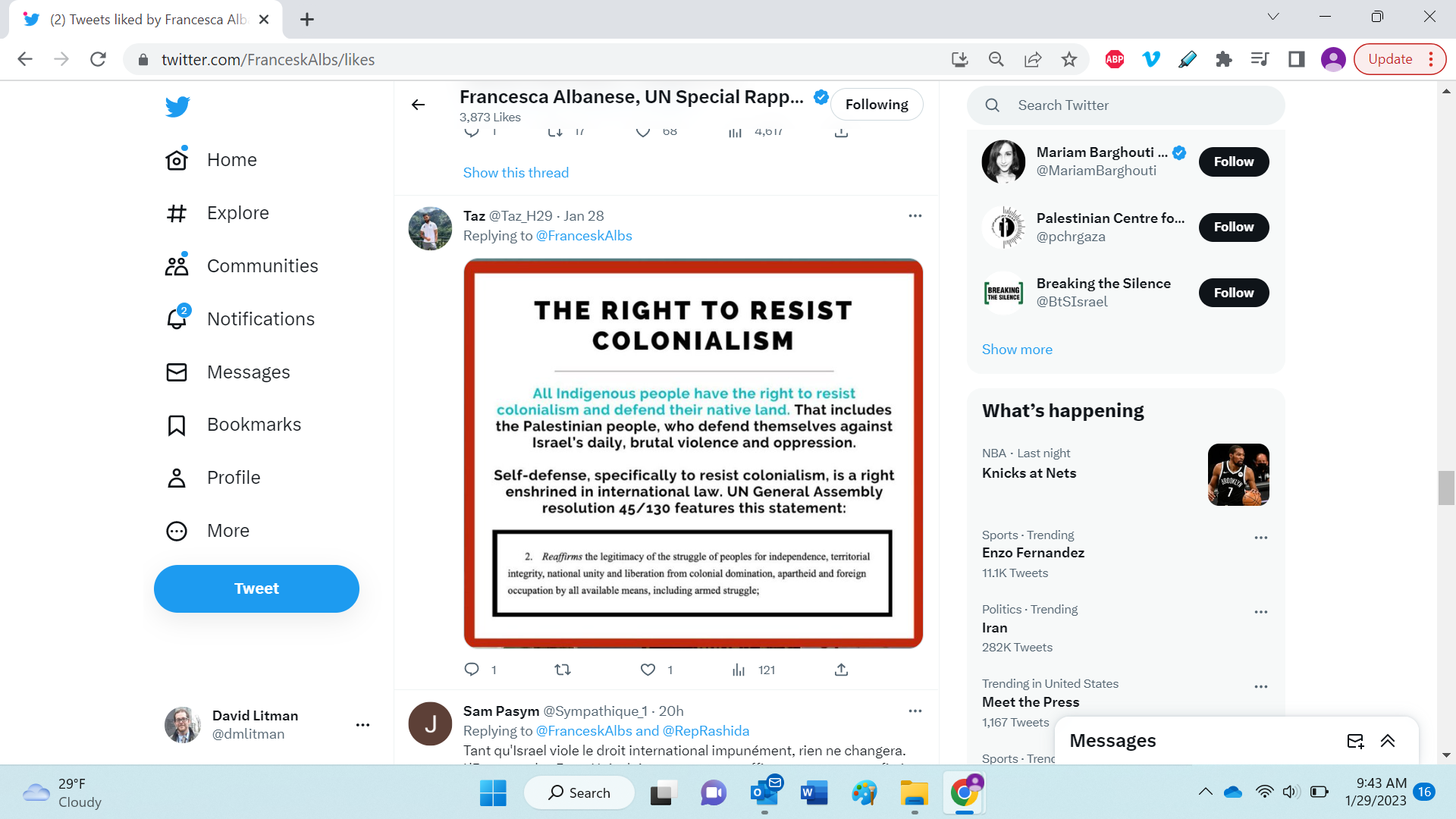 In Albanese's morally perverted worldview, when a terrorist brutally murders Jewish worshippers, the only one in that scenario that has a "right to self-defense" is the terrorist targeting the Jewish worshippers, since the latter are the "colonizers."
Worth noting, too, is that when Albanese remarked on the "Jewish lobby" "subjugating" the United States, she also described Palestinian rockets – indiscriminately fired towards civilian population centers – as self-defense:
"America and Europe, one of them subjugated by the Jewish lobby, and the other by the sense of guilt about the Holocaust, remain on the sidelines and continue to condemn the oppressed — the Palestinians — who defend themselves with the only means they have, deranged missiles, instead of making Israel face its international law responsibilities."
Wintour allows Albanese to get away with other obviously absurd remarks, too. Take, for example, the unchallenged remark by Albanese that Israel is a "colonial power" (notwithstanding, again, that Jews are indigenous to the land) that is "maintaining the occupation in order to get as much land as possible for Jewish-only people." Why, then, did Israel return the Sinai to Egypt, unilaterally withdraw from the Gaza Strip, and agree to the Oslo Accords, granting the Palestinians autonomy in the West Bank and excluding Israelis from residing in vast swathes of the territory?
Also left unchallenged is the "Jewish-only" charge, notwithstanding approximately 20% of Israelis are not Jewish and have the same right as Jewish Israelis to reside anywhere they want in the country.
Indeed, nowhere in the article is there any challenge, pushback, or attempt at fact-checking Albanese, leaving one to wonder whether Wintour views his role as a journalist or as a public relations manager.
The article ends with Albanese describing as tragic the "double standards" she imagines exist in her legal fantasyland. What is actually tragic is The Guardian's failure to uphold any shred of journalistic standards.