Stones kill, maim, wound and change people's lives forever. Israeli infants have been slain, toddlers critically wounded and adults too have been killed, sustained severe head injuries or were hospitalized with lighter injuries, all due to Palestinian stone throwers.
But the story of Israeli victims is not the one the New York Times prefers to tell and is certainly not the one Middle East correspondent Jodi Rudoren chose to recount in her latest front page, above-fold article about Palestinian stone throwers, entitled "'My Hobby Is Throwing Stones': In a West Bank Culture of Conflict, Boys Wield the Weapon at Hand."
Quite the contrary, this was a story that romanticized and heroized the Palestinian perpetrators. It is they – not the Israeli dead and injured – who are presented as the victims, "provoked by the situation," forced into this type of "futile" hobby, only to be arrested and incarcerated by fierce, powerful Israeli soldiers.
According to Rudoren, Palestinian youths "throw [stones] because there is little else to do in [their village] – no pool or cinema, no music lessons after school, no part-time jobs other than peddling produce along the road."
Her article focuses on the perpetrators' excuses, justifications for and pride in their actions, as well as the hardships they endure when arrested for their activities. For example:
Youths hurling stones has long been the indelible icon – some call it a caricature – of Palestinian pushback against Israel: a recent United Nations report said 7,000 minors, some as young as 9, had been detained between 2002 and 2012.
Here, stone throwing is glorified as "pushback against Israel," a "rite of passage," and an "honored act of defiance." Its violent results are played down, whitewashed. According to Rudoren, "The futility of stones bouncing off armored vehicles matters little [to the stone throwers]: confrontation is what counts."
But stones do not merely "bounce off armored vehicles" futilely. What about 5-month old Yehuda Shoham whose skull was crushed by stones hurled at his car and who died after a six day struggle for life in 2001?
What about 3-year-old Adele Biton who spent four months in the intensive care unit of a hospital fighting for her life and is now confined at a rehabilitation hospital, relearning how to eat, talk and walk after Palestinian rocks struck her mother's car this past March?
What about 1-year-old Yonatan Palmer and his 25-year old father who were killed in September 2011 when their car was struck in a Palestinian stone attack? Although Palestinians are almost never convicted of murder for hurling stones at Israeli vehicles, Palestinian security officer Walal al Araja, confessed to and was convicted of the Palmer murders, as well as a series of similar attempted murders involving stone throwing.
In Rudoren's telling, however, there is no place for the stories of the unfortunate infants and toddlers who are targets of the Palestinians' "rite of passage" or "hobby," as the perpetrators view their stone throwing. The article mentions the murder of the Palmers only in passing, without names, relaying it as hearsay about anonymous victims:
"…I'm driving through a war zone," said Ms. Shvat, who knew a man and his 1-year-old son who died when their car flipped in 2011 after being pelted with stones on Road 60.
Indeed, this brief comment is the only mention of Israeli children who have fallen victim to Palestinian stone-throwers. In a nearly 2000-word article, The New York Times can find no room to even mention Yehuda Shoham or Adele Biton, let alone tell their stories.
And while Israeli children's funerals and hardship find no place in Rudoren's article, the funeral of a Palestinian 2-year-old is presented as the event "that led to [Muhammed Abu Hashem's] most recent arrest," Abu Hashem being a 17-year-old Palestinian who is the main protagonist of the article, with some 20 paragraphs devoted to his story of self-justification and arrest.
Other elements of the picture are similarly missing. For example, Rudoren describes "Beit Ommar," the town from which Abu Hashem and other Palestinian stone throwers she interviews are from as "a farm town with roots in the Roman era" that has become
a hot spot because of its perch off Road 60, the main thoroughfare from Jerusalem south to the settlements of Gush Etzion which the Palestinians say have taken up to one-third of the village's original 13 square miles.
Beit Ummar is actually believed to be the site of the biblical town of Maarath, in the country of Judah, between Gedor and Beth-anoth (Joshua, 15:59). Of course, the mention of biblical roots may suggest a Jewish history in a place where Rudoren is trying to convey a sense of encroachment by settlements. Accordingly, those "roots" are ignored as she fast-forwards to the village's supposed roots "in the Roman era."
Likewise, Rudoren conceals the fact that a red flag with a swastika, reminiscent of the Nazis and their plan to annihilate the Jewish people, was flown in Beit Omar just a couple of months ago. That might evoke the impression of anti-Semitic villagers and undermine the notion that stone throwing is merely a child's sport or "hobby."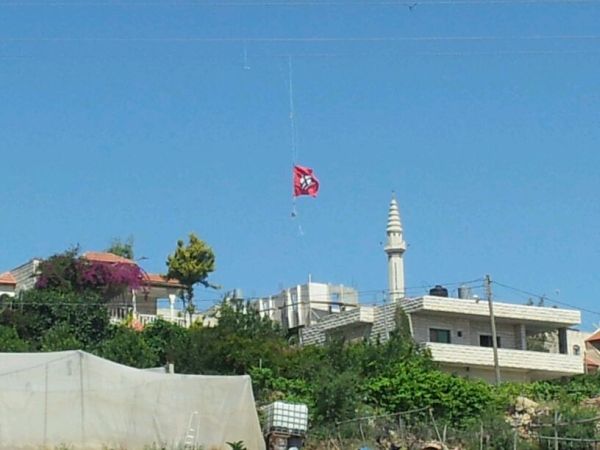 Flag in Beit Omar flying flag adorned with a swastika. Photo: Shneior Nachum Sochat/ Tazpit News Agency. (From The Algemeiner)
The photos and captions that accompany the article, too, hide the violence and danger of the Palestinian "hobby" and focus instead on youthful sport on the part of Palestinians and harsh punitive measures on the part of Israeli soldiers.
1) First photograph: A large colored photo of a boy clutching a stone.
A smaller photo beneath it shows Palestinians teenagers lined up in the act of pitching.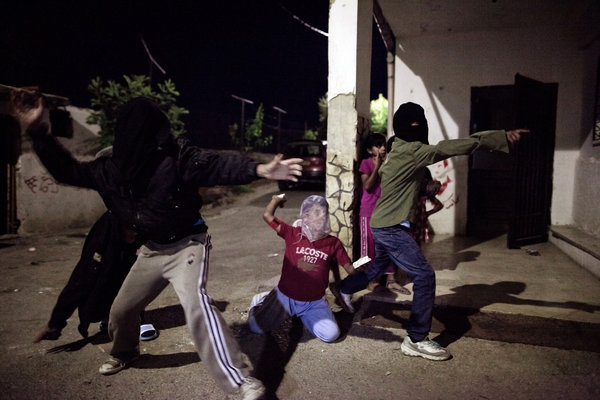 The caption on the two photographs:
Ready for a target. Below, Palestinian boys in Beit Ommar play Arabs and Army, re-enacting clashes with Israeli soldiers.
2) Third photograph: A large colored photo of a teenager dressed in a black undershirt and jeans is shown being held by two armed Israeli soldiers.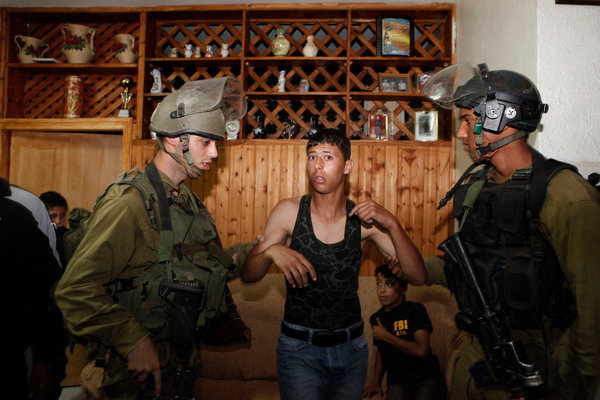 Fourth photograph: A large colored photo of a family with children citing on a sofa.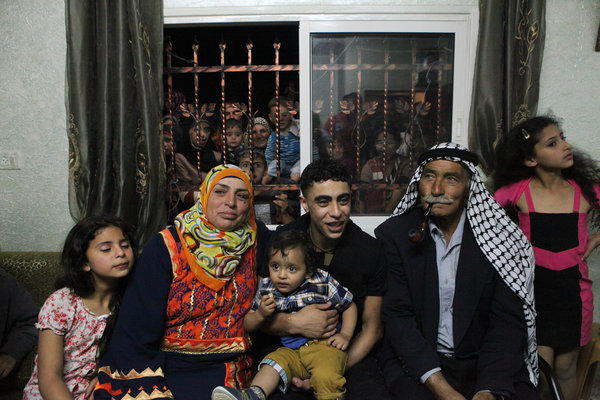 The caption on these photographs:
Recent Arrests in the Abu Hashem Family
The arrest of Ahmad Abu Hashem and his son Muhammad on July 8 was almost routine for a family in which few months have passed recently without at least one member behind bars. Mr. Abu Hashem, an activist in Beit Ommar, and all six of his sons have served time for throwing stones at Israeli soldiers and settlers.
Not everyone takes such a benign view of rock throwing teenagers and not everywhere is the harsh treatment of the perpetrators of such attacks criticized.
In 1986, a U.S. teenager was sentenced to life in prison for throwing a stone from an overpass that killed a toddler in a car below. In 2010, two South Carolina teenagers were indicted on first degree murder charges after killing a woman sitting in the front seat of a car with a stone hurled from an overpass. And, in 2002, even when stone throwing resulted in no injuries, the teenaged perpetrators were charged with assault and battery with intent to kill and malicious injury to personal property. As the Sheriff's Department explained, throwing rocks "is not a prank. This is extremely dangerous. You could kill somebody doing this."
Yisrael Medad, on his blog, "My Right Word," provides a summary documenting the number of Palestinian stone throwing attacks from January-June of this year. In addition to 5,144 stonings, there were 611 molotov cocktail attacks, 8 shootings and 3 stabbings. But the only statistics provided by Rudoren pertain to the number of Palestinian children (stone throwers) incarcerated by Israel. That is the only part of the story The New York Times wants to tell.
Last year, CAMERA criticized The New York Times for featuring two separate, front-page stories about Israeli teenagers who had beaten (but not killed) an Arab teenager, but never publishing a front-page story about deadly attacks by Arab teenagers against Jews.
And while the newspaper has now published a front-page article about Arab teenagers who throw stones, the story is completely reframed to remove Israeli victims, romanticize the Palestinian perpetrators and implicitly criticize their arrests by Israeli police.
The stories last year about the criminal activities of Jewish teenagers focused on the general decline of morals among Israeli youth. The story about the Arab teenagers focuses on their self-declared heroism and victimhood. The disparate coverage provides yet another example of the type of misleading and biased reporting readers have come to expect from The New York Times.