Jan. 9 Update: More Reports, More Discrepancies.
Jan. 20 Update: IDF: Abu Rahma Died of Atropine Overdose
Jan. 4 — Following the weekend death of a Palestinian woman in the West Bank village of Bilin, the Palestinian Authority leadership is accusing Israel of a war crime, 200 demonstrators protested in Tel Aviv, a United Nations official expressed concern, and activists threw empty gas grenades at the American Ambassador's Herzliya home in an incident that police say is linked to the death. According to media reports, 36-year-old Jawaher Abu Rahma died Saturday due to the inhalation of tear gas at a violent protest Friday against the separation barrier in Bilin, a weekly affair which draws Israeli and international activists and photographers alike.
United Nations spokesman in Israel Richard Miron stated: "We are very worried that two Palestinians have lost their lives in recent days in incidents involving Israeli forces in occupied West Bank, including an unarmed woman killed at a protest against the barrier at whom a tear gas fired … "
Yet, as reported yesterday by the Jerusalem Post ("IDF: 'Dead Bil'in woman may not have been at protest'"), the Israeli army questions whether Abu Rahma was even present at the Dec. 31 Bilin protest:
A Palestinian woman, reported to have been killed by inhaling tear gas fired by IDF troops during an anti-security barrier protest on Friday, was apparently not at the protest, IDF sources said on Monday.

The IDF sources based their new assessment on medical documents that they obtained on Monday from the Palestinian Authority, which had initially refused to hand over the papers documenting 35-year-old Jawaher Abu Rahma's death.

"The whole story is full of inconsistencies," one senior officer said.

One example of an inconsistency was in the medical documents themselves. A lab report of blood work done for Abu Rahma showed that the blood was taken at 2:45 P.m. on Friday afternoon. Another page from the report, which showed her time of admission to the hospital, put it at 3:20 P.m.

In addition, the medicine that she received, according to the reports, was medicine used to treat people suffering from blood cancer, poison or a drug overdose.

The IDF also questioned the way her death was reported. On Friday afternoon, the IDF received, like most weeks after the protest, a report that two demonstrators had been lightly wounded and were evacuated to a Ramallah hospital. By the evening, the PA updated the IDF that the two had been released to their homes.

The next morning, the IDF suddenly received a report that Abu Rahma had been killed.
A similar article which appeared yesterday on the Israeli site
Ynetnews.com
reported:
Sources familiar with the material said that unlike similar incidents in the past, the report about Abu-Rahma's injuries arrived late and contained puzzling details.

According to the medical report, there was no clear cause of death, the burial was undertaken via an accelerated procedure, and no post-mortem was performed.

The information also reveals that Abu-Rahma was administered an unusual quantity of drugs, used to offer treatment against poisoning, drug overdose, or leukemia. Moreover, her family's report that she was "hurt by Israeli gas" was not corroborated by any other source.

'Death not caused by gas'

The IDF also discovered that the deceased was recently treated at a Palestinian hospital, a fact that was not mentioned in the medical reports.

"We are in the midst of the probe of the incident, as is reflected by the Palestinian documents, and what we have here is a long series of contradictions and very grave question marks regarding her cause of death," a military source said. "In the past, accurate findings were handed over via an orderly procedure……this didn't happen this time, raising a large question mark on whether she even attended the protest."

"The probe shall continue, yet the way things look now, her death was not caused by gas inhalation, but rather, by wholly different reasons," the IDF official said. ("Did Palestinians lie about protestor's death?"
While some of the international media outlets which covered Jawaher Abu Rahma's death acknowledge that there are unclear and disputed circumstances surrounding the incident, the Israeli army suggestion that the woman may not even have been at the demonstration Friday was largely ignored outside of Israel. Will media outlets which earlier reported that Jawaher abu Rahmeh was killed following tear gas inhalation at the demonstration update their readers with this development?
Los Angeles Times Acknowledges Unclear Circumstances
In a world briefing Saturday (Jan. 2, "Protester dies after inhaling gas"), the Los Angeles Times reported:
A senior Palestinian medical official said a woman died after being treated for inhaling gas fired by Israeli forces quelling a protest a day earlier in the West Bank.

Jawaher Abu Rahme, 35, was the second member of her family said to have died in one of the weekly protests in the village of Bilin against an Israeli barrier built across the West Bank. A brother, in his 20s, was killed in 2009 after a tear-gas canister struck him in the chest.

The precise cause of Abu Rahme's death was unclear, including what type of gas she may have inhaled.
Yesterday (Jan. 3) the paper revisited the incident, with Edmund Sanders reporting:
On Saturday, Jawaher abu Rahmah, 36, died after inhaling tear gas at a demonstration against Israeli's barrier in the village of Bilin. Since tear gas is typically nonlethal, it remained unclear whether soldiers used excessive amounts or whether the woman had health problems.
While Sanders, to his credit, had noted the murky circumstances surrounding her death, there is no update in today's paper concerning the army's doubts that Abu Rahma was even at the protest.
New York Times' Spotty Coverage
Accepting the Palestinian version of events as fact, the article that appeared in yesterday's print edition of the New York Times reported:
A Palestinian woman died Saturday after inhaling tear gas fired by Israeli forces a day earlier at a protest in the village of Bilin against Israel's separation barrier nearby. ("Israeli Troops Kill Palestinian Man in West Bank," Jan. 3)
Unlike the Los Angeles coverage, this article does not mention any dispute about the death. A New York Times article by Isabel Kershner from Saturday (Jan. 2) does, however, acknowledge discrepancies in the accounts, stating:
The Israeli military described the protest as a "violent and illegal riot," and said it had received a report from the Palestinians that a woman who was hospitalized after inhaling tear gas had been released and died later at her home. Dr. Aideh denied that the woman had left the hospital.
Washington Post
The Washington Post also covered Abu Rahma's death in a brief Jan. 2 item, reporting the Palestinian claims with appropriate attribution and noting only that "The Israeli army said it was investigating." It did not provide any additional information concerning discrepancies.
AP Points out Palestinians' Inconsistencies
A balanced Jan. 2 Associated Press article by Matti Friedman ("Israeli military looking into protester's death") underscored some of the inconsistencies in the Palestinian account, stating:
Mohammed Abu Rahmeh, a relative of the woman, said she had suffered from asthma since she was a child. Rateb Abu Rahmeh, a doctor and a spokesman for the Bilin protesters, said she had a "weak immune system." Her parents said she was healthy and did not have asthma.

Dr. Mohammed Eideh, who treated Abu Rahmeh in the Palestinian city of Ramallah, said she died of "respiratory failure and then cardiac arrest" caused by tear-gas inhalation. He said he did not know if she had a pre-existing condition.

Another doctor said she was initially released from hospital, later collapsed, was readmitted and then died. Eideh said she had not been released.
As of this writing, not one of the above international media outlets, even the Associated Press, which had published an earlier balanced report, has reported on the Israeli army's doubts that Abu Rahma was at the demonstration. Nor do they note the time discrepancy in which her blood sample was impossibly drawn before she was admitted to the hospital. In contrast, the Agence France-Presse stands out as the only foreign media outlet which has covered the Israeli army's suspicion that Abu Rahma was not at the demonstration. In a detailed story today, it covers both sides claims and counter-claims ("Israel questions tear gas deaths").
Ha'aretz Editors and Their Blinders
Despite the fact that the Ha'aretz Web site yesterday ran a news article covering the Israeli army's doubts about the circumstances of Abu Rahma's death, including whether she had even been present or not at the violent demonstration, Ha'aretz editors were not to be distracted from their perennial faith in the Palestinians' version of events and their steadfast disbelief of Israel's version. (A print version of the news article appears on page 2 of Ha'aretz today, but inexplicably omits the online version's mention of the army's doubts that Abu Rahma was at the demonstration.) Thus, today's editorial, "Lethal gas," which gives no hint that the circumstances surrounding Abu Rahma's death are disputed, begins: "Jawaher Abu Rahmah, a 36-year-old kindergarten teacher, was killed over the weekend after she choked on tear gas while watching the weekly demonstrations at her village." Again taking Palestinian sources and their supporters on their word, while completely ignoring conflicting Israeli information, editors state: "According to the demonstrators, the Israel Defense Forces used particularly large quantities of gas on Friday. An Israeli doctor who takes part in the protests, Daniel Argo, told Haaretz that some tear gas is less dangerous than the kind used by the IDF. So it's not clear why the army chooses to use the more dangerous type." Ha'aretz then uses Abu Rahma's death to scold the Israeli army: "It should act only when there is danger to life and property." Perhaps Ha'aretz could be excused for having missed the wire service photos showing Palestinians lobbing rocks at Israeli soldiers, rocks which in the past have wrought injuries among soldiers. And maybe one could understand that they didn't see the New York Times article which noted that pro-Palestinian "activists said they managed to cut through the wire fence that makes up the barrier in this area in three places." But how can one explain the blinders which prevent them from acknowledging information covered by their own news reporters?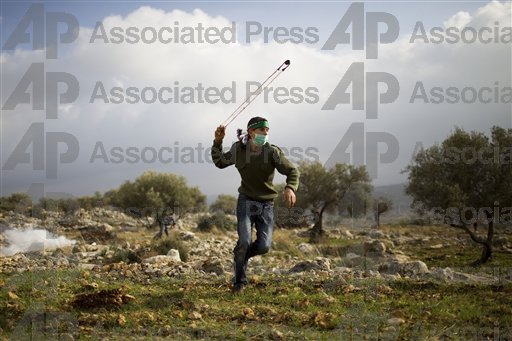 A masked Palestinian protester uses a sling shot to throw stones at Israeli troops, not pictured, during a demonstration against Israel's separation barrier in the West Bank village of Bilin, near Ramallah, Friday, Dec. 31, 2010. Israel says the barrier is necessary for security while Palestinians call it a land grab. (AP Photos/Bernat Armangue)
Conclusions
While there is not enough information to draw any definitive conclusions about how Abu Rahma died, the following oddities stand out. First, there is not one single wire story or article from Palestinian sources dated Dec. 31, the day of the protest, about any injured in Bilin. Moreover, there is not a single photograph of Abu Rahma at the demonstration, either before she was injured or after, when she was being loaded into a Red Crescent ambulance. (Israeli activist Jonathan Pollak told the Jerusalem Post that he saw her taken by ambulance to the hospital.) This, despite the presence of numerous professional photographers at the Bilin protest on Dec. 31, as evidenced by the many photographs of soldiers and protesters available from the AP and Reuters photo services. Given that photographers always aim for the most dramatic shots, and are not known to shy away from photographing Palestinians injured by Israelis, it's hard to understand how they missed Abu Rahma being overcome by tear gas or being loaded into an ambulance.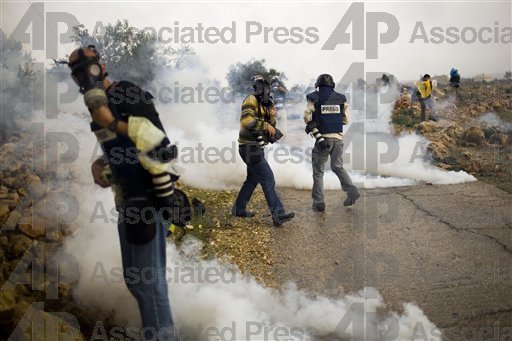 Press photographers are surrounded by tear gas cloud fired by Israeli troops, not pictured, during a demonstration against Israel's separation barrier in the West Bank village of Bilin, near Ramallah, Friday, Dec. 31, 2010. Israel says the barrier is necessary for security while Palestinians call it a land grab. (AP Photos/Bernat Armangue)
A History of Manipulated Circumstances
The murky circumstances of Abu Rahma's death cannot be viewed in a vacuum. It follows many instances in which Palestinian sources have fabricated and manipulated deaths, both on the large scale (such as in the case of the so-called "Jenin massacre" and on an individual level).
• Most famously, there is the case of Mohammed Al-Dura in September 2000. The many inconsistencies in the France 2 report blaming Israeli soldiers for his death have been documented extensively.
• Following the winter 2008-09 Gaza war, Khaled Abed Rabbo of Abed Rabbo in the northern Gaza Strip gave numerous completely contradictory accounts concerning the deaths of his daughters,
• In April 2010, there was the case of Muhammed Faramawi, 15, who was said to have been shot "by Israeli forces" and "left bleeding for hours" before Israel allowed paramedics to evacuate him, has emerged, alive and well after having been held by Egyptian authorities.
• In May 2008, Muhammad al-Harrani, a father of six from Gaza diagnosed with cancer who reportedly died while waiting for a permit to enter Israel, miraculously "came back to life."
• In July 2003, Palestinian sources blamed the death of four Gaza men on Israel, when it later came to light that they died in a so-called "work accident," i.e., while preparing explosives.
• An April 2002 staged funeral in Jenin, in which pallbearers drop a stretcher with a corpse, who falls off, and climbs right back on the stretcher.
In all cases, the Code of Ethics of the Society of Professional Journalists (SPJ) calls on journalists to "diligently seek out subjects of news stories to give them the opportunity to respond to allegations of wrongdoing." In the context of the Israeli-Palestinian conflict, where Palestinian deaths have so often been manipulated and even staged for political purposes, journalists have an added burden to fully report Israel's account.
UPDATED: New Reports, More Questions
Since the original Jan. 4 publication of this analysis, there have been more media reports and yet more discrepancies, including from the New York Times (see here), Ha'aretz (here, here and here), and Ynet (see here and here). Some of the interesting points or developments to watch are:
• Many of the self-described witnesses, mostly relatives, from the more recent accounts say that Jawaher Abu Rahma was standing near her home, at least 100 meters away from the main demonstration, when she was overcome by tear gas. Defenders of the Palestinian version point to Abu Rahma's distance from the events as the explanation for the lack of photographs of her, either before or while she was injured, or later, when she was being loaded into an ambulance. As Isabel Kershner reported in the New York Times: "The military official noted that there were no photographs or video showing Ms. Abu Rahmah at the protest on Friday, but that is not surprising since she was not at the forefront of the demonstration."
• Reports that Abu Rahma was standing some distance from the demonstration ( the length of a football field), contradict claims by Israeli activist Jonathan Pollack who told Ynet: "I saw Jawaher actively participating in the protest."
• Ynet also reports that
the army was about to reach an agreement with official Palestinian sources that the death of Jawaher Abu-Rahma in the West Bank village of Bilin last week was not caused by tear gas fired during an anti-fence rally in the area.

"Our assumptions were verified this week after we received additional documents from the Palestinians," said Judea and Samaria Division Commander Brigadier-General Nitzan Alon.
UPDATED Jan. 20: IDF: Abu Rahma Died of Atropine Overdose
Ynet
reports
today that the Israeli army completed its investigation into the death of Jawaher Abu Rahma, and has concluded that she has died due to an overdose of atropine administered at the Ramallah hospital:
The conclusions of the investigation, which included an examination of her medical records, confirmed the IDF's evaluation that the young woman had died as a result of faulty medical care in the hospital and not from the crowd dispersal methods used by the IDF soldiers.

Abu-Rahma felt ill after inhaling infinitesimal amounts of tear gas. The investigation revealed that the medical team hadn't properly diagnosed her case, and thought that she needed to receive large amounts of atropine. After the event it was revealed that had she received a smaller dose, her life would have been saved.
Ha'retz's Web site yesterday ran an update on the story, but the print edition did not mention the Abu Rahma case today. The Jerusalem Post's new story is here. The army has not released the hospital documents that it says substantiates its conclusion concerning an overdose of atropine.