Sept. 22 — For
years
,
Snapshots
, CAMERA's blog, has been highlighting how the English edition of
Ha'aretz
, relied upon by Western journalists, diplomats and opinion makers, has a tendency to cut out and and/or alter critical information appearing in the Hebrew version of the newspaper. Invariably, as our "Ha'aretz, Lost in Translation"
series
points out, the English edition downplays or omits information that portrays the Palestinians in a negative light.
A page-two article in today's paper brings a new, striking example of the ongoing phenomenon. In the print edition, the article is headlined: "First day of protests passes peacefully as PA police keep demonstrators in their cities."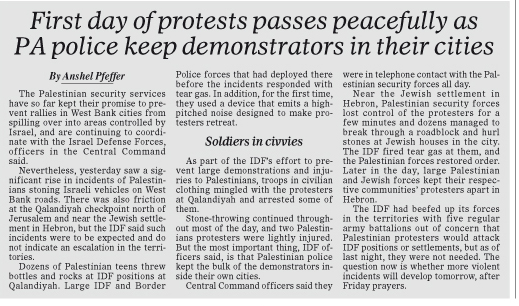 Yesterday's Palestinian protests "pass[ed] peacefully"? The headline writer, it appears, got carried away. One only has to read the accompanying article in English to learn that while Palestinian forces did manage to largely contain protests within Palestinian cities, yesterday's events did include violent incidents. Anshel Pfeffer writes:
[Y]esterday saw a significant rise in incidents of Palestinians stoning Israeli vehicles on West Bank roads. There was also friction at the Qalandiyah checkpoint north of Jerusalem and near the Jewish settlement in Hebron, but the IDF said such incidents were to be expected and do not indicate an escalation in the territories.

Dozens of Palestinian teens threw bottles and rocks at IDF positions in Qalandiyah ….

Stone-throwing continued throughout most of the days, and two Palestinians protesters were lightly injured ….

Near the Jewish settlement in Hebron, Palestinian security forces lost control of the protesters for a few minutes and dozens managed to break through a roadblock and hurl stones at Jewish houses in the city.
Moreover, readers of Ha'aretz's Hebrew print edition are treated to a much more detailed picture of yesterday's violence. A stark contrast to the English headline about "peaceful" protests, the Hebrew headline reads: "Clashes between protestors and IDF forces in Qalandiyah and Hebron; A toddler is injured lightly." Also, significantly, the first paragraph of the article, by Anshel Pfeffer and Chaim Levinson, explicitly refers to "violent incidents" (CAMERA's translation follows):
A 20-month-old Israeli girl was lightly injured by Palestinian stone-throwing close to Tapuach Junction in Samaria. Another Israeli was lightly injured by a rock thrown next to Halhul, north of Hebron. Several violent incidents involving security forces and Palestinians were reported in the West Bank, mainly close to the Qalandiyah checkpoint north of Jerusalem and next to the Jewish community in Hebron. Nevertheless, according to the IDF, the incidents do not reflect an overall escalation in the territories.
Inexplicably, Ha'aretz's Hebrew site, like its English counterpart and the English print edition, does not mention the injured Israelis, including the 1-year-old. For more information on the injured girl, visit Ynet.
Whitewashing Terrorists' Mother: Translating from Arabic to Hebrew, But Not to English
The Ha'aretz English editors and translators, it seems, are working overtime these days to smooth things over for the Palestinians. Yesterday the Israeli media watch Web site Latma flagged another case of "Ha'aretz, Lost in Translation," this time involving the paper's coverage of Latifa Abu Hmeid, the Palestinian mother of four terrorists responsible for the murder of seven Israeli civilians and multiple other terror attacks. Abu Hmeid made news this week because the Palestinian Authority, led by Mahmoud Abbas, selected her to lead a procession to the United Nations office in Ramallah and to deliver a letter addressed to Secretary General Ban Ki Moon, thereby formally launching the Palestinian statehood campaign. The Hebrew coverage of Abu Hmeid's role this week, by Avi Issacharoff, commendably quotes her:
I hope there will not be shooting and there will not be injured. We don't wish to see more of our people killed. I paid a very high price, like every Palestinian household. There are those killed, there are prisoners. I am prevented from seeing my four sons. We want peace with Israel, but Israel does not want peace. We will return to our lands, include the lands of 1948. (Emphasis added, CAMERA's translation.)
And the
English version
? Apparently not wishing to detract from the "we're not interested in an intifada" sentiment expressed in the article,
Ha'aretz
tactfully — or, some might say, deceptively — omits Abu Hmeid's less peaceful remark.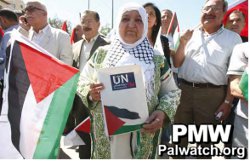 (Photo from Al-Ayyam, Sept. 9, 2011)
For the Hebrew version of this article, visit Presspectiva, CAMERA's Israeli site.