May 6 –
The
New York Times
claims in a
May 5 online story
, and in a separate
print story
published the following day, that Hamas is calling for a "two-state solution."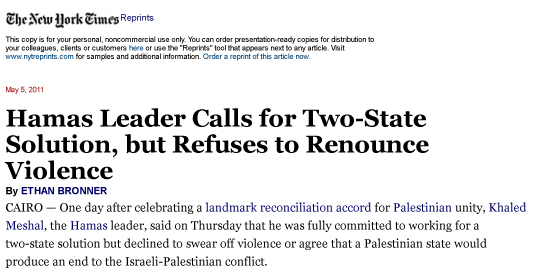 The claim that Hamas seeks a two-state solution is clearly false, and suggests that some at the newspaper may be trying to portray Hamas as moderate by skewing and rewriting the very definition of "two-state solution."
The headline to the online piece prominently announces, "Hamas Leader Calls for Two-State Solution, but Refuses to Renounce Violence." The lede of the story, by correspondent Ethan Bronner, likewise claims that a Hamas official said he is "fully committed to working for a two-state solution."
The article, however, fails to quote the Hamas leader, Khaled Meshal, referring to a "solution" to the conflict. In fact, Bronner later contradicts his own assertion about Hamas accepting a two-state solution by indicating that Mashal does not view the formation a Palestinian state as the end of the conflict. He writes:
One day after celebrating a landmark reconciliation accord for Palestinian unity, Khaled Meshal, the Hamas leader, said on Thursday that he was fully committed to working for a two-state solution but declined to … agree that a Palestinian state would produce an end to the Israeli-Palestinian conflict.
And when asked whether a Palestinian state on the entire West Bank and Gaza Strip, the dismantling of settlements and the "return" of Palestinian refugees and their offspring to Israel would end the conflict, Meshal answered, "I don't want to talk about that."
So why did Bronner use the wildly misleading and inappropriate term "two-state solution"? A "solution" means that something is being solved. Appropriately, then, with regard to the conflict between the Palestinians and Israel, the phrase "two-state solution" has long referred to an end to the conflict facilitated by creating two states.
But consistent with Hamas's worldview, Meshal himself says nothing about a solution to the conflict. It is Bronner who introduced the "two-state solution" formulation, imposing his own fantastic interpretation of the Hamas leader's words.
The misinformation purveyed about Hamas by the New York Times is wrong in and of itself, but is further problematic because, in effect, it advocates for a weakening of the U.S. administration's refusal to deal with the terror group. The U.S. and other countries have recently reiterated that they condition support for a Palestinian government with Hamas on the latter's recognition of Israel and acceptance of a two-state solution.
This has not happened, despite the New York Times' claims to the contrary.
Hamas Statements
Hamas's recent position has been to indicate to Western audiences that it accepts a Palestinian state on the West Bank and Gaza Strip, while refraining from mentioning that it will continue to call for Israel's destruction even in the event that such a state exists. This is likely an attempt to cast themselves as moderate and relax international opposition to the group.
When pressed, though, Hamas leaders have made clear they don't regard a West Bank/Gaza Strip state as a solution.
The Hamas actual stance was effectively captured in a December 2010 Reuters story, which noted,
Hamas leader Ismail Haniyeh, whose group runs the Gaza Strip, said the Palestine Liberation Organization (PLO) headed by Western-backed President Mahmoud Abbas had made a "historic mistake" by recognizing Israel.

"We said it five years ago and we say it now … we will never, we will never, we will never recognize Israel," Haniyeh told the gathering which some organizers said was attended by around 250,000 people.

Haniyeh had raised speculation last month about a change in Hamas's charter, which calls for Israel's destruction, by suggesting the group could accept a referendum on any peace treaty giving the Palestinians a state on land Israel captured in a 1967 war.

But he said such a truce would entail "no recognition of Israel and no concessions over any part of the land of Palestine."
In other words, what Haniyeh and other Hamas leaders espouse is nothing more or less than the "phased plan" for destroying Israel. That is, the acceptance of whatever land can be gotten in the short term as a step towards gaining all the rest later.
Hamas political leader Mahmoud al-Zahar said early this year that the Jews "have no place among us…and no future among the nations."
Just this month, Khaled Meshal's deputy Musa Abu Marzouk reiterated, "We won't recognize the Zionist entity. Our rights are still usurped and it's illogical for us to recognize the Zionist entity because that would be at the expense of our stolen lands and our people in the refugee camps."
In today's New York Times article, Meshal does not reverse what he told the same newspaper two years ago, when he indicated that he would take a state on the 1967 borders, but without recognizing Israel. In May 2009, the New York Times reported:
He repeated that he would not recognize Israel, saying to fellow Arab leaders, "There is only one enemy in the region, and that is Israel."

On the two-state solution sought b y the Americans, he said: "We are with a state on the 1967 borders, based on a long-term truce. This includes East Jerusalem, the dismantling of settlements and the right of return of the Palestinian refugees." Asked what "long-term" meant, he said 10 years.
It's worth adding that after Netanyahu offered in October 2010 to freeze settlement growth in exchange for Palestinian recognition of a Jewish state, the
Times
quickly ran an
analysis piece
questioning the "intentions" behind Prime Minister's "maneuver." Such skepticism is notably lacking for Meshal's maneuver.
A few days after making the irresponsible and insupportable claim that Hamas is seeking a "two-state solution," the New York Times published an article that commendably uses more accurate language. In a May 9 story, the newspaper revisited the statements by Hamas leader Khaled Meshal, pointed out that Hamas said it would work toward a state in the West Bank and Gaza, but avoided repeated the misleading claim that this amounted to acceptance of a two-state solution:
Mr. Meshal said in an interview on Thursday that Hamas was committed to working with Fatah toward a Palestinian state within the 1967 lines and that together they would decide what kind of resistance to Israel was appropriate.
However, the earlier, misleading headline remains uncorrected online.