May 31, 2010 Update – Armed activists use violence against Israeli forces. See
here
,
here
and
here
for more.
Early media coverage of the agitprop campaign by radical Europeans and Islamist groups intending to land a "Freedom Flotilla" of ships in Gaza, supposedly to bring needed supplies, has been mixed. AP, Reuters, CNN and the New York Times ran balanced stories, noting the participants are "pro-Palestinian activists," that Israel is already assuring regular convoys of humanitarian supplies into Gaza and that Israel has additionally offered to transfer materials from the flotilla by land to Gaza. Some reported in detail the preparations in the Israeli city of Ashdod to house any possible detainees before returning them to their home countries.
Time Magazine's
Tony Karon, on the other hand, turned reality on its head in a highly distorted
May 27 story
, mocking Israel – not the Free Gaza movement spearheading the flotilla stunt – for supposedly revving up
its
"p.r. machine." Nor did he accurately identify the partisan Free Gaza participants as anti-Israel activists tied to radical organizations, instead terming them representatives of "civil society movements" similar to those that mobilized against apartheid South Africa. There was no mention of their ties to Hamas, of their extremist politics or of their disregard for "civil society" in besieged Israeli towns, such as Sderot, targeted by Hamas rocket fire from Gaza
.
Missing from all coverage thus far is any indication of the radical nature of the organizations sponsoring the flotilla. To characterize them as "pro-Palestinian," while accurate, hardly conveys adequately who they are and what they promote. The organizations include far-left individuals, such as members of the Communist Party in Sweden and members of the extremist International Solidarity Movement which advocates "armed struggle" against Israel as well as Islamist groups fronting for Hamas and with ties to the global jihad and Al Quaeda.
The flotilla includes cargo and passenger ships, the latter carrying as many as a thousand pro-Palestinian figures, among them radical academics, writers, physicians, elected officials – and journalists. According to the Palestinian Ma'an News Agency, the media outlets covering the event from on board the flotilla include Al-Jazeera TV, Reuters, BBC Radio, Euro News, representatives from Bulgarian and Czech TV and a large number of correspondents from international newspapers and news agencies (May 20, 2010)
Contrary to allegations of Free Gaza, there is no humanitarian crisis in Gaza. Convoys of trucks continuously bring food, clothing, medicine and other essentials to the population. (Israel provides this aid even though the ruling Hamas regime calls for Israel's destruction, targets Israeli civilians with missiles, holds kidnaped soldier Gilad Shalit and indoctrinates its populace in Nazi-like hatred of Jews and Israel.)
Moreover, as a May 24
Financial Times story
by Tobias Buck noted, smuggling tunnels between Egypt and Gaza have "flooded Gaza with Korean refrigerators, German food mixers and Chinese air-conditioning units…" He writes that "shops all over Gaza are bursting with goods. Branded products such as Coca-Cola, Nescafe, Snickers and Heinz ketchup – long absent as a result of the Israeli blockade – are both cheap and widely available."
Underscoring the flotilla campaign's indifference to human rights broadly, and especially where Israel is concerned, Free Gaza refused to intervene on behalf of kidnaped Israeli soldier Gilad Schalit. The Schalit family had
urged
the campaigners to pressure Hamas to allow international aid groups to deliver letters and food packages to the soldier who's been held captive in isolation for four years. In return, the Schalit family pledged to support the flotilla's docking in Gaza. Free Gaza rejected the offer immediately.
Israeli Government Comment on the Flotilla
1) The Israel Defense Force Spokesperson provides an overview of the humanitarian situation in Gaza, enumerating the aid provided. The report notes, for example, that in the first quarter of 2010 (January-March) Israel transferred
94,500 tons of supplies in 3,676 trucks to the Strip: 48,000 tons of food products; 40,000 tons of wheat; 2,760 tons of rice; 1,987 tons of clothes and footwear; 553 tons of milk powder and baby food.

1,068 tons of medicine and medical equipment in 152 trucks.

equipment for the UNWRA summer camp, including: arts and crafts equipment, swimming pools, inflatable toys, ice cream machines, musical instruments, clothing, sports equipment, etc. in 250 trucks

equipment for upgrading the sewage pumping station, which was carried out by UNWRA.

74 empty containers for UNWRA for use in classrooms and bathrooms
2) Ministry of Foreign Affairs spokesman Yigal Palmor presents Israel's case in a short video clip:
He notes that the land crossings remain the most efficient system to transfer goods to Gaza, and the flotilla organizers are well aware of this fact. The organizers also know that since December 2008, their ships have been denied permission to land. Israel has invited the organizers of the flotilla to use the land crossings, in the same manner as all the reputable international organizations. However, they are less interested in bringing in aid than in promoting their radical agenda, playing into the hands of Hamas provocations. While they have wrapped themselves in a humanitarian cloak, they are engaging in politica l propaganda and not in pro-Palestinian aid.
3) Mark Regev, spokesman for the Prime Minister, said:
These people call themselves human rights activists, but they are the opposite. They have nothing whatsoever to say about the human rights of Israeli civilians who have been on the receiving end of Hamas rockets for years. They have nothing whatsoever to say about the human rights of Palestinians who live in Gaza under the jackboots of the Hamas regime that oppresses women, Christians, and gays – a regime that has brutally suppressed all political opposition, destroyed independent media, closed down internet cafés, and has even made it illegal for a male hairdresser to cut the hair of a woman.
Flotilla Sponsors: European and American Radicals and pro-Hamas Muslims
According to the
Free Gaza Web site
, "The Freedom Flotilla Coalition is comprised of: Free Gaza Movement (FG), European Campaign to End the Siege of Gaza (ECESG), Insani Yardim Vakfi (IHH), Ship to Gaza Greece, Ship to Gaza Sweden, and the International Committee to Lift the Siege on Gaza, with hundreds of groups and organizations around the world supporting the effort."
•The Free Gaza Movement includes on its Board a number of people involved in the radical ISM, International Solidarity Movement. Huwaida Arraf, Adam Shapiro, Caoimhe Butterly and Ewa Jasiewicz are among these. The ISM supports violence ("armed struggle") against Israel as part of its mission, and specializes in sending foreigners to Palestinian areas to thwart Israeli self-defense measures. Other Free Gaza members are veteran anti-Israel activists, including Greta Berlin from Los Angeles and Dror Feiler from Sweden. Among its Board of Advisors are listed Noam Chomsky, Naomi Klein, Jeff Halper, John Pilger and Jenny Tonge, all biased, virlulent, anti-Israel detractors.
• European Campaign to End the Siege of Gaza (ECESG), headed by Dr. Arafat Madi, is a pro-Hamas umbrella group made up of more than 30 pro-Palestinian groups in Europe. Madi himself is the executive director of the Palestine Return Center, based in London which is closely aligned with Hamas.
•
Insani Yardim Vakfi (IHH),
or Humanitarian Relief in Turkey, is a Turkish-Muslim group. Bülent Yildirim, IHH chairman, is said to be the driving force behind the flotilla. Israel has outlawed IHH because of its fundraising activity for Hamas and its association with jihadist forces.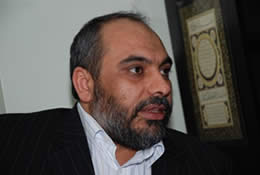 IHH head Bülent Yildirim
According to the
Intelligence and Terrorism Information Center
, there is reliable information indicating that in the past IHH had links with global jihad and Islamic terrorist elements in the Middle East. As part of its connections with the global jihad it supported jihadist terrorist networks in Bosnia, Syria, Iraq, Afghanistan and Chechnya. IHH also served in the past as a cover for Al-Qaeda, acquiring forged documents, enlisting operatives and transferring weapons.
•
Ship to Gaza Sweden
/Greece is a Swedish initiative led by Dror Feiler and others, involving Swedish radicals in the arts, government and academy, including members of the Communist party. It should be remembered that it was Sweden's
Aftonbladet
newspaper that ran a libelous story in August 2009 claiming Israel kills Palestinians to harvest organs for trafficking. The story fueled a wave of related anti-Semitic libels throughout the Arab world.
Hamas Agenda
Underpinning the saga of the Gaza flotilla is the reality that the European and American collaborators in the enterprise either ignore or sympathize with the genocidal aims of Hamas enshrined in the
group's charter
and routinely espoused in Palestinian media, mosques and political pronouncements. That agenda denies any right to the Jewish people to a sovereign nation in the land of Israel and exhorts Muslims to never-ending violence to dislodge Israel and kill Jews. Obviously, no legitimate "rights group," – or campaign, committee, movement or humanitarian effort – aligns itself with a regime espousing genocide.
The question is whether journalists will cover the Gaza flotilla spectacle for what it is, including reporting the alignment of the far left with the Islamists and their shared goal of undermining, if not destroying outright, the state of Israel.