Misplaced emphasis
Still substituting for
The Post's
Jerusalem bureau chief, Griff Witte, is National Public Radio's long-time Israel correspondent Linda Gradstein. CAMERA has documented repeatedly
Gradstein's pro-Palestinian slant
. This Gradstein dispatch reads like one of her longer NPR segments.
• Her lead paragraph reports that "10 days of violence" strain a truce between Israel and Hamas.
The New York Times' Ethan Bronner and Taghreed El-Khodary write that tensions between the two "increased markedly … after Hamas fired a barrage of rockets into southern Israel, sending 18 Israelis to the hospital with shock and mild injuries."
• The Post's next three paragraphs focus largely on difficulties Israel's blockade of food shipments and electric power supplies allegedly cause Arab residents of the Gaza Strip.
The Times' second paragraph focuses on officials from Hamas (the fanatical Islamic Resistance Movement, which rules the Strip) blaming Israel. The third and fourth paragraphs quote Israeli officials asserting Hamas broke the truce by permitting construction of a tunnel that might be used in an attempt to capture an Israeli soldier. A tunnel was used in 2006 for such an attack.
• The Post quotes U.N., European Union and Palestinian officials regarding the alleged distress said to be caused by Israel's suspension of food and fuel deliveries. It also cites by name three Arab civilians complaining of the lack of electricity, cooking gas, warm clothes and medicine. One Israeli spokesman is cited
The New York Times quotes by name one international relief official, one Hamas leader and one Israeli spokesman. It also provides context for the truce break-down lacking in The Post. This includes that "Hamas, which took over Gaza in June 2007 by kicking out its Fatah rival, is feeling unusual pressure because hundreds of its men have been arrested by the Fatah-dominated Palestinian Authority in the West Bank in recent weeks." Also, "… Egypt has started to destroy or shut tunnels into southern Gaza that have been a major source of supplies and fuel – and weapons – that have offset [past] Israeli closings. As a result, Hamas is now feeling besieged not only by Israel, but also by Fatah and Egypt."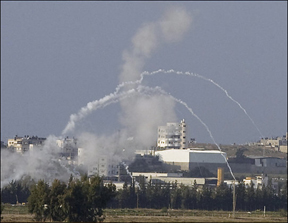 • Each paper illustrates its article with two photographs.
The Post
features one large, four-column color picture from Reuters with the cutline "A boy cries near his family in southern Gaza. Many in the territory depend on U.N. rations that are now blocked. 'This is a disastrous situation,' an official said." No connection is established between the crying boy and his family and the substance of the article. The cutline for the second, much smaller two-column Associated Press photo, taken from a distance and showing no Israelis, reads "Mortar shells are fired from Gaza into Israel. The Israeli military urged people living near Gaza to stay inside, and officials prepared for more attacks."
One small New York Times picture showed two Arabs near the Strip, apparently smuggling. The second, larger photo was a close shot featuring an Israeli civilian surveying a kitchen damaged by mortar fire.
• The Post refers three times to Hamas gunmen, and once to "the military wing of Hamas," which "launched 11 Soviet-style Grad missiles at the Israeli city of Ashkelon." Such indiscriminate attacks on non-combatants qualify as terrorism, making Hamas' "military wing" a terrorist group. The Post avoids the precise description. Likewise, it does not mention that the U.S. government, the European Union, Israel and other countries designate Hamas as a terrorist organization.
Neither does The Times accurately describe Hamas as terrorist, but it does refer twice to Hamas "militants" – a euphemism but not as sanitizing as "gunmen" and "military."
• Both papers give fatality totals for the recent fighting in the second paragraph of their respective dispatches. The Post writes of "at least 10 Hamas gunmen"; The Times of "the deaths over the past 11 days of 11 militants." Neither mentions than no Arab civilians had been killed in Israeli counter-terrorism operations.
Patterns continue
New York Times' Arab-Israeli news coverage is too often flawed. But it tends to rise and fall, roller-coaster-like. The Washington Post's foreign desk reporting on Arab-Israeli matters, however, defies random chance. It's not one day up, one day down, another somewhere in the middle. Instead, it's typically long on Palestinian human interest, short on context; virtually always filtered through the distorting lens of Palestinian Arab victimization (the victimization is frequently self-inflicted though The Post obscures this); and depersonalizes Israelis as either armed victimizers or background abstractions. Post bias becomes evident not in a single article, but rather a long series of them – into which "As Israel-Hamas Clashes Continue, Gazans Face Crisis" fits.