Generously drizzle the interviewer's credulousness over a heaping helping of anti-Israel propaganda, hold the professional journalistic standards of transparency, and what do you get? A caustic recipe for anti-Israel falsehoods and journalistic malfeasance. That toxic fare was on display Aug. 25, with Hari Sreenivasan's PBS Newshour interview with Yasmin Khan, author of the new book "Zaitoun: Recipes from the Palestinian Kitchen."
Host and guest alike depict Khan's intention to "help foster cultural understanding," as PBS' Sreenivasan puts it. He invokes "the old idea of breaking bread with your neighbor or your enemy," and later Khan quotes what she claims is "this old Jewish proverb": "my enemy is just a person whose story I haven't yet heard." Khan presents herself as a human rights worker, trained in law, "really interested in sharing people's stories," who believes that "food can offer a vehicle that we can better understand each other." Expounding on her purported mission to break down walls, Khan says her her passion is to "just share stories and try to break down this dehumanization that too often happens when we're reporting on the Middle East, and build connection because I really believe that at the end of the day, humans, no matter where we are in the world, have got to do more to unite us than divide us."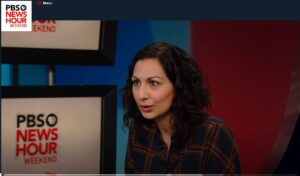 Khan is able to pull off this charade about a noble mission of building connection only thanks to PBS' total failure to abide by the network's lofty commitment to transparency. PBS Editorial Standards and Practice require: "Sources must be clearly identified." And yet, despite the many statements depicting Khan as a builder of connections, including across enemy lines, PBS never discloses her past activity as a senior global justice campaigner of the anti-Israel NGO War on Want to promote an anti-Israel boycott, a bitter effort diametrically opposed to her sweet declarations about tearing down barriers. Indeed, as a BDS activist, Khan has a proven history of dividing people and dehumanizing the other.
Moreover, even under her current guise as a cookbook writer who says "food can be such a useful vehicle for exploring places of conflict," Khan continues to actively peddle falsehoods. Khan erroneously asserts that Israel's "blockade of Gaza that's left over 80 percent of Gazans dependent on U.N. food aid to survive." This is incorrect. According to the
United Nations Relief and Works Agency for Palestine Refugees in the Near East
(UNRWA), "more than half the population depends on food aid from the international community."
Moreover, the U.N. does not attribute all of the need to the Israeli blockade. There are, of course, other factors at play, such as a government run by a designated terror organization which invests in terror infrastructure but not civilian infrastructure. Indeed, the World Food Programme
cites
a variety of conditions which contribute to food difficulties for Gazans: "on
going protracted
conflict, economic stagnation, restricted trade and access to resources
, coupled with
high unemployment and poverty rates
, continue to
pose serious challenges to the achievement of
Sustainable Development Goal 2
on Zero Hunger, food security and improved nutrition."
In a second factual error which went unchallenged, Khan refers to "the wall being built by the Israeli government in the West Bank that cuts off water supplies." Can PBS provide substantiation for her claim that the West Bank security barrier (of which less than 10 percent is a wall), cuts off water supplies? B'Tselem, an NGO extremely critical of Israeli policies in the West Bank,
identifies
numerous hardships for Palestinians posed by the security barrier, such as separation from agricultural lands. Significantly, B'Tselem says nothing about the barrier cutting off water supplies. If no substantiation is available, PBS owes its viewers a correction on this point as well.
Third, as noted above, Khan claims that there is an old Jewish proverb that states "my enemy is just a person whose story I haven't heard yet." In fact, there is no indication to be found that this is an old Jewish proverb. Internet searches indicate that quote might have originated with
Gene Knudsen Hoffma
n (a Quaker) or perhaps a Jewish Holocaust survivor called
Irene Butter
.
Finally, given that Arab Palestinian national identity developed in the twentieth century, Sreenivasan's misleading request to identify a quintessential Palestinian food that the Palestinians have eaten for "thousands of years" does not meet the network's clear and extensive guidelines regarding accuracy, including: "Producers must also be mindful of the language used to frame the facts to avoid deceiving or misleading the audience or encouraging false inferences."