Last week, Agence France Presse's Israel-related coverage took on a turn towards the fantastical. First, there was the Dec. 21 article story which misidentified Yad Vashem, Israel's Holocaust memorial museum, as "the holiest day of the Jewish year." CAMERA prompted coverage of that absurdity, but days later the agency's fact-checkers apparently were still out sipping eggnog. On Christmas day, a heart-warming story of an Israeli ice hockey team competing in Dubai against an Emirati team bizarrely maintained that the Israeli city of Bat Yam, "south of Tel Aviv, on the shores of the Mediterranean, is better known for its sandy beaches, an idyllic climate and its retired Mossad agents, than for its ice hockey club." ("Breaking the Ice: Israel-UAE Hockey Match Makes History," emphasis added.)
Yes, famed Israeli spy Eli Cohen, who successfully infiltrated the highest levels of the Syrian government in the 1960s, had hailed from Bat Yam. Cohen, however, never was able to relish the luxury of retirement prior to his execution by hanging in Damascus. Then there's Isaac Shoshan, featured in Matti Friedman's "Spies of No Country," a fascinating book about Jews from Arab countries who spied on behalf of Israel before the country's independence. But that low profile Palmach-era spy who worked in Beirut is hardly a household name. Neither his name nor his occupation is widely associated with the city of Bat Yam. (Incidentally, the elderly, modest Shoshan passed away just yesterday.) How, exactly, is Bat Yam "known" for its retired Mossad agents?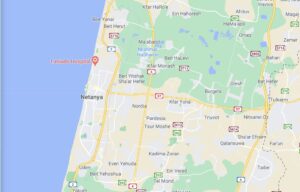 Separately, the AFP piece refers to a "new ice rink in Tvunot [sic] near Jerusalem." That's the OneIce Arena in Tnuvot, not Tvunot, near Netanya — nowhere "near Jerusalem." CAMERA yesterday brought these errors, which appeared also in French, to the attention of AFP's Jerusalem bureau, but as of this writing, the AFP story has yet to be corrected in either language, despite the wire service's stated commitment to "correct errors quickly and transparently."

The Times of Israel had published AFP's hockey story, including the errors. In response to communication from CAMERA, Times of Israel editors yesterday immediately deleted the unfounded reference to Bat Yam's supposed fame on account of its retired Mossad agents and corrected the information about Tnuvot.
Meanwhile, as for AFP, accuracy is the number one guiding principle in its editorial and best practices, which exhorts, "we must do everything we can to provide as clear and truthful coverage of events as possible. With the amount of rumour and noise circulating online and on social networks, our role of providing accurate and verified news, via identified and reliable sources, has never been more important." Indeed, even the most elementary level of sleuthing — Mossad skills not required — would prevent additional fact-checking wipeouts.
Update: Times of Israel Corrects French Edition
Today CAMERA prompted correction of AFP's French article in Times of Israel, where editors commendably removed the absurd reference to Bat Yam's Mossad-related fame.