The International Women's Media Foundation, which yesterday honored Amira Hass of Ha'aretz for the Lifetime Achievement Award, praised the Israeli journalist for "her ability to defy boundaries of gender, ethnicity and religion in her pursuit of the truth in her reporting."
Hass has written perhaps more than any other journalist about the al-Samouni family of al- Zaytoun in the Gaza Strip, and these articles can be considered a test of her abilities (1, 2, 3, 4). Indeed, accurate coverage and fact-checking of the al-Samouni incident is extremely challenging. For one thing, names and ages of the various victims do not match up from source to source. For instance, two Palestinian NGOs which provide a complete list of the al-Samouni fatalities are Al- Haq and the Palestinian Center for Human Rights. Al-Haq puts Azza Salah Al Samouni's age at three years, while the Palestinian Center for Human Rights lists Azza Salah Talal as-Samouni as five months. Similarly, Al-Haq lists Huda Nael Al Samouni as 17, while PCHR lists Huda Na'el Fares al-Samouni's age as seven. Al-Haq lists Ahmad Atieh Al Samouni as 14, while PCHR lists Ahmed Halemi Ateya al-Samouni as four. The latter child is a key figure in Hass' coverage, as we will come to see, and she reports his age as four years old.
In addition, there are dozens of survivors, and the task of sorting out their sometimes overlapping and sometimes contradictory testimonies is complicated. As Yvonne Green, a British poet who visited the Samounis after the incident, wrote in the Jerusalem Post:
I was told stories at Samouni Street which contradicted each other, what I saw and later media accounts. Examples of these inconsistencies are that 24, 31, 34 or more members of the Fatah Samouni family had died. That all the deaths occurred when Israel bombed the safe building it had told 160 family members to shelter in; the safe building was pointed out to me but looked externally intact and washing was still hanging on a line on one of its balconies. That some left the safe building and were shot in another house.
Nevertheless, the general outline of the most-often repeated claims are more or less as Hass wrote Sept. 25 in "Death in the Samouni compound":
The Samouni family of Gaza has, to its great misfortune, become on the best-known families in the world, one that is identified more than any other with the January 2009 onslaught on Gaza. Twenty-nine members of the family were killed on Jan. 4 and 5, the first two days of the ground assault. Two of them, about which this reporter wrote two weeks ago – Atiyeh and his 4-year-old son Ahmed – were killed in their home; 21 were killed in a single building at the same time, and another six were killed separately, in different circumstances.
While it is difficult to fact-check many of Hass' claims from her four articles, some clear observations are can be drawn. Despite her massive quantity of words on the family's tragedy, Hass does little in the way of original research, instead parroting the Samouni family's claims, even when they are self-contradictory. She also ignores evidence that Palestinian fighters were active in the neighborhood at the time of the incidents, that at least a couple members of the clan were members of Palestinian Islamic Jihad and that there possibly had been shooting from the Samouni home.
Moreover, in two of the articles she discusses at length the family's history of having worked in Israel, of having good relations with Jewish employers, and of speaking Hebrew. Yet, she dedicates not one word to the family's fraught relations with the other major party in this conflict – that is, Hamas. Unlike Hass, Green considered the many contradictions in the Samouni family's various accounts, and also reported on the family's connection with the Fatah party and the possible implications of ties to Hamas' arch-rivals. She wrote in the Jerusalem Post:
The media have manufactured and examined allegations that Israel committed a war crime against the Samounis without mentioning that the family are Fatah and that some of its members are still missing. They have not considered what might flow from those facts: that Hamas might have been active not only in the Samouni killings but in the exertion of force on the Samounis to accuse Israel.
Indeed, according to the Palestinian Maan News Agency, Uthman Samouni was a victim of Hamas' "exertion of force." Maan names him as one of more than 100 Fatah men whose legs were broken by Hamas forces.
As in the case of the Abed Rabbo clan, another Fatah-affiliated family intimidated and threatened by Hamas which accused Israel of war crimes, the Samounis' story varies in the various accounts given to media outlets, NGOs, and the Goldstone commission. Yet, Hass, in her purported "pursuit of truth" fails to consider these discrepancies and their implications.
All of Them Civilians
"Twenty-nine members of the family, all of them civilians, were killed in the Israel Defense Force's winter assault," wrote Hass in her Oct. 18 article ("Family who lost 29 members in Gaza war: We envy the dead"). Hass either failed to consult with sources which provided contrary information, or worse, saw reports of combatants among the Samounis and deliberately ignored them. The Palestinian Center for Human Rights, hardly a friend of Israel, lists Rashad Helmi Mahmoud al-Samouni, 36, killed Jan. 4, as a "militant." Given that PCHR is known for understating the number of Palestinian fighters killed in Cast Lead, the organization's acknowledgement of the existence of a Samouni combatant is particularly noteworthy.
Furthermore, Jonathan D. Halevi, in his briefing "Blocking the Truth of the Gaza War," published by the Je rusalem Center for Public Affairs, revealed: "A Palestinian Islamic Jihad flyer noted that Muhammad and Walid al-Samouni were active in fighting against the IDF in the Zeitun neighborhood." The poster (below) commemorating Muhammad Ibrahim al-Samouni is captioned: "He (Muhammad), along with the mujaheed Walid Rashad al-Samouni, blew up the tank, causing the deaths of a number of Zionists, as admitted by the enemy, on the first night of the ground invasion during the war south of the Zeitun neighborhood."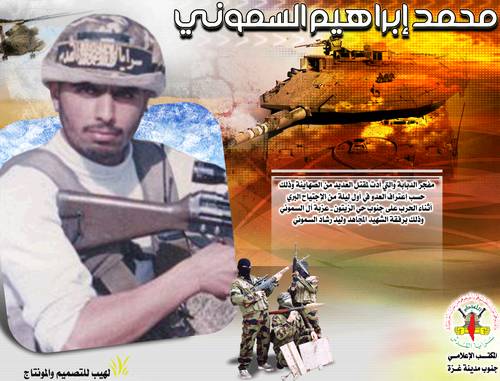 Alleged Killings in Atiyeh Al-Samouni's home, Jan. 4
Amira Hass, along with the Goldstone Report, numerous media accounts, and B'Tselem allege that Israeli soldiers shot to death Atiyeh al-Samouni and his 4-year-old son Ahmed at their home in al-Zaytoun on Jan. 4.
Did the Soldiers Enter the Home Before or After they Started Shooting?
Zeinat al-Samouni, Atiyeh's second wife and the one who lived with him, told Amira Hass (Sept. 17, "I fed him like a baby bird"):
The soldiers began moving between the houses and shooting. We heard them speaking Hebrew. We all started screaming and crying. My husband only said that we shouldn't be afraid and that we should read the Koran. We left the front door open so they wouldn't break it down with explosives and so they would see that there were children here. They came straight into the living room; we were in the children's room, across the way. . . My husband walked toward the soldiers with his hands up, "Here I am, Khawaja" [term for non-Muslim]. He barely said a word and they shot him.
In contrast, Fahed al-Samouni, Atiyeh's son from the first wife, testified to B'Tselem, that first the soldiers shot his father and other family members, and then entered the house:
Then we heard shooting for about two minutes, and then someone called out in Hebrew that the owner of the house must go outside. My father understands Hebrew and he got up and went towards the door.

Just as he reached the door, soldiers entered the yard. They stood about 3-4 meters from my father and ordered him to put his hands up. The second he raised his hands, a group of about 10 solderis, with paint on their faces and branches on their shoulders, fired more than 20 bullets at him, and he fell. The soldiers didn't stop and fired also into the room at family members. . .

Then the soldiers came into the house and broke down the door to the second room. . .
How Did the Soldiers Enter the Home of Atiyeh al-Samouni?
Zeinat al-Samouni told Hass (Sept. 17): "We left the front door open so they wouldn't break it down with explosives and so they would see that there were children here. They came straight into the living room . . . "
In contrast, the Goldstone Report states that based on the testimony it received, "The soldiers entered Ateya al-Samouni's house by force, throwing some explosive device, possibly a grenade."
PCHR: Atiyeh and Ahmed Killed by Planes, Tanks
Yet all of these inconsistencies are minor when compared to the version of events reported by the Palestinian Center for Human Rights, which is representing the Al-Samouni family in its suit against Israel. According to the 1-7 January 2009 Weekly Report on Israeli Human Rights Violations in the Occcupied Palestinian Territory, the family was not shot point blank by soldiers, but died in an attack by "warplanes and tanks":
At approximately 07:00, IOF warplanes and tanks struck a house belonging to 'Atiyah Helmi al- Sammouny, in al-Zaytoun neighborhood. Three children were killed in the attack: Ahmad 'Atiyah al-Sammouny, 4, Ameen 'Atiyah al-Sammouny, 5; and Mohammed Helmi al- Sammouny, 8 months. An unknown number of civilians remain trapped under the rubble.
The Bombing of Wael al-Samouni's Home, Jan. 5
According to Hass, the majority of the al-Samouni victims died in a bombing of Wael al- Samouni's home in the early hours of Jan. 5, when some 100 members of the family were reportedly gathered together there.
Who left the house right before the bombing started and why?
Hass reported Oct. 18:
On the morning of Monday, January 5, Salah Samouni walked out of the house and shouted in the direction of another house in the compound that he though other family members were still in. He wanted them to join him, to be in a safer place, close to the soldiers.
A month earlier, on Sept. 25, Hass reported:
The women and four or five of the men again leave the building to prepare a fire and bake pita. These persons shout in the direction of the home of Jalal – 100 meters away – where members of the family have been staying. Salah Samouni wanted them to join his group, as he feels that Wael's house is safe . . .

Simultaneously, about four or five men begin collecting wood.
But, as Jonathan Halevi wrote, there is another explanation for Salah's presence outside with his relative Mohammed Ibrahim:
the official Palestinian Islamic Jihad version is completely different. In a statement issued on January 5, Palestinian Islamic Jihad said that on the evening of January 4 its fighters had fired an RGP from the Zeitun neighborhood at an Israeli tank and had opened fire at IDF soldiers. At 1:20 a.m.on January 5, a Palestinian Islamic Jihad engineering unit detonated a 50-kg. bomb near an Israeli tank not far from the Al-Tawhid mosque near the house of Wail al-Samouni. At 6:30 a.m., the engineering unit detonated a bomb near an IDF infantry unit operating near the Al-Tawhid mosque in the Zeitun neighborhood. According to another official Palestinian Islamic Jihad statement, one of its operatives was killed in fighting nearby. His name was Muhammad Ibrahim al-Samouni.
Indeed, Hass mentions the attack from a helicopter or drone "kills Mohammed Ibrahim," who she says was outside "collecting wood" with Salah. Yet, nowhere does she note his apparent affiliation with Islamic Jihad. Nor do any of her four accounts of the al-Samouni story mention the presence of militants active in the area. Moreover, Wael al-Samouni's obviously false Goldstone commission testimony does not set off any alarm bells for Hass, who reports without challenge the family's claims against Israel. Wael testified:
The Al-Zaytoun area is a pacifist area. It's a farmland area. We didn't have any Islamic Jihad or Qassams or anything. We didn't have any, uh, resistance operators whatsoever. We didn't have any resistance.
Yet, as the New York Times reported on Jan. 6, one day after the reported attack on Wael al- Samouni's home:
Hamada Al-Samouni, 28, who was lightly wounded by the Israeli rocket and was clearly still in shock, said this was all happening "because of the rockets" fired by Hamas.

He said he had seen the bodies of eight Hamas fighters dressed in civilian clothing lying in the streets around Zeitoun.
Furthermore, Hass had reported that 21 al-Samounis "were killed within minutes by an IDF shelling of the house [owned by Wael] in which soldiers had gathered them the previous day." In contrast, the aforementioned New York Times report, written by Taghreed El-Khodary and Isabel Kershner, had a much lower figure, stating: "Eleven members of the extended Samouni family were killed and 26 wounded, according to witnesses and hospital officials, with five children age 4 and under among the dead."
How Were the Samouni Men Outside the House Killed?
Hass' reporting is inconsistent when it comes to how the men who stepped outside Wa'el's home on the morning of Jan. 5 were killed. In her Sept. 25 article, she claims: "All of a sudden something is fired at them — Salah Samouni guesses it's a mortar shell or a missile from a helicopter or drone — and it kills Mohammed Ibrahim and wounds Salah. . ."
Yet earlier, on March 3, Hass relayed an entirely different story, claiming that the men were shot by soldiers ("Gaza family that lost 29 relatives drops lawsuit against Israel"):
At 6 A.M., on Monday, January 5, a few male relatives went to bring an uncle who lived in a shack next to the concrete house. Masia said the men were all shot, and one was killed. A shell then hit the house, and another fell nearby, killing seven more Samouni family members.
(Notice too how the death toll from the attack on Wael's home is much lower than her later reports — seven as compared to 21.)
When Were the Corpses Brought to Shifa?
Complicating the picture even further, Hass had reported on Oct. 18 that the fatalities suffered during the reported attack on Wael's home were not recovered until two days later. She described how nine surviving but injured family members were left behind in the home with the corpses. Later, in the same article, she wrote, "Only on Wednesday, January 7, did the IDF allow the Red Cross and Red Crescent crews to enter the neighborhood . . . the grandmother told them about the wounded children who remained behind, among the dead, in Wael's house."
In contrast, an Associated Press report by Ibrahim Barzak from Jan. 5, the same day as the reported attack on Wael's house, reported that children's bodies were already in the hospital morgue:
Wailing in grief, Salah Samouni banged his head against a wall inside the hospital morgue where the bodies of his three young nephews lay on the floor Monday.

After 10 days of a relentless Israeli assault, Shifa Hospital, Gaza's largest, is overwhelmed. Bodies were crowded two to a morgue drawer, and some like 3-year-old Issa, 4-year-old Mohammed and 5-year-old Ahmad were on the floor.
In a similar account, Hass quoted Zeinat Samouni, mother of Ahmed, stating:
The refrigerator was full. There were so many dead that they didn't even put Ahmed in a separate compartment, but on the floor. With Mu'athazam and Mohammed. ("I fed him like a baby bird," Sept. 17)
This statement in itself problematic. Hass had reported Sept. 17 that Ahmed, son of Atiyeh, was fatally shot by soldiers at his home Jan. 4 and then died from his wounds Jan. 5. She goes on to describe the boy's arrival at Shifa that very same day, where he was placed on the floor with his cousins Mu'athazam and Mohammed. And, yet in her Sept. 25 article Hass identifies Mu'athazam and Mohammed as among the casualties of the attack on Wa'el's house, and thus, according to her reporting in her Oct. 18 article, their bodies were not recovered until Jan. 7.
Many wire service photographs dated Jan. 5, the day of the reported attack on Wael's home, show a man wailing over three small bodies. This one, by AFP photographer Mahmud Hams is captioned:
Palestinian father Magdi al-Samuli [sic] mourns over the bodies of his children, killed by an Israeli tank shell early on January 5, 2009, upon their arrival at the mortuary of Gaza City's Al- Shifa hospital. Five children were killed in two separate Israeli strikes in Gaza early today, Palestinian medics said. AFP PHOTO/MAHMUD HAMS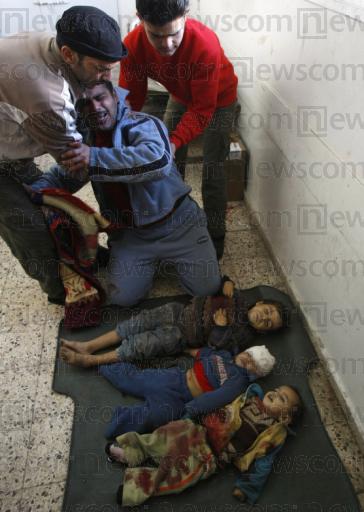 In short, Mu'athazam and Mohammed could not have been in the morgue on Jan. 5, as Hass claims in her Sept. 17 article, yet been left at the home until ambulances arrived on Jan. 7, as is deduced from her Sept. 25 and Oct. 18 articles.
Conclusion
Hass wrote four articles and thousands of words about the Samouni family. Yvonne Green wrote three paragraphs. But in those three concise paragraphs, Green delivered much more in the way of genuine, investigative rep orting. She wrote, for instance, how she had been told
That there was no resistance – but the top right hand window of the safe building (which appears in a BBC Panorama film Out of the Ruins" aired February 8) has a black mark above it – a sign I was shown all day of weaponry having been fired from inside. That victims were left bleeding for two or three days.

I saw large scoured craters and a buckled container which appeared to have been damaged by an internal impact (its external surfaces were undamaged). Media accounts of Samouni Street don't mention these possible indications of explosive caches (although the container is visible on media footage). The Samouni family's elder told me during a taped interview that he had a CD film of the killings. As far as I'm aware, no such film has been made public. He also told me that there are members of his family who have still not been found.
Hass' coverage of the Samouni story should give the International Women's Media Foundation pause — which woman writer labored more in the pursuit of truth regarding this tragic and horrifying story? The one that ignored her interviewees' contradictions, and who nevertheless took their word at face value? Or the one who sought to expose discrepancies and consider their implications, even if it meant raising more puzzling questions as opposed to tidy (but faulty) conclusions?