CAMERA's Israel office yesterday prompted improved Associated Press coverage of the Palestinian destruction of the pipeline at Kerem Shalom crossing that provides gas and fuel to Gaza's residents. An AP story yesterday initially noted the destruction of the pipeline, but failed to identify those responsible as Palestinian ("Palestinians bury dead after bloodiest Gaza day since 2014").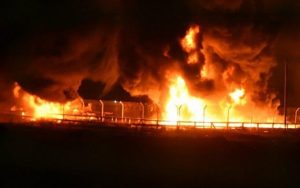 In the context of the "March of Return" violence, Palestinian riots, reportedly at the behest of Hamas, twice torched the pipeline, on May 4 and more recently May 11. Moreover, the Gazans who destroyed the pipelines which bring gas and fuel to their own people were reportedly instructed to do so by Hamas. As Times of Israel reported: "But more dramatically, during the latest border protests on Friday, the COGAT officer said Hamas members directed rioters to destroy and set fire to key parts of the Kerem Shalom Crossing, the main, often sole, passage for commercial goods and humanitarian aid into and out of the Gaza Strip. Gas lines were trashed and tens of millions of shekels of damage was caused."
But AP's May 15 article failed to note the identify of those culpable, stating : "Gaza's power crisis was further aggravated last week when vandals destroyed the fuel terminal at Israel's only cargo crossing into Gaza, halting the flow of fuel and gas."
Following communication from CAMERA Israel office, the AP commendably updated the article to note that "Palestinian vandals" were responsible for the destruction.
Another serious shortcoming in the article is that the repeated description of the riots and clashes as "protests," along with the reference to international criticism of what the AP calls "Israel's use of lethal force against unarmed protesters" and the absence of reference to the molotov cocktails, guns, knives, axes, wire cutters, explosives, and arsonist kites, is a complete distortion of the nature of the Hamas-led activity at the fence. Not until 14 paragraphs later does the article mention explosive devices and firebombs, and even then this information is qualified as an Israeli claim.
For additional Associated Press corrections prompted by CAMERA, please see here.