CAMERA staff have elicited a correction today in the Los Angeles Times on an yesterday concerning bias, depiction of the other, and incitement in Israeli and Palestinian textbooks. As we first noted yesterday in our Snapshots blog, the article wrongly attributed a positive depiction of the other to a Palestinian textbook, when it actually appeared in an Israeli textbook. The error and correction follow:
Error (Los Angeles Times, Edmund Sanders, 2/5/13): A fourth-grade Palestinian textbook includes a story of a Palestinian who helped rescue a wounded Israeli soldier because, he says in the text, it was "my obligation as a Muslim Arab."

Correction (2/6/13): Mideast textbooks: In the Feb. 5 Section A, an article about a study of bias in Israelis and Palestinian textbooks said that a Palestinian textbook included a story of a Palestinian who helped rescue a wounded Israeli soldier. The example came from a fourth-grade Israeli textbook.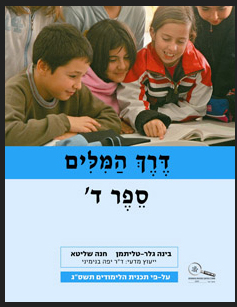 The name of the Hebrew Israeli textbook book in which the example appears is Derech Hamilim, Book Four (pictured at left). Under the heading "Examples of positive descriptions of the acts of the other from Israeli books," Page 21 of the study details:
Another example: "'I saw it as my obligation as a Muslim Arab to offer help to an Israeli soldier injured in an accident' said Abdullah Yusef Yunes… who offered help and drove an Israeli soldier in his vehicle" (State secular schools, Through the Words: Book D [ ãøê äîéìéí: ñôø ã'. ëðøú ], 2009, Grade 4, Part 4, p.203, LP1892).
CAMERA commends the Los Angeles Times for its prompt correction. Additional Los Angeles Times prompted by CAMERA can be seen here. For first impressions about the apparently flawed methodology of the Israeli/Palestinian textbook study, see here.