CAMERA last week prompted correction of the caption of an Anadolu/Getty Images picture which had erroneously identified the demands of photographed protesters in Jerusalem. The caption had stated: "Israeli protesters gather on Saturday night in protest against Prime Minister Benjamin Netanyahu demanding his resignation over corruption cases and his failure to combat the new type of coronavirus (Covid-19) pandemic in West Jerusalem on October 31, 2020. (Photo by Mostafa Alkharouf/Anadolu Agency via Getty Images)."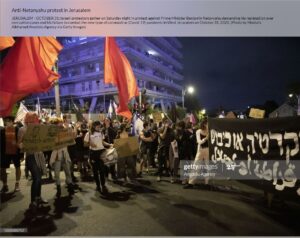 While the pictured protesters were part of a large demonstration including many who oppose Prime Minister Netanyahu's handling of the pandemic and/or who demand his resignation over alleged corruption charges, those photographed are carrying signs completely unrelated to either of the issues cited in the caption.
The large black and white sign on the right-side of the photograph states "Democracy or Occupation," indicating the demonstrators' opposition to Israel's presence in the disputed West Bank. The other legible signs in the photograph, those on the left, are calling for the release of Palestinian hunger striker Maher Akhras who is serving in administrative detention for membership of the
Palestinian Islamic Jihad
terror organization. (Islamic Jihad sources have
identified
him as a "commander." Here Akhras is
pictured
with the Islamic Jihad flag and scarf.)
In response to CAMERA's communication with Getty Images, its partner, the Anadolu News Agency, a state-run Turkish media outlet, commendably corrected. The amended caption now accurately reports:
JERUSALEM – OCTOBER 31: Israeli protestors display a sign reading "democracy or occupation" (right), and another referring to a detained Palestinian man, Maher Al-Akhras (left), during a protest against Prime Minister Benjamin Netanyahu in West Jerusalem on October 31, 2020. Recent months have seen a wave of anti-Netanyahu protests prompted by his ongoing corruption case and his government's response to the coronavirus (Covid-19) pandemic. (Photo by Mostafa Alkharouf/Anadolu Agency via Getty Images)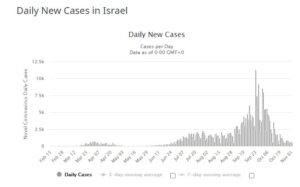 Separately, on the NBC sites, the photograph is accompanied by a Nov. 1 misleading subheadline
: "Like many other countries, Israel has seen a recent surge in confirmed coronavirus cases." In late September, Israel did face a surge, reaching over 9,000 new daily cases. But by the beginning of this month, in the wake of a lockdown, the daily rate of newly diagnosed infected has dramatically dipped to around 500, a relevant fact which the article and subheadline omit, as
Worldometer
indicates. (Screenshot at left from Worldometer.)
Indeed,
Haaretz
recently
reported
that the decrease in new cases as a result of the lockdown was more dramatic than anticipated:
At the same time, the COVID-19 figures in Israel continue to decline. As we are all aware, the consequences of the steps being taken now will only be felt in about two weeks. Therefore, the low numbers being recorded now reflect the limitations on social contacts that were tightened following the lockdown at the beginning of October. Still, the numbers are low even to a somewhat surprising extent compared to earlier projections.
The accompanying article on NBC's sites is from
AP
, and it does not substantiate the assertion that "Israel has seen a recent surge."
Thus, a more accurate subheadline would state: "Israel had seen a surge."