There are dozens of swimming pools in the West Bank and numerous pools in the Gaza Strip.
Levy's May 1, 2015 column begins:
They asked if they could take a picture of the swimming pool. One of them had never in his life seen a private pool before, and actually maybe not a swimming pool of any kind, not to mention a house on this scale.

There are no swimming pools in the Gaza Strip because, among other things, there's not enough water. Nor enough electricity; it's only supplied six to eight hours a day. The two visitors took pictures of the pool and had themselves photographed next to it, as though not wishing to miss any detail, as though to make every moment last and live it to the fullest.
It's possible that the two Gazans have never previously laid eyes on a swimming pool, private and otherwise. But the reason is not because there are no pools in the Gaza Strip.
As reported by
Maan News Agency
, the Olympic-sized al-Sadaka pool, the Gaza Strip's first Olympic-sized pool, opened in 2010.
In addition, the al-Nour Resort, a Hamas-affiliated facility located near the former site of the Netzarim settlement, has two swimming pools, according to
Al-Monitor
. Last summer,
The New York Times'
Jodi Rudoren referred to a swimming pool in that area in an article about the Palestinian hopes for a Gaza port: "The designated site, next to a wedding hall and a swimming pool not far from the former Israeli settlement of Netzarim . . . "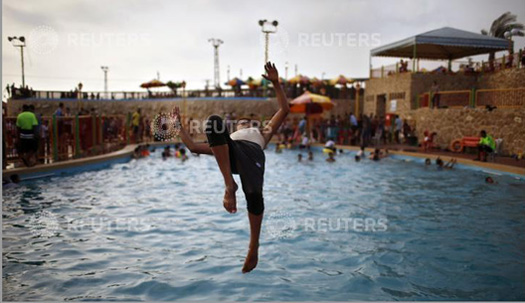 A Palestinian jumps inside a swimming pool at al-Nour resort in Gaza City June 12, 2013. Al-Nour resort was established on the land of former Jewish settlement of Netzarim where it is open for free for the families of Palestinians whose sons were killed or injured in the Palestinian-Israeli violence. REUTERS/Mohammed Salem (GAZA – Tags: POLITICS SOCIETY TPX IMAGES OF THE DAY)
In a phone call with CAMERA's Israel office, Gideon Levy acknowledged the existence of pools in Gaza and insisted that in his piece he was referring to private pools. Yet, in fact, his piece explicitly makes the blanket statement: "There are no swimming pools in the Gaza Strip. . . "
CAMERA has contacted editors to request corrections regarding both the current column about Gaza well as Levy's 2008 column alleging that there is just one pool in the West Bank. Stay tuned for an update.
Update, 8:07 am EST (May 3)
Following CAMERA's communication with Haaretz earlier today, editors have changed the wording of Levy's online article from Friday. Instead of inaccurately stating that "There are no swimming pools in the Gaza Strip," the article now states "There are no private swimming pools in the Gaza Strip. . . "

No note has been appended to the article notifying readers of the change.