(Updated Nov. 25 with photos from CAMERA's Nov. 25 photo shoot of Route 505)
"An oud to Nablus" is a fitting title in one sense for Noam Ben-Zeev's
Nov. 17 article
in
Ha'aretz
about a classical music concert in that Palestinian city. It suggests creative invention. Unfortunately, though, the story isn't in the fiction section, but is supposedly a news article (in the Gallery, or culture, section) presenting facts. In the writer's fabricated landscape Nablus is an "encircled city" with no theater and few performances, reached by an "exemplary apartheid road – for Jews only." Residents of this imaginary place nevertheless overcome the obstacles of occupation to produce an enchanting Arab music festival, replete with the "friendly charm" of Arab musician Simon Shaheen.
Noam Ben-Zeev's pseudo-poetic portrait of Nablus begins with his journey from Tel Aviv to the Palestinian city, which he describes as follows:
Before you know it, you're on the best road between the Jordan River and the Mediterranean – Route 505, well-lit and with the highest-quality asphalt, wide shoulders and clear signage. This road cuts east through the West Bank and reaches the Jordan Valley. The fences on either side, separating it from the lands of Palestinian villages in the area, make it an exemplary apartheid road – for Jews only. And you can fly along at 140 kilometers per hour, from one Jewish settlement to the next.
Route 505 – Open to Palestinians
Route 505, which Ben-Zeev describes as "an exemplary apartheid road — for Jews only," is not only open to Muslim and Christian Israelis, but is also open to Palestinian traffic, a fact confirmed by Palestinian sources. For instance, Table 3 of a November 1, 2009 report issued by the Applied Research Institute – Jerusalem (ARIJ), a Palestinian outfit, states that an earth mound barrier was recently removed from Haris, thereby connecting that Palestinian town south of Nablus to Route 505.
An August 2009 B'Tselem spreadsheet about freedom of movement and checkpoints in the West Bank notes which checkpoints do not permit Palestinian passage and which roads are closed to Palestinians. The chart makes clear that 505 is open to Palestinian traffic. Referring to the Tapuach (Za'tara) checkpoint in the Nablus district, B'Tselem writes:
The checkpoint separates the northern section of the West Bank from the southern section. Open around the clock. Vehicles traveling south on Routes 60 and 505 are checked. Since mid-June 2009, the checks have been random, and delays at the checkppoint [sic] have not been especially long.
Likewise, B'Tselem refers to the 'Aqraba/Majdal Bani Fadil-Migdalim checkpoint, stating: "located on Route 505, on the turn-off to 'Aqraba, Majdal Bani Fadil. When staffed, checks are made randomly." On a Nov. 25 visit to Route 505, CAMERA staff saw a road teeming with a Palestinian presence, including countless Palestinian vehicles — taxis, private cars, buses, and trucks driving freely on the road. (Palestinian vehicles carry white or green plates, while Israeli vehicles carry yellow plates.) Here is a sampling of the scores of Palestinian vehicles spotted that day passing a Route 505 road sign (all photos by CAMERA):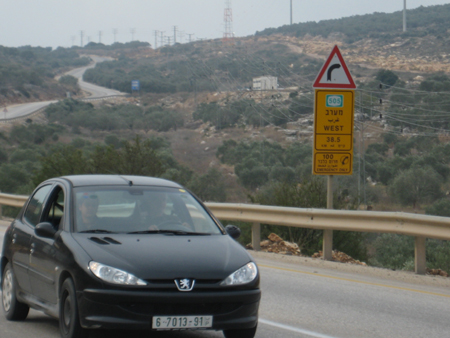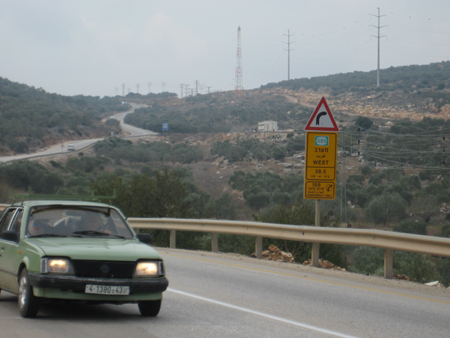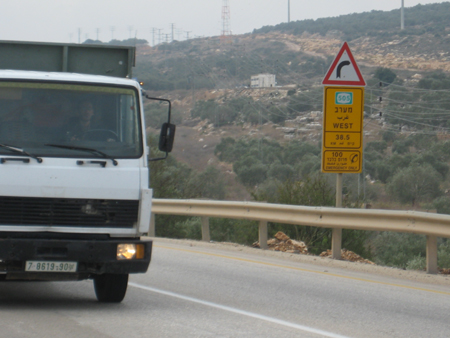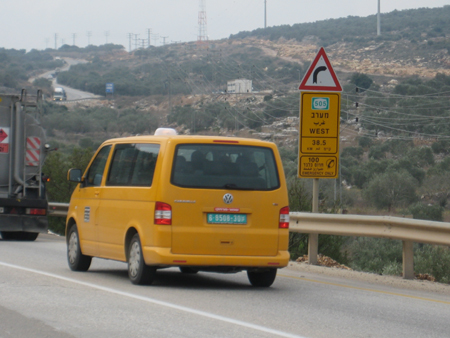 Dozens of Palestinian vehicles and several Palestinian pedestrians waiting for rides were seen at the traffic circle next to the entrance of the Jewish town of Ariel, also on 505. See below.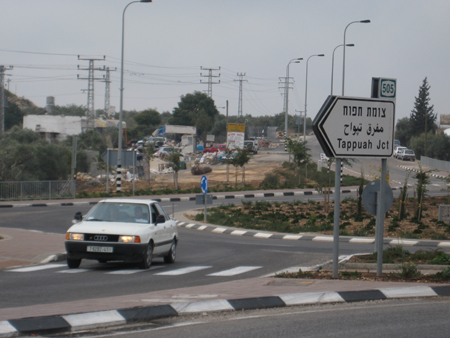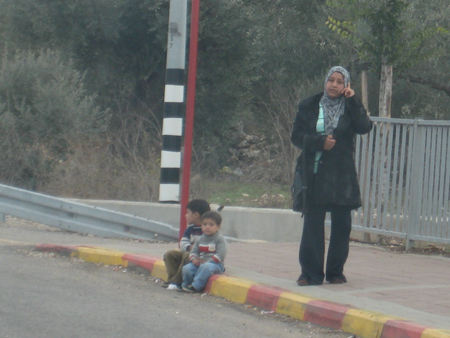 Below, a truck leaving the Palestinian village of Marda, slightly west of Tapuach Junction, is about to turn onto Route 505.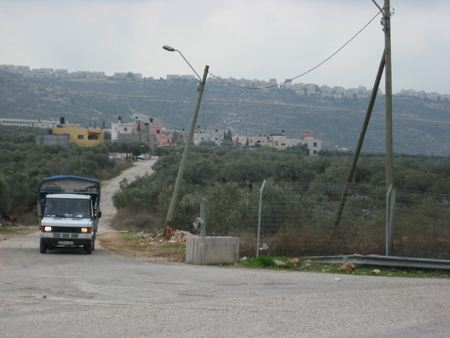 Further west, closer to the Green Line, Palestinian homes, as well as a Palestinian owned dry-cleaning business, are located right next to Route 505. The residents' and customers' access to the road is completely unhindered.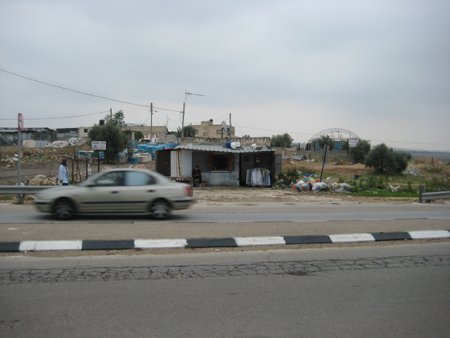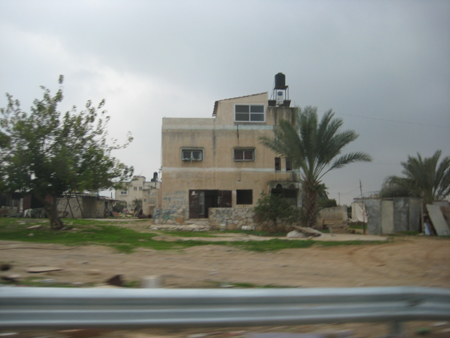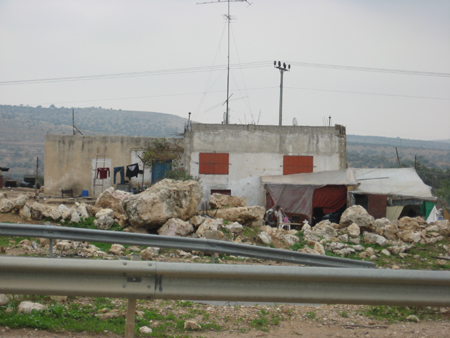 While Palestinian traffic is permitted to travel freely on Route 505 in the West Bank, it is Israeli traffic which is prohibited for a 5.5 kilometer stretch from Elkana to Kiryat Netafim. Below is the Elknana barrier preventing Israelis from continuing on Route 505.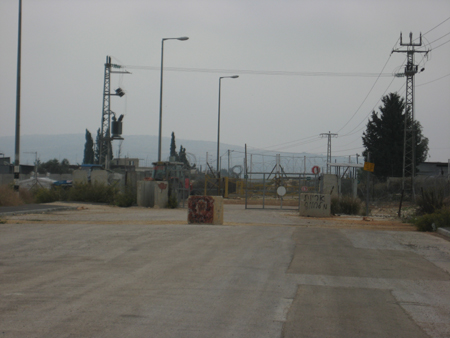 'Encircled Nablus'
In a related fabrication, Ben-Zeev imagines that Nablus is an "encircled city" which residents may exit and enter only on weekends. He writes:
And the army checkpoints? On weekdays no one goes in or out of the encircled city, but on weekends the noose is slackened a bit and there is only one roadblock worthy of the name at the entrance to Nablus, and even that is informal: At the same spot where until a few months ago the intimidating Hawara checkpoint, an armed bunker, had blocked the entrance to the city, permitting passage on foot only, on the weekends now there are only two nervous soldiers, unaided even by barbed wire or road spikes. They signal the cars to stop. A short argument, a bit of flattery, fawning and some joking, and they give in and let us through.

At the end of the day, the final, impassable barrier that prevents Israelis from going to Nablus is psychological. It is reflected in a new sign, as tall as a two-story building, painted bright red with huge letters that warn: "Area A ahead, Entrance to Israelis prohibited, your lives are in danger: You have been warned! Entrance by Israelis into territories of the Palestinian Authority constitutes a criminal offense." Threat and intimidation are the most effective separation walls.
Is it true that Nablus is encircled and that residents may enter and exit only on weekends? Not according to two Ha'aretz news correspondents, Ben-Zeev's very own colleagues. Amos Harel and Avi Isacharoff reported June 24, 2009 ("Israel removes dozens of West Bank roadblocks"):
In essence, Palestinians from the main cities can now travel in the northern West Bank without any security checks.

The roadblocks surrounding Nablus, a city that had been under complete siege, have now all been lifted. Several months ago the roadblocks to the west and east of the city were dismantled, and two weeks ago the northern and southern roadblocks were also lifted.

Soldiers where the Nablus roadblocks stood prevent cars with Israelis from entering the city during the week, but Israeli Arabs are allowed into the city on Friday and Saturday.

The soldiers are also under orders to carry our [sic] random checks of Palestinian vehicles.
Likewise, the November 2009 "West Bank and Movement Access Update" report, issued by the United Nation's Office for the Coordination of Humanitarian Affairs, notes that:
The most significant measures improving the flow of Palestinian traffic between the main cities and towns throughout the West Bank, implemented mostly during June and September, were the following:

the removal of two staffed checkpoints that controlled access into Qalqiliya and Nablus cities . . .
In fact, the lifting of the closures surrounding Nablus in June prompted a business boom which was covered in many media outlets over the summer. For instance, Agence France-Presse reported Aug. 12, 2009:
Nablus, which has been ruled by many empires over the course of its almost 2,000 year long history, is become a commercial trade center dealing in traditional industries since Israel decides to open roadblocks surrounding the city as part of a plan to ease tensions in the West Bank by boosting the local economy.

A few weeks ago Ahmed Shataye rarely attempted the journey from his tiny village to his market stall in Nablus. Israeli roadblocks made the trip almost impossible.

But these days business is booming. In June Israel decided to remove checkpoints around the city as part of a plan for "economic peace" with the Palestinians. "I'm here every day now
and sales are up by at least 50 percent," says the market trader from Salem, a tiny mountain village about seven kilometers outside Nablus, for years one of the occupied West Bank's more militant strongholds. Shataye buys honeycomb and cheeses from other villagers to sell in Nablus at a profit. But until recently, covering the short distance to the city could take all day. "It took so long to get here that by the time I arrived the market would be closed. Sometimes I wouldn't get through at all. Often I would open the stall only once in a couple of weeks."
Up until just a few months ago, six Israeli checkpoints surrounding Nablus had put a stranglehold on the local economy.Now a steady stream of vehicles flows through the main Hawarra roadblock just outside the city, most provoking no more than a cursory nod from the Israeli troops on guard. (Emphasis added.)
In short, as documented by the U.N., the international media, and Ha'aretz, Palestinians like Shataye the market trader can freely enter and exit Nablus both on weekdays and weekends.
Noam Ben-Zeev's odyssey is nothing but dramatic — he describes flattery and joking with the Israeli soldiers at a checkpoint in order to gain access to the forbidden Nablus. But as a journalist, all Ben-Zeev had to do was show his press card as Israeli journalists are permitted throughout the West Bank, including Area A, which is under full control of the Palestinian Authority.
Nablus' Movie Theatre, Alive and Well
To complete the picture of artistic achievement brightening the otherwise dreary deprivation of the besieged city, Ben-Zeev fabricates:
And thus, in a city with no open movie theater (one is in ruins, the other is closed), there was music from films, reminding older audience members of forgotten pleasures and giving the children – some of them for the first time – an opportunity to hear live music, to see a double bass and a flute being played onstage and to meet an respected international musician like Shaheen, who has opened a Palestinian cultural window to the world.
In fact, this past June, Nablus rejoiced in the opening of Cinema City movie theater, an ev ent accompanied by much fanfare and publicity, and heralded as part of the nascent business boom. The 175-seat Cinema City boasts a
Web site
and a
Facebook page
. This writer called the theater and learned that today's showings include
Shehata Tells a Story
(an Egyptian film, with English subtitles),
Transformers
, and
Proposal
.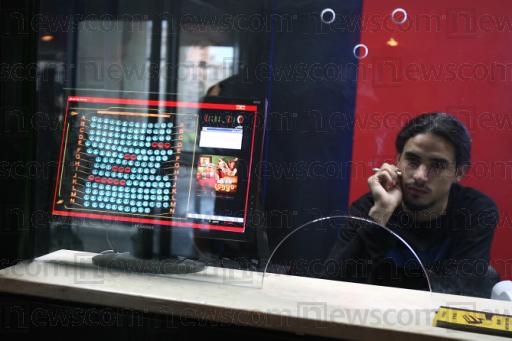 Palestinian Yaqob al-Masri waits for customers at the ticket counter of the single-screen Cinema City theatre in the West Bank city of Nablus on June 22, 2009. (AFP photo by Jaafar Ashtiyeh)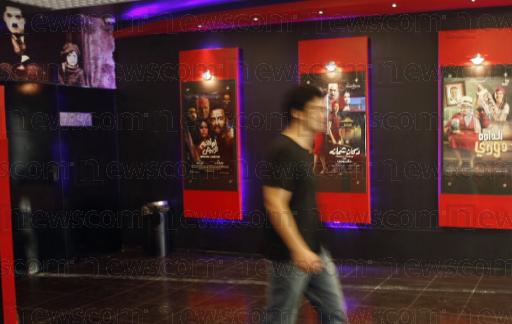 A Palestinian youth walks in the lobby of the single-screen Cinema City theatre in the West Bank
city of Nablus on June 22, 2009 (AFP photo by Jaafar Ashtiyeh)
Returning to Earth
Noam Ben-Zeev fancies himself an intrepid traveler armed with jokes and flattery who faced down occupation forces to reach exotic, oppressed Nablus, a world apart where music nevertheless finds a way. He concludes: "By 10:30 we are back in the middle of Tel Aviv, after a swift, difficult-to-digest segue between two planets." His apparent reference to the "apartheid road" separating his home from faraway Nablus brings to mind a totally different association —
Planet Ha'aretz
, versus Planet Earth.
R
ead more
on
Ha'aretz
's earlier refusals to correct false references to "Jewish-only roads."