For the second time this year, CAMERA's Israel office prompted correction in Haaretz's English edition about Samir Kuntar, the Lebanese Druze arch-terrorist who in 1979 brutally murdered Israeli Danny Haran and his four-year-old daughter Einat in a cross-border attack. A younger daughter, 2, accidentally smothered to death while her mother kept her hidden.
Last week, in an article by Zvi Bar'el, the July 29 English print edition (page 2) had erred (online as well):
This was the case in the summer of 2006, when it abducted IDF soldiers in an operation that led to the Second Lebanon War. The operation had been intended to settle scores with Israel over its abductions of Hezbollah operatives and the rearrest of Samir Kuntar, a convicted terrorist who had been released in a prisoner exchange.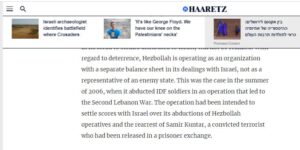 Kuntar was
released
in a prisoner exchange in 2008, two years
after
the Lebanon war. He was not rearrested after his release. Hezbollah announced that in 2015 that Kuntar was killed in an Israeli airstrike.
The
Hebrew
edition, print and online, does not contain this error, and instead stated (CAMERA's translation):
This was the case when it carried out the abduction of the soldiers in the summer of 2006, which brought about the Lebanon war, an operation intended to settle scores with Israel over its abduction of Hezbollah operatives and the imprisonment of Samir Kuntar.
Haaretz reported.) Alternatively, Israeli soldiers would have had to carry a daring, cross-border, likely undercover arrest mission given that the Israeli army has had no reported boots on the ground there for two decades, aside from said Lebanon war in 2006. Second, the error also underscores the troubling possibility that the translator or editor lacked full understanding of Bar'el's Hebrew text, mistaking "incarceration" for "rearrest."
The error is significant as it is indicative of the following troubling points. First, the translator or editor from the English edition is apparently not at all informed about basic information concerning notorious terrorist Samir Kuntar. When exactly did this staffer think that Kuntar had been released in a prisoner exchange, if s/he did at all give it any thought? Before or after the Israeli army's 2000 withdrawal from Lebanon? If it was the latter, the only way that "rearrest" would have been possible were Kuntar to have returned to Israel for a second time, either to carry out an attack, or some other purpose. (While we occupy the realm of the fantastic, perhaps he returned on a diplomatic mission? That fictional tale is just as far-fetched as the scenario that
In any event, CAMERA applauds the editors' immediate and thorough steps to set the record straight. In response to communication from CAMERA, editors immediately amended the online text, changing "rearrest" to "incarceration." In addition, they commendably appended the following correction to the bottom of the article:
A previous version of this article incorrectly stated that Samir Kuntar was rearrested by Israel. In fact, he was arrested once, and released as part of a prisoner-exchange deal in 2008.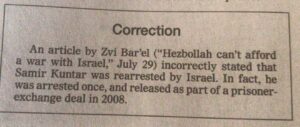 Furthermore, editors commendably set the record straight in the print edition, publishing a correction (at left) in the weekend paper, which has a larger readership.
See also "
Haaretz
, Lost in Translation"