CAMERA's Israel office last week prompted correction of a Haaretz mistranslation which resulted in an error about Moroccan-Israeli relations. A Dec. 13 page 2 story in the English edition ("Israel seals the deal with Morocco, but the United States pays the bill") and online here had erred:
These warming yet covert Israel-Morocco ties strengthened under the late King Hassan, who even ordered the establishment of a Moroccan interests section in Israel after the Oslo Accords were signed in 1993. His son, King Mohammed VI, finalized it after the second intifada erupted in 2000, but since then, there have been many meetings and conversations between Israeli and Moroccan representatives about establishing diplomatic relations. (Emphasis added.)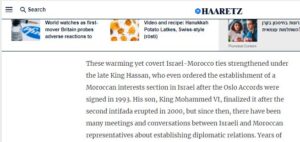 Morocco did not "finalize" its warming relationship with Israel or representation office in Israel following the outbreak of the second intifada; rather the two countries
closed
their respective liaison offices.
The Hebrew edition correctly reports (CAMERA's translation):
The semi-formal contacts between Israel and Morocco, more or less secretive, are a historic fact. They developed during the rule of King Hassan, who also ordered the establishment of Moroccan diplomatic representation after the signing of the Oslo Accords. It was closed (נסגרה) during his son's rule, King Mohammed VI, following the outbreak of the second intifada.
Given the dual meaning of the Hebrew word נסגרה ("neesgera"), which can either mean shut (as in a door) or closed (as in finalized) a deal, it's easy to see how a translator who wasn't familiar with the facts could have gotten this wrong.
In response to communication from CAMERA, Haaretz editors immediately corrected the mistranslation in the digital article. It now accurately reports: "His son, King Mohammed VI, closed [the interests section in Israel] after the second intifada erupted in 2000…"