CAMERA's Israel office today prompted correction of a page-two news article in Haaretz's English yesterday (also available online here) which editorialized about the sentences meted out to Israeli Arabs convicted for taking part in violent attacks in May 2021: "The three charged were protesting disproportionate punishments received by Arabs following the ethnic riots during Israel's Gaza operation Guardian of the Walls in May 2021." ("Police detain activists for waving Palestinian flags in Haifa," emphasis added.)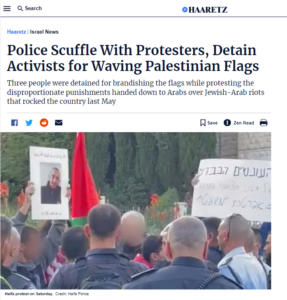 The problematic statement as fact charging that sentences meted out to Arabs convicted for taking part in attacks against Jews in May 2021 were "disproportionate" also had appeared prominently in the digital article's subheadline:
"
Three people were detained for brandishing the flags while protesting the disproportionate punishments handed down to Arabs over Jewish-Arab riots that rocked the country last [sic] May." (Emphases added.)
Unlike its English-language counterpart, the Hebrew edition carefully qualified the "disproportionate punishments" claim as just that, attributing it to the views of the protesters: "The protesters, from the Hirak movement, demonstrated against what they defined as a discriminatory policy of punishment targeting Arabs for the riots during Operation Guardian of the Walls last year." (CAMERA's translation.)
In addition, the Hebrew edition's subheading did not contain the editorializing statement regarding the allegedly "disproportionate punishments."
Moreover, according to the demonstrators'
signs
, the protesters were not merely protesting what they saw as "disproportionate punishments." The signs applauded those convicted of violent of Jewish citizens as "defenders of the Palestinian people." The signs also repeatedly call for the freedom, ie the release, of the convicted perpetrators — not a reduced sentence.
In response to communication from CAMERA, editors commendably amended the article and subheading to identify the "disproportionate punishments" as the protesters' claim, as opposed to falsely designating as a matter of fact. The amended subheadline now cites people "
protesting what they claim are disproportionate punishments handed down to Arabs over Jewish-Arab riots that rocked the country last May [sic]." (Emphasis added.) Similarly, the article also now attributes the "disproportionate punishments" claim to the protesters: "The three charged were protesting what they call disproportionate punishments received by Arabs following the ethnic riots during Israel's Gaza operation Guardian of the Walls in May 2021."
See also "
Haaretz
, Lost in Translation"