Dec. 26 UPDATE:
Haaretz Corrects
Following the Dec. 21 publication of this post, Haaretz commendably corrected the caption to the map, appropriately attributing the "Palestine" designation to the NGO Sarendib, which draws inspiration from a Hamas mass murderer. See below for a detailed update.
Haaretz, an influential Israeli media outlet whose name means "Land [of Israel]," has published a stylized map of "Palestine" erasing Israel.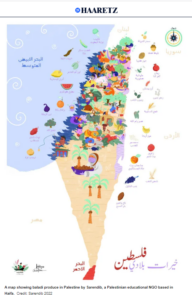 The Dec. 19 article, "How 'Baladi' Became the Star of Israeli Cuisine and a Key to Palestinian Identity and Resistance,"
(and in the Dec. 16 weekend print edition)
includes an illustrated map of Israel and the Palestinian territories prepared by the Sarendib NGO which expunges Israel, referring only to "Palestine."
Haaretz
's own caption uncritically adopted the organization's erasure of Israel, initially stating: "
A map showing baladi produce in Palestine by Sarendib, a Palestinian educational NGO based in Haifa.
Credit: Sarendib 2022"
CAMERA's Israel office reached out to Haaretz, urging either revision of the caption to correctly refer to Israel and the Palestinian territories, or clear designation of Sarendib's terminology as problematic given that it erases Israel off the map.
Editors made a completely inconsequential edit to the digital version, adding scare quotes to the word "map," as if that made the complete erasure of Israel any more acceptable. As one CAMERA Arabic researcher quipped, "Map is the one word that should not get air quotes, unlike 'Palestine,' 'Palestinian' and 'educational,' and probably also 'NGO.'"
When CAMERA Arabic previously called out BBC Arabic for promoting a very similar Sarendib map featuring Palestine from the river to the sea, the British news outlet subsequently pulled its promotional feature, demonstrating more accountability than Haaretz on the same issue.
In 2020, CAMERA Arabic wrote about Vogue Arabia's laudatory piece on an "artistic" map erasing Israel:
A map labelled "Palestine," covering Israel, the West Bank and Gaza, is hateful and incites violence, no matter how many flowers bloom upon it. Such maps express a desire to eliminate the state of Israel, depriving its Jewish people of their right of self determination, meaning a sovereign, peaceful and prosperous life in their ancestral homeland. Even if [Turkish artist Adige] Batur's vision for the elimination of the state of Israel would allow for some Jews to remain in "Palestine," his artistic erasure of everything Jewish indicates a desire to assimilate the Jews of Israel and their communities into a hostile Arab environment that historically has shown little tolerance towards Jews and other minorities.
The same can be said of a map bursting with succulent, indigenous produce, even one published by "The Land of Israel" newspaper.
Indeed, Sarendib founder Malsam Arafat and her husband Omar Asi are quite open about their maps' intentions. They
explain
(in Arabic 16:16) that the maps they create are deliberately "without occupation" (i.e., without Israel or Jews). Asi insists that it is important to present Palestine that way "even to children … the child sees that it is all Palestine." The host continues: "[Palestine] as it was and as it must become," to which Asi replies "exactly."
At 9:24, Asi recounts that the food he chose to represent Jerusalem in the map which BBC Arabic later removed is a reference to a book by Hamas mass murderer Abdullah Barghouthi, a choice he hopes will expose children to "Palestinian prison literature."
Sarendib's maps apparently exceeded all expectations, not only roping in impressionable Palestinian youth, but also snagging a century-old institution, Zionist in name if not content.
With research and translation by CAMERA Arabic.
Dec. 26 Update: Haaretz Corrects
Shortly following the publication of this post, Haaretz commendably amended the map's caption, appropriately attributing to the "Palestine" label to Sarendib, an organization which draws inspiration from a Hamas mass murderer. The amended caption now states:
'National produce of Palestine': A map of fruits and vegetables published by Sarendib, a Palestinian educational NGO based in Haifa. The map combines the culinary, political and commercial aspects of the term 'baladi.'Credit: Sarendib 2022