Haaretz contributor Mordechai Kremnitzer uses the occasion of the manslaughter indictment of a Jewish teen accused of throwing a rock which killed Palestinian woman Aisha Mohammed Rabi to compare Israel to Weimar Germany, a smear that he bases on the false suggestion that Palestinians suspected of the same crime against Jews are invariably charged with murder.
In his Jan. 25 op-ed, the senior fellow at the Israel Democracy Institute writes ("Waiving Murder Charge in Killing of Palestinian, Israel Fails to Deter Next Jewish Terrorist"):
We have become used to the privilege accorded to those who kill Arabs in the course of security operations… they are only found guilty of manslaughter… Does such a privilege… now also excuse the acts of civilians who break the law, as long as they are good Jews?
Kremnitzer's implication is clear: Arabs who kill Jews by throwing rocks at their cars are charged with murder, while Jews who do the same against Arabs are only charged with manslaughter.
Kremnitzer reinforces this notion, stating later in the article: "Law enforcement agencies must treat everyone equally."
And further on comes the Weimar comparison: "Israel is being put to the test. Is it committed to the equality of human life or is it tainted by the Weimar Republic syndrome…?"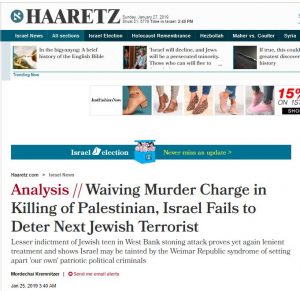 Editors even saw fit to highlight the Weimar comment, including it in the digital subtitle: "Lesser indictment of Jewish teen in West Bank stoning attack proves yet again lenient treatment and shows Israel may be tainted by the Weimar Republic syndrome of setting apart 'our own' patriotic political criminals."
But Kremnitzer, along with his editors responsible for publishing his commentary, surely knows that his argument is based on a lie.
In the last decade, three lethal rock-throwing cases which Palestinians perpetrators and Israeli victims came before the Israeli courts: baby Adele Biton, Jerusalem resident Alexander Levlovitz and Kiryat Arba resident Asher Palmer and his son Yonatan.
Adele Biton's killers were convicted of manslaughter, not of murder, as part of a plea bargain.
Alexander Levlovitz's killer was also convicted of manslaughter.
Asher and Yonatan Palmer were murdered by an organized terrorist squad. The cell member who actually threw the rock was convicted of murder. But the circumstances of the incident, detailed in the indictment, are unique and very different from those of Aisha Rabi's killing, which of course is very serious in and of itself: The terror squad was well-organized. It trained and acted methodically, throwing rocks from a moving vehicle towards a moving vehicle. Members of the cell were charged in 29 additional cases of murder attempts by the same method. Finally, the defendant's accomplices incriminated him during the investigation, regarding both his intentions and his deeds.
Thus there is no truth in Kremnitzer's allegation about a disparity in charges for equal crimes. An examination of the relevant cases demonstrates that in fact the Israeli justice system "treats everyone equally," contrary to Kremitzer's slur
But the Weimar comparison was simply too tempting for the esteemed legal mind. And if he had written the truth, how could he have employed it?
Haaretz publisher Amos Schocken responded (via Twitter):
Kremnitzer does not address cases of rock throwing by Arabs, but only this specific case in which he identifies clear characteristics of intentional murder (similar to the case of Elor Azaria, about which the judge said the if he was indicted of murder, he would have been convicted of murder). Kremnitzer argues that in both cases, the killer got a "Jew discount" and indictment of manslaughter.
For the Hebrew version of this post, please see Presspectiva. Translated from the Hebrew by Shlomi Ben-Meir.