In a column looking back on 30 years of reporting, veteran
Haaretz
writer
Gideon Levy
last week described the particularly heartrending case of the 2006 Israeli air strike in Gaza that killed multiple members of the Aman family and left then 4-year-old Maria Aman with critical injuries, leaving out entirely that the key information that the strike was aimed at Islamic Jihad commander
Mohammed Dadouh
, who was also killed in the attack ("No greater lie," print headline, available online
here
).
Editors of Haaretz's Hebrew print edition commendably added the important information about the Islamic Jihad target, both into the article itself, as well as a photo caption accompanying the article. The Hebrew print edition, but not the English edition or the Hebrew digital edition, reported: "A guided missile, launched by the moral Israeli army which was targeting an Islamic Jihad activist, hit the family car."
In addition, there was this Hebrew photo caption: "Maria Aman at the opening of her exhibit two weeks ago. The missile that hit her was aimed at an Islamic Jihad activist."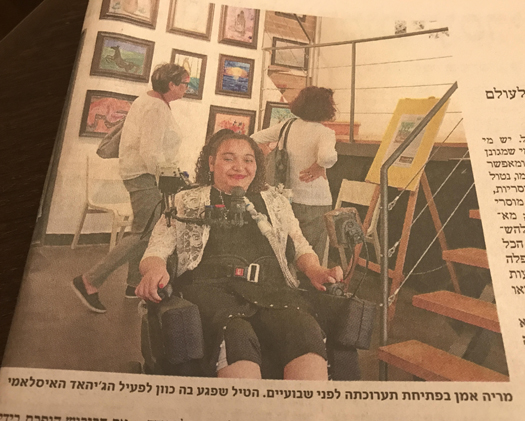 English editors, unlike their Hebrew counterparts, did not deem it necessary to add in any information about the Islamic Jihad target. Instead, the English edition reads, both in print and online, reads:
A day when almost her entire family was annihilated; only she, her younger brother and their father survived the smart missile fired at them by Israel's "moral" air force. She came out of it severely disabled, confined to a wheelchair, hooked up to a ventilator.
Maria Aman was four years old when the missile struck the family car, which had been purchased just that morning. She was standing on her grandmother's knees in the back seat and dancing, her mother next to her, just before the projectile slammed into the vehicle and destroyed her chances for a normal life. The commander of the air force dissociated himself from the incident, which took place in 2006 in the Gaza Strip. The Israel Defense Forces never dreamed of apologizing, the pilot's identity was never revealed and he never took responsibility, and Israelis were unmoved by one more missile that wiped out most of one more innocent family.
The firing of the missile that wounded Aman so severely is not considered an act of terrorism in Israel, and the pilot who fired it is not considered a terrorist – after all, he didn't mean it. They never mean it. For 50 years Israel hasn't been meaning it.
In a conversation with
Presspectiva
, CAMERA's Hebrew department, Levy confirmed that he himself did not include information about the intended Islamic Jihad target into the article, and that Hebrew editors were responsible for that addition. Last week CAMERA contacted editors of the English edition about the omission of the Islamic Jihad target, but they have so far declined to add the essential information.
For additional instances in which Haaretz's Hebrew edition provides a more reliable accounting of events than its English counterpart, see "Haaretz, Lost in Translation."