The Los Angeles Times has failed to correct a basic factual error, apparently originating from the Palestine Liberation Organization, that Palestinian negotiator Saeb Erekat was transferred from his home to Jericho to a hospital near Tel Aviv for treatment of COVID-19. In fact, Erekat was treated in a Jerusalem hospital, a politically inconvenient fact for the Palestinian leadership which does not recognize Israel's capital city.

In their Nov. 10 article, "
Longtime chief Palestinian negotiator Saeb Erekat dies
," Tracy Wilkinson and Noga Tarnopolsky inaccurately reported near the bottom of the story that Erekat "was transferred to the Sheba Medical Center, near Tel Aviv, by an ambulance heavily guarded by Israeli army vehicles."
As was correctly reported at the top of the article, Erekat died in Jerusalem's Hadassah Ein Kerem hospital, and that's where he was transferred when he left his home in Jericho.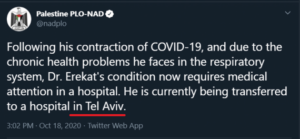 The misinformation about the Tel Aviv hospital apparently originated with Fatah, which initially tweeted that Erekat was receiving treatment in an Israeli hospital in Tel Aviv.
While the PLO subsequently
clarified
that original, erroneous Tweet, The Los Angeles Times inexplicably has yet to amend its report.
Nov. 23 Update: Los Angeles Times Repeats Error in Print Edition
Not only has The Los Angeles Times failed to correct the error in the online report despite repeated communication from CAMERA, it reproduced the error in yesterday's print edition ("Saeb Erekat, 1995-2020. . . " page B1).
Separately, due to an editing error, the article in yesterday's paper wrongly states: "Erekat died Tuesday morning. . . " That information was correct on Nov. 10, when the article was originally published. But nearly two weeks later, on Nov. 22, it's no longer accurate. Erekat passed away on Nov. 10, not Nov. 17.