Oct.22 UPDATE:
Los Angeles Times Corrects
On Oct. 17, The Los Angeles Times corrected the digital version of the article. See below for a detailed update.
Given the enormity and unparalleled barbarity of Hamas' ISIS-like Oct. 7 attacks against Israeli civilians, the Jewish state's 9/11 many times over, journalists who normally cover very unrelated beats are suddenly finding themselves in the unfamiliar territory of international affairs and terrorism.
While ESPN editors, for example, might very well be unequipped to catch flawed information related to the Hamas atrocities, the same cannot be said for editors at The Los Angeles Times, a major daily newspaper with in-depth international coverage.
And yet, even there, reports lack either a grasp of basic knowledge or the will to convey an accurate account of the horrific events and the relevant background information. For instance, an Oct. 11 entertainment article, "L.A.'s close-knit Israeli dance-music community mourns deadly attack on Supernova rave," (also in print on page E1, Oct. 12) falsely reports:
For decades, Israel has controlled the small Palestinian enclave of Gaza on the Mediterranean, where many residents are impoverished and cannot leave.
In fact, since September 2005, when Israel unilaterally withdrew from the Gaza Strip, pulling out every single last civilian and soldier, the Jewish state has not controlled the coastal territory. Certainly, if Israel controlled the Gaza Strip, residents would never have succeeded in stockpiling thousands of rockets, including those with long-range capabilities, carrying out a brutal ISIS-like invasion of 22 Israeli communities, inflicting wide-scale barbaric atrocities including kidnapping of some 200 souls including numerous children, murder of parents in front of children and vice versa, rape of young women at a music festival, and so on.
.@latimes falsely reports: "For decades, Israel has controlled . . . Gaza." Hardly. History 101 for @latimesent folks: Israel w/drew every last soldier, civilian from the territory in 2005 (1/8) https://t.co/AJOwen6EBP pic.twitter.com/XY7KeS7mu2

— Tamar Sternthal (@TamarSternthal) October 15, 2023
Indeed, since 2007, when Hamas tossed its opponents off rooftops, the designated terror organization has controlled the Gaza Strip. (For a sense of what life is like for ordinary citizens of Gaza who do not support the terror organization, check out the "Whispered From Gaza" testimonies.)
So how is it that an entertainment reporter at The Los Angeles Times got basic information about the Gaza Strip so woefully wrong when presumably news editors at the well-established media outlet should have been well positioned to catch the error?
First, it's worth recalling that nine Los Angeles Times journalists, including two unnamed employees, signed the June 2021 open letter penned by journalists against journalism calling for coverage of Israeli-Palestinian affairs through the distorting lens of "Israel's military occupation and its system of apartheid."
Only via this false filter diametrically opposed to the Society of Professional Journalists' code of ethical journalism could Los Angeles Times managing editor Sara Yasin respond to Hamas' brutal, unprecedented evil attacks deliberately targeting women, children and the elderly and conclude that it is Israel which is practicing genocide. On Oct. 14, she posted an article on X (formerly Twitter) making that grotesque argument (screenshot at left).
Indeed, a review of her X feed clearly reveals her sympathies lie with Hamas. For instance, also on Oct. 14, she retweeted a post which alleges the documents recovered from the bodies of Hamas terrorists in southern Israel detailing civilian Israeli targets are false. The post states:
These documents remind me of the Trojan Horse letter. @rafsanchez I'm (genuinely) curious if you independently verified the veracity of these docs? What I see in the stories is Israeli sources told you they're real and certain attacks seemed similar to what's described.
Notably, Yasin — who according to a database of journalists, "oversees LAT's daily news operation" — does not exercise the same skepticism when it comes to the claims of Hamas, a designated terror organization. Indeed, promoting Hamas' dubious assertions that Israel fired on a convoy of Gazans evacuated south, killing 70, she retweets The Washington Post's Evan Hill:
The Post verified this video of a horrific strike on a convoy of civilians trying to escape north Gaza after Israel's order to evacuate, which reportedly killed dozens. It was first geolocated by @GFLocating & @ChrisOsieck. https://www.washingtonpost.com/world/2023/10/13/israel-gaza-war-updates-hamas-palestine/#link-T3BKXIWNRBENPKPR7TFN5BK6ME
Hill was himself commenting on a separate X post which alleged: "HORRIBLE footage from Gaza Strip today when Israeli airstrikes hit a convoy of civilian cars that were fleeing to south as ordered by IDF."
(Significantly, though, The Washington Post does not substantiate Hamas' claim that an Israeli aistrike was responsible for the deaths. Rather, The Post reports that it confirmed the veracity of the video, which doesn't show any airstrike, but only the deadly aftermath of whatever hit the convoy. Early this morning, Times of Israel reported that the Israeli military blames that deaths on a false flag operation carried out by Hamas, stating that evidence will soon be released.)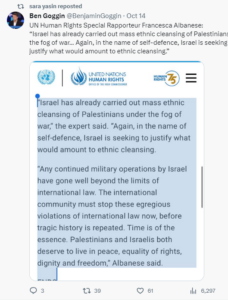 Yasin also retweeted a post citing rabid antisemite UN Human Rights Special Rapporteur Francesca Albanese, stating: "Israel has already carried out mass ethnic cleansing of Palestinians under the fog of war… Again, in the name of self-defence, Israel is seeking to justify what would amount to ethnic cleansing."
While Yasin's name does not appear on the 2021 open letter calling on journalists to report as partisans, it's worth reiterating that two Los Angeles Times journalists signed anonymously, leaving open the possibility that one or more of them holds a senior position.
All eyes will be on The Los Angeles Times to see if the paper corrects the blatant factual error about the Gaza Strip and whether it allows its coverage to be dictated by SPJ's Code of Ethics or by a standard more amenable to Hamas interests.
Oct. 22: Los Angeles Times Corrects
On Oct. 17, The Los Angeles Times corrected the digital version of the article, deleting the false claim that "For decades, Israel has controlled the small Palestinian enclave of Gaza on the Mediterranean." The updated article now accurately reports: "For decades, Israel has controlled its border with the Palestinian territory of Gaza on the Mediterranean, where many residents are impoverished and cannot leave." In addition, The Los Angeles Times has appended the following note to the digital article alerting readers to the change:
For the record:

8:47 a.m. Oct. 17, 2023 An earlier version of this article implied that Israel has controlled the Gaza Strip. Israel has controlled its border with Gaza, but not the territory itself.
Searches on Lexis-Nexis and on the Times corrections page do not yield any indication that the paper has published a correction in the print edition, though the error appeared there as well.
See also: "On X, LA Times Managing Editor Sara Yasin Embraces Hamas Narrative"