CAMERA today prompted correction of an Aug. 26 Los Angeles Times article which greatly overstated the number of Lebanese civilians killed in the 2006 war between Israel and Hezbollah, a designated terrorist organization. Reporting on a drone attack Sunday in Beirut for which Lebanon and Hezbollah blamed Israel, Nabih Bulos and Noga Tarnopolsky had erred ("Drone attack angers Lebanon, militia; Hezbollah issues its warning to Israel after two craft struck Beirut amid campaign against Iran and its proxies," page A3, and online here):
[Hezbollah secretary general Hassan] Nasrallah said the attack represented a "significant violation of equations that had been in place since the 2006 war," referring to the monthlong conflict with Israel that devastated large swaths of Beirut and Lebanon's south, killed nearly 1,200 Lebanese civilians and ended in a stalemate. (Emphasis added.)
Estimates for the total number of casualties range from 1,035 to 1,200, and the number of civilian casualties is highly disputed, but even according to higher claims does not reach "nearly 1,200."
On Jan. 3, 2016,
The Los Angeles Times
published an
Associated Press
story which reported:
During the 34-day war between Hezbollah and Israel in 2006, 1,200 people were killed in Lebanon. Lebanon says most of those killed were civilians, while Israel says 600 of the dead were Hezbollah militants.
In 2006, Stratfor reported: "Sources in Lebanon claim Hezbollah has buried more than 700 fighters so far, with many more to go." On Aug. 4, 2006, The Daily Telegraph reported: "Lebanese officials estimate that up to 500 fighters have been killed in the past three weeks of hostilities with Israel."
Both sides have revised their figures of Lebanon's war dead. The latest Lebanese and AP counts include 250 Hezbollah fighters that the group's leaders now say died during Israel's intense air, ground and sea bombardments in Lebanon — more than triple the 70 they acknowledged during the war. Israel initially said 800 Hezbollah fighters died but later lowered that estimate to 600.

None of the counts of war dead include Lebanese killed since the fighting ended by exploding land mines or Israeli cluster bombs scattered around southern Lebanon. Such blasts have killed 27 people and wounded 167, according to the National Demining Office. No Israelis have been killed by war-related blasts since then.

The Lebanese and AP counts of Lebanon's war dead range from 1,035 to 1,191.

Lebanon's top police office, in coordination with the Ministry of Health, says 1,123 Lebanese died in the war — 37 soldiers and police officers and 1,086 other people, including 894 named victims and 192 unidentified ones.

The report lists the 1,086 dead as "martyrs.″ It does not differentiate between civilians and Hezbollah combatants, because the government considers them all Lebanese citizens. It also can be difficult to tell a Hezbollah fighter because many do not wear military uniforms.
Reuters also reported 270 Hezbollah fatalities. According to Israeli estimates, with some 600 Hezbollah fatalities, over half of the fatalities were combatants.

In response to communication from CAMERA, editors promptly published this correction in today's print edition:
Lebanon drone attack: In the Aug. 26 Section A, an article about a drone attack on Lebanon stated that nearly 1,200 Lebanese civilians were killed in the 2006 war between Israel and Hezbollah. Reports after the war put the number of Lebanese dead at 1,191, mostly civilians but including an unspecified number of combatants.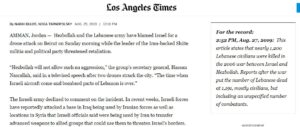 In addition, editors prominently posted a correction at the top of the digital article.