The Jewish state can never do enough to please MSNBC host Mehdi Hasan. Simultaneously, the Jewish state's critics can do no wrong in Hasan's eyes.
On May 1, Hasan hosted Peter Beinart for a conversation about the war in Ukraine. Unsurprisingly, the two quickly transitioned to making everything about Israel. Hasan took the opportunity to question what the United States gets in return for being allies with Israel and, in the process, accused Israel of "not fully backing the U.S. position on Ukraine."
In the very next question, Hasan pointed to the members of the "Squad" as evidence of "positive change" in Washington, stating: "You have members of the Squad talking much more openly about things like the occupation of the West Bank…"
The choice to use the "Squad" as an example of "positive change" is illuminating, especially when done immediately after attacking Israel for allegedly not backing the U.S. position on Ukraine enough.
Just a few days earlier, on April 27, the U.S. House of Representatives voted on a bill entitled "Asset Seizure for Ukraine Reconstruction Act" which would, in short, enable the President to seize assets belonging to Russian oligarchs and use the assets for the benefit of the Ukrainian people. President Biden has clearly stated his support for such efforts. The bill passed by a vote of 417 in favor and 8 against.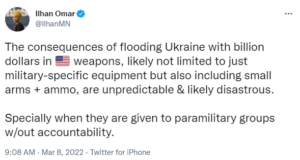 The Squad represented half of those "nay" votes. Reps. Cori Bush, Alexandria Ocasio-Cortez, Ilhan Omar, and Rashida Tlaib all voted against the bill. This isn't the first time they have been vocally against the U.S. position on Ukraine. Reps. Omar and Bush were also the only two House Democrats that voted against a bill to sanction Russia's oil industry, and Rep. Tlaib "argued against providing Ukraine with aid" in the runup to the Russian invasion. In a March 8 tweet, Rep. Omar claimed that the "consequences of flooding Ukraine with billion dollars in [U.S. flag emoji] weapons…are unpredictable & likely disastrous. Specially when they are given to paramilitary groups w/out accountability."
Plainly, they do not "fully back the U.S. position on Ukraine."
On the other hand, at no point did Hasan specifically identify how Israel has not "fully backed" the U.S. position, but whenever presented with the choice, Israel has voted with the U.S. when it comes to Ukraine. There have been three votes in the United Nations General Assembly, where Israel has a vote, on the topic of Russia's invasion of Ukraine. Israel voted with the United States on all three occasions. Repeatedly, Israel has also explicitly condemned Russia for its invasion of Ukraine, as well as for committing war crimes in Ukraine. Israel set up a humanitarian field hospital in Ukraine, and as of a couple weeks ago, had sent a hundred tons of medical equipment, clothing, food, and other supplies for displaced Ukrainians. The Israeli Foreign Ministry even set up a special unit to coordinate the transfer of individual and corporate donations to assist Ukrainian refugees. Meanwhile, Israel has allowed in some 25,000 Ukrainian refugees, not even counting those Ukrainians who have arrived and are eligible for citizenship (compared to, at approximately the same time, a mere 12 Ukrainian refugees that had been allowed into the U.S.).
Among anti-Israel activists, principles other than "Israel bad" are difficult to find. Hasan's comments on Sunday illustrate this quite well.
Hasan indicated "not fully backing the U.S. position on Ukraine" is bad when allegedly done by Israel.
In the same segment, Hasan referred to the Squad, which is guilty of actually voting against and vocally criticizing the U.S. position on Ukraine, as elements of "positive change" because they criticize Israel.
The only connecting tissue between these two statements by Hasan is that Israel must be treated negatively. No other coherent principle binds these two positions, as they are otherwise inconsistent.
In this way, Hasan's comments highlight a reality about much of anti-Israel activism. Criticism of Israel isn't so much based on what Israel does or doesn't do, as the activists will find a way to criticize it either way. Instead, criticism of Israel is about its existence in the first place.