Over the last several days, NBC and MSNBC have repeatedly emphasized what broadcaster Brian Williams has called "a rather lopsided conflict": Israeli citizens have bomb shelters, sirens and an Iron Dome to keep them safe from incoming rockets, Gaza civilians have none of these means of protection against Israeli airstrikes, the networks report. While this is all true, NBC and MSNBC ignore the true lopsidedness of the conflict: that Israel has invested heavily in both technology and construction to safeguard its citizens and to provide them with critical life-saving warnings as well as high-tech and low-tech protection, while the Hamas government of Gaza, which has not taken steps to safeguard its people, has actually gone of its way to endanger them.
While Hamas has acquired advanced Iranian and Syrian rockets, it has not dedicated any of its technological abilities for defensive purposes, including warning systems. While it has developed a vast underground network of tunnels and bunkers to shield its weapons, Hamas has not used any of its coveted concrete to build shelters for its civilians. While the Israeli government provides its citizens with detailed guidelines about how to protect themselves and their families, the Hamas government encourages its citizens to literally stand in the line of fire as human shields.
For example, on July 8, Hamas spokesman Sami Abu Zuhri addressed the incident last week involving the Kaware house, in which neighbors were urged to converge on the roof following notification from the Israeli military that the building, used as a Hamas command center, would be targeted. He praises those who agree to be used as human shields:
While Israel fortifies its schools against incoming rocket attacks, and also cancels classes and camps during periods of intensive rocket fire, Hamas launches rocket attacks from next to its schools, thereby twice endangering its youngsters. First, there is the risk of misfiring, or prematurely exploding rocketry, and secondly, there is the fact that Israel hits back at rocket launchers. A YouTube video uploaded by the Israeli army demonstrates the launching of a rocket next to a school in the Gaza Strip, followed by an Israeli hit on the launcher:
Thus, host Brian William introduces the Thursday, July 10 segment as follows:
While what we are watching in the Middle East is not all-out war, at least not yet, it is, so far, a rather lopsided conflict. While hundreds of rockets fired by Hamas continue to rain down on Israel, causing a huge number of Israelis to take cover every single day, their air forces and defenses are far superior, from their warning sirens to their jets and bombs and helicopters and drones and the rocket shield they call Iron Dome paid for in part by close to one billion U.S. dollars. The Palestinians are more or less trapped in Gaza with no sirens to warn civilians of an incoming strike as the Israelis continue to hit back when struck. The Palestinian death toll in Gaza stands at ninety, mostly civilians.
While William correctly notes that in Gaza there "are no sirens to warn civilians of an incoming strike," he neglects to mention that in this round of conflict, like in the previous round, Israel goes to great lengths to warn the local population of an impending strike so as to keep them out of harm's way. As has been widely documented, Israel phones Gaza residents, drops leaflets (see example below), and then targets the roof of a house used as a terror command center with a "knock on the roof," or a blank shell, before it bombs.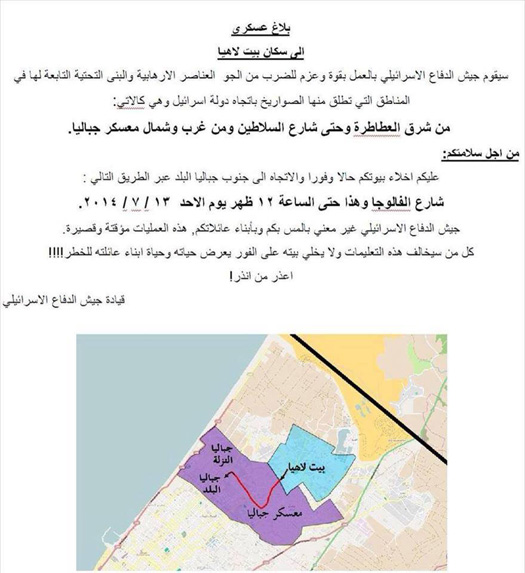 The above message states:
To the residents of Beit Lahia,
The IDF intends to attack terrorists and terror infrastructures in the area east of Al-Atatra and Al-Salatin St., and in the area west and north of Ma'bscar Jabalyia.
Israel is currently attacking, and will continue to attack, every area from which rockets are being launched at its territory.
The civilians are requested to evacuate their residences immediately and move by 12:00 PM today, south of Jabalyia Al-Badr via Shar'a Al-Faluja.
The IDF's campaign is to be short and temporary. Those who fail to comply with the instruction will endanger their lives and the lives of their families.
Beware
While Israel calls on Gaza civilians to leave immediately prior to impending strikes, Hamas urges them to stay. On July 10, Hamas's Interior Ministry posted online the following notification urging them not to heed Israeli calls to vacate areas next to the bord
er: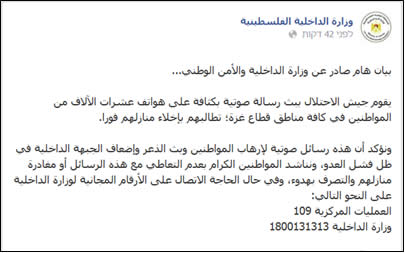 It states (translation for the Meir Amit Intelligence and Terrorism Information Center):
The army of the occupation [i.e., the IDF] has recorded a telephone message and used it to call tens of thousands of residents in all areas of the Gaza Strip, calling on them to vacate their homes immediately. We hereby note that these recorded messages [have as their objective] to frighten the residents, to sow terror and weaken the internal front in the shadow of the enemy's failure. We call on our dear residents to reject these messages, not to vacate their homes and to conduct themselves calmly. Should the need arise, call the following toll free numbers: Central Operations 109, the Ministry of the Interior 1800131313…
Williams' colleague, correspondent Ayman Mohyeldin likely delivers a skewed account, noting the protective layers that Israelis have and that Gazans don't, but also failing to acknowledge that Hamas very deliberately endangers its own people. Thus, he reported on
NBC Nightly News July 8
:
Missiles over Tel Aviv intercepted by the defense system the Israelis called the Iron Dome

But in Gaza, there were no sirens warning of Israel`s assault on the strip.

A woman escaping with her children.

(Man #2 speaking foreign language)

A man is heard shouting, "Where is the world?" Others, just running by the wounded. In the rubble of Israel`s airstrike, a man is trapped. With a little help, he is rescued. The might of Israel`s military unleashed on Gaza, targeting suspected launching sites and the home of suspected militants. Authorities there saying this one strike killed seven, including three children.
Chris Hayes also points out Gazans' defenseless while remaining mute about Hamas responsibility in actively cultivating this situation. He stated
July 8 on "All in With Chris Hayes"
: "A
nd keep in mind, Gaza does not have early warning sirens and it does not have the bomb shelters for its civilian population that Israel does. . . . ."
Keep in mind, Chris Hayes, while Hamas deliberately positioned its fighters and rocket launchers among its civilian population, Israel has at times aborted attacks against those firing rockets in order to spare civilians.
Hayes' myopia isn't limited to Hamas' role in placing its innocent civilians in the line of fire. He also repeats the anachronistic refrain, "Keep in mind, Gaza has been under siege for several years now."
What kind of siege is it when a territory which has launched hundreds of rockets against Israeli civilians in the space of days delivers truckload upon truckload of essential items, even when the crossing points themselves are under attack? Thus, according to COGAT, the Israeli authority which coordinates the transfer of goods into the Gaza Strip, the following items crossed from Israel to Gaza late last week: On Thursday, July 10, Gazans received via Israel 136 trucks with goods, seven of them carried humanitarian assistance supplied by the Red Cross; 114,000 liters of gasoline, 406,000 liters of diesel fuel for heating (specified for the power station), and 113 tons of gas. The following day, shipments included 7 trucks with medical equipment, 220,000 liters of diesel fuel for heating, 126,000 liters of diesel fuel for transportation, and 87 tons of gas.
And while Hayes has no qualms about stating as fact that "Keep in mind, Gaza has been under siege for several years," he attributes the hundreds of rocket salvos against Israeli civilians as an Israeli claim. Thus, he states: "Israel has called up 40,000 reservists, raising the possibility of a ground invasion to stem the tide of rockets it says are being fired from Gaza into civilian areas of Israel." (Emphasis added.)
Keep in mind, Chris Hayes, United Nations Secretary General Ban Ki-moon acknowledges that Palestinian rocket fire against Israeli civilians is a fact. It's not just an Israeli claim.